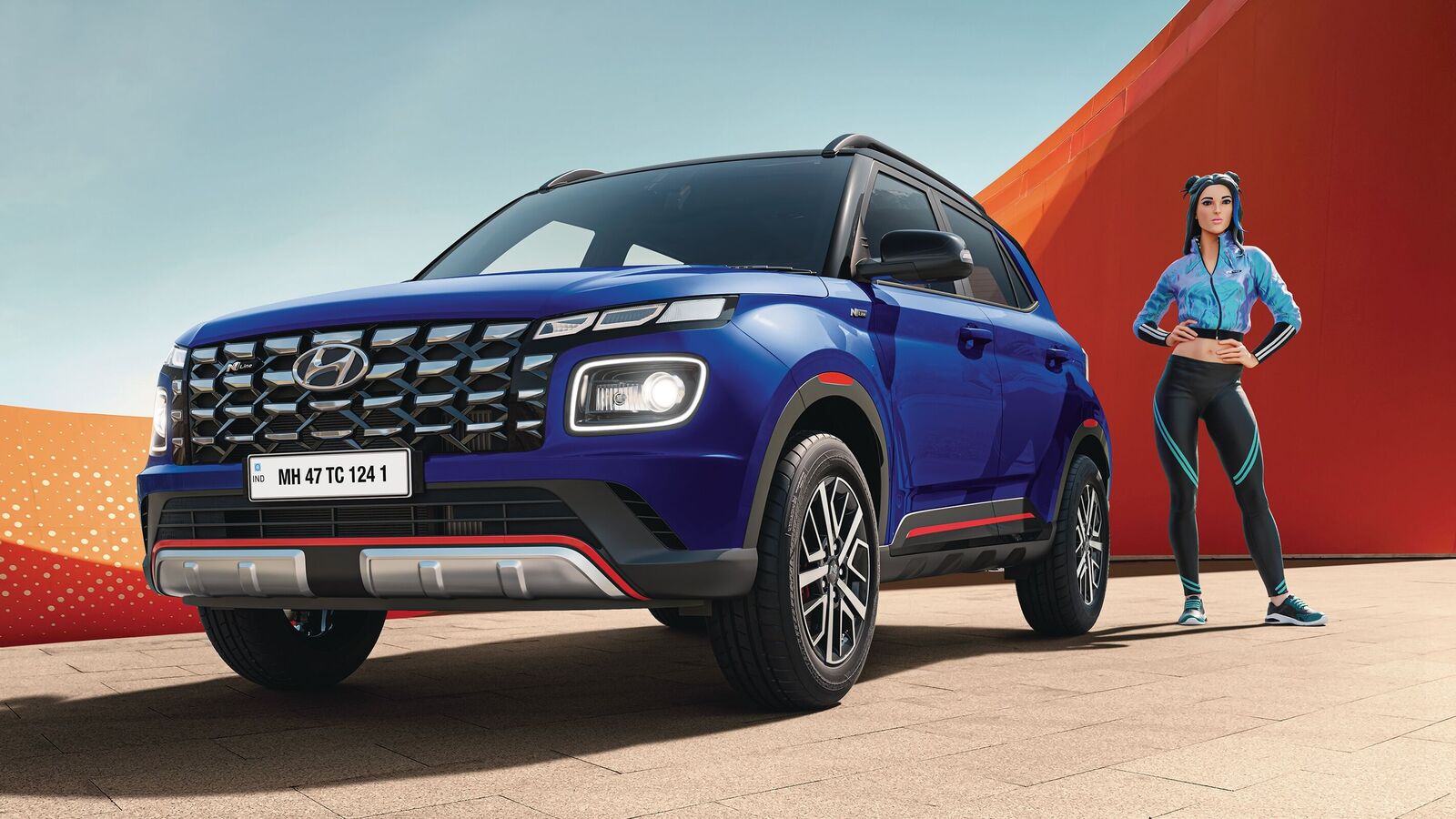 Hyundai Venue N Line could potentially change the way one has always seen the sub-compact SUV from the Koreans here in India. While Hyundai Venue has been a formidable player in the sub-compact SUV space since its debut in 2019, it has also managed to find favour with the updated model that was brought in earlier in the year. But the Venue N Line is clearly targeted at a younger car-buying audience looking at a differentiating factor in their vehicle.
Venue will be the first SUV from Hyundai, and the second model over all, to get an N Line variant. Hyundai had already driven out the i20 N Line in September of 2021 and found a fair share of success with it even if it is priced a little over the top variant of the non N Line version.
Check out live and latest updates from the launch of the Hyundai Venue N Line in India:
…read less
Hyundai
Venue
N
Line
could
potentially
change
the
way
one
has
always
seen
the
sub-compact
SUV
from
the
Koreans
here
in
India.
While
Hyundai
Venue
has
been
a
formidable
player
in
the
sub-compact
SUV
space
since
its
debut
in
2019,
it
has
also
managed
to
find
favour
with
the
updated
model
that
was
brought
in
earlier
in
the
year.
…
read more
Technical specs of Hyundai Venue N Line
Hyundai will offer the Venue N Line with the same 7-speed DCT transmission unit that it uses in the i20 N Line and some other models. There won't be an iMT though.
Hyundai Venue N Line will be powered by the 1.0-litre 3 Cylinders Inline DOHC petrol engine.
Which Hyundai models are available as N Line across the world?
The world over, Hyundai offers several of its models in the N Line versions. These include Sonata, Elantra, Tucson, i30 and Kona.
Venue N Line – Variants
Hyundai is expected to drive out Venue N Line in two broad trims – N6 and N8. Single and dual-tone options are expected to be offered in both of these trims.
What makes Venue special enough to get an N Line version?
Venue is one of the most popular Hyundai models in the country. A sub-compact SUV, it has benefited enormously from the fact that it has modern looks, feature-packed cabin and good drive traits while being under four meters in length – just the right dimension for being a hot favourite on congested Indian roads. While Hyundai may have tested waters when it brought in the i20 N Line exactly a year ago, the Venue N Line could potentially be a solid proposition against a long list of worthy rivals. 
How are Hyundai N Line models different from Hyundai N models?
While N Line models are focused primarily on certain visual updates, the N models are entirely focused on performance upgrades. It is true that N Line models do also get certain mechanical tweaks like sportier steering and louder exhaust notes but these are microscopically minor compared to the big-scale performance updates that N models from Hyundai receive.
What is N Line?
N Line refers to certain updates – mostly cosmetic – that seeks to give existing Hyundai models an edge in terms of visual cues. While powertrains are identical, N Line models seek to make a mark courtesy differentiated design elements. The Hyundai N Line models also get some minor performance tweaks for a sportier drive experience.
First Published Date: 06 Sep 2022, 08:27 AM IST