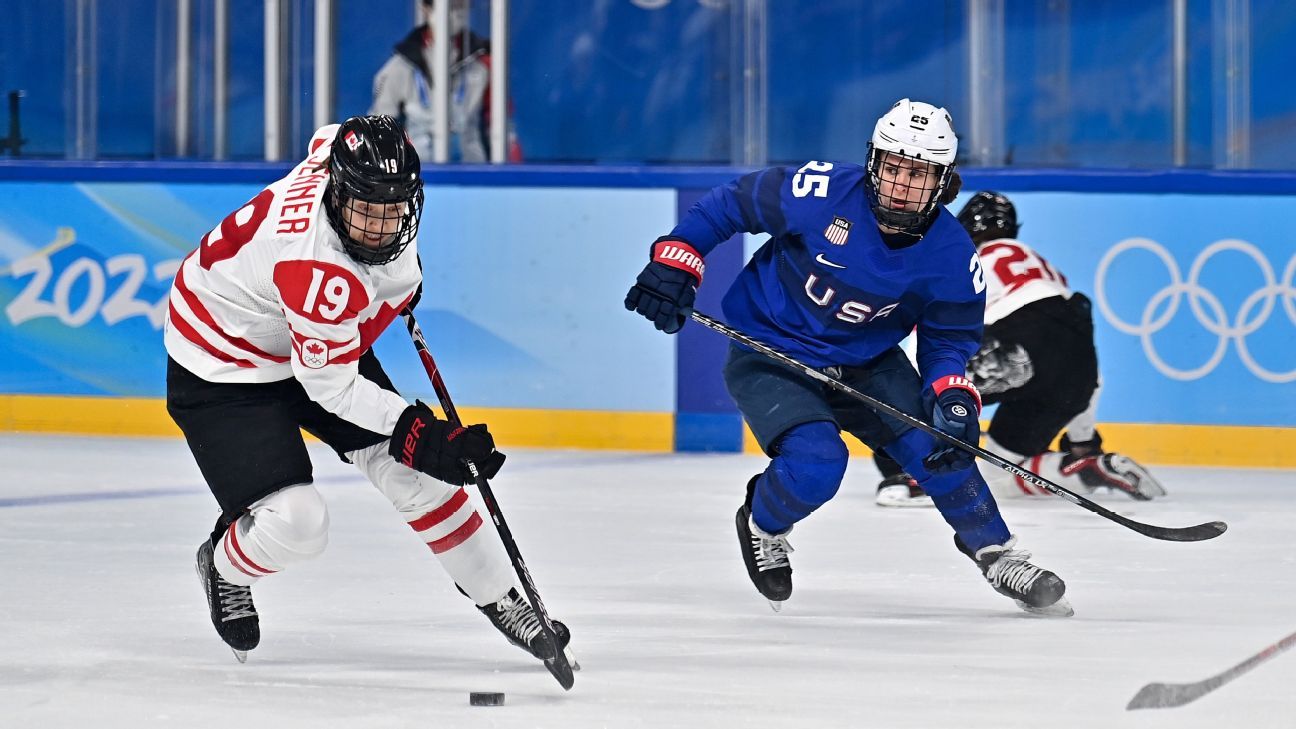 How intense is the 2022 Winter Olympics women's ice hockey rivalry between the U.S. and Canada?
"Every time we go in against them, we want to make a statement and show them that they don't belong on the ice with us," said Team Canada forward Natalie Spooner.
There's an inevitability to these rivals meeting for the gold medal in the Beijing Olympics, to the point where Canada's 4-2 win over the Americans this week was called "Round 1." Indeed, it would be one of the biggest upsets in any sport in the Winter Games if either of these hockey titans doesn't make the final. But stranger things have happened.
Here's a look at the women's ice hockey quarterfinals, and where the U.S. and Canada stand heading into the knockout round.
Friday: USA vs. Czechia (11:10 p.m. ET Thursday)
Friday: Canada vs. Sweden (8:10 a.m. ET)
Saturday: ROC vs. Switzerland (11:10 p.m. ET Friday)
Saturday: Finland vs. Japan (3:40 a.m. ET)
Teams are reseeded after the quarterfinals
Team USA
The Americans finished group play with a 3-1 record, their only loss coming against Canada in the final preliminary showdown. They rolled through their first three opponents, winning by a combined score of 18-2 over Finland, ROC and Switzerland.
They were disciplined, ending up as the least penalized team in the prelims at 4:30 of short-handed time per game. They've been able to overcome the loss of key center Brianna Decker — who broke her left fibula and tore tendons in her left ankle in their tournament opener — by having younger players like Abby Roque step up into bigger roles.
Forward Amanda Kessel (six points) is their scoring leader, followed by forwards Alex Carpenter, Hilary Knight and Kelly Pannek as well as defender Savannah Harmon, who all have five points.
Knight didn't have a point against Canada. Neither did fellow veteran Kendall Coyne Schofield. They did have six of Team USA's 53 total shots against Canada, and therein lies the problem in its 4-2 loss. It was a scenario hockey fans have seen play out too many times: One team spends most of a period buzzing the offensive zone, fails to get a goal, and its opponent manages to score on one of its few counterpunch chances. When Brianne Jenner scored on the power play to give Canada a 1-0 lead, it had been outshot 14-3 at that point in the first period.
If there was a lesson to be learned by the Americans from the game against Canada, it was to not take their foot off the gas for even a moment. The Americans rallied with two goals in the second period to take the lead … for 26 seconds, before Canada reeled off three goals in 5:25 to leave the U.S. stunned and without an answer in the third period. Lesson learned.
Otherwise, the U.S. should feel good about its game against Canada. The Canadians portrayed Team USA's offensive effort as a collection of shots from the perimeter, which wasn't necessarily true:
USA really said we will be shooting from EVERYWHERE https://t.co/4Y54kBIZvZ

— Alyssa (@alyssastweeting) February 8, 2022
In reality, Canada goalie Ann-Renée Desbiens did her best Shannon Szabados impression as the Americans peppered her with shots, aided by a few pucks off goal posts. "That happens sometimes. Over the course of seven games not every chance is going to go in or you hit a little rut. I think that if we keep doing what we're doing, the floodgates are going to open," said Kessel.
If the Americans repeat that effort in a gold-medal game, perhaps they'll earn the breaks they didn't get in Round 1.
One point of concern for Team USA: special teams. The U.S. was 1-for-6 on the power play against Canada and 4-for-19 in the opening round. That was after its power play went 3-for-25 in last year's world championships and 4-for-20 against Canada in their exhibition series. The penalty kill is even more concerning: Statistically, it's the worst in the tournament. The Americans have given up three goals on seven penalty kills (57.14%). That's not going to cut it, especially in a rematch with Canada.
Canada
The Canadians have their own adjustments to make after the game against the U.S. When the Americans carried play early on, Canada didn't manage the puck well enough against them.
"We're going to learn a little bit from that first period and the 5-on-5 play, but some real positives to take away," said Jenner. "I thought our penalty kill was phenomenal, we blocked a lot of shots, kept them to the outside, so that was great to see."
The Canadians finished 4-0 in group play. They had a goal differential of plus-26 and were never really threatened entering the game against the U.S.
There's a saying in hockey that your best players need to be your best players, and they were for Canada: Forwards Natalie Spooner (11 points), Jenner (8), Sarah Nurse (8) and captain Marie-Philip Poulin (8) were the Canadians' four leading scorers. That includes a penalty shot goal for Poulin against the U.S.
It's almost unfair that the Canadians have added one of the best players in the tournament to their collection of talented scorers: Sarah Fillier, 21, a Princeton University player who has five goals in four games, tied with Jenner for most in the Olympics. She's a sensation, and it's not hard to see Poulin passing her the torch as Hayley Wickenheiser once passed it to Poulin.
Whenever the U.S. and Canada play, the game starts at 0-0. What happened in the prelims doesn't impact what happens with gold on the line. But coach Troy Ryan said it best, and ominously, after Canada's win against Team USA: "We didn't play our best but still found a way to win."
Battle for bronze
It's not hubris to say that every other team in the field is playing for bronze. There have been only two finals since 1990 in the Olympics or the IIHF world championships that didn't have Canada and the U.S. as the last two teams standing.
There was plenty of parity in the rest of Group A, as Finland, the ROC and Switzerland all went 1-3-0. Of the three, Finland scored the most goals (10) and had the second-best power play behind Canada. However, it had the worst save percentage of any team in the first round, which makes its decision to leave all-world goalie Noora Räty off the roster even more curious.
Finland has a tough draw in the quarterfinals. Japan went 2-1-1 to finish atop Group B, and it has an ace in goal: Nana Fujimoto, who has a .953 save percentage and could be primed for an upset here.
In the other quarterfinal, the ROC may not have Polina Bolgareva (three goals in three games) against the Swiss as she tested positive for COVID-19. The ROC beat Switzerland 5-2 in prelims. The Swiss will go as far as goalie Andrea Braendli can take them.