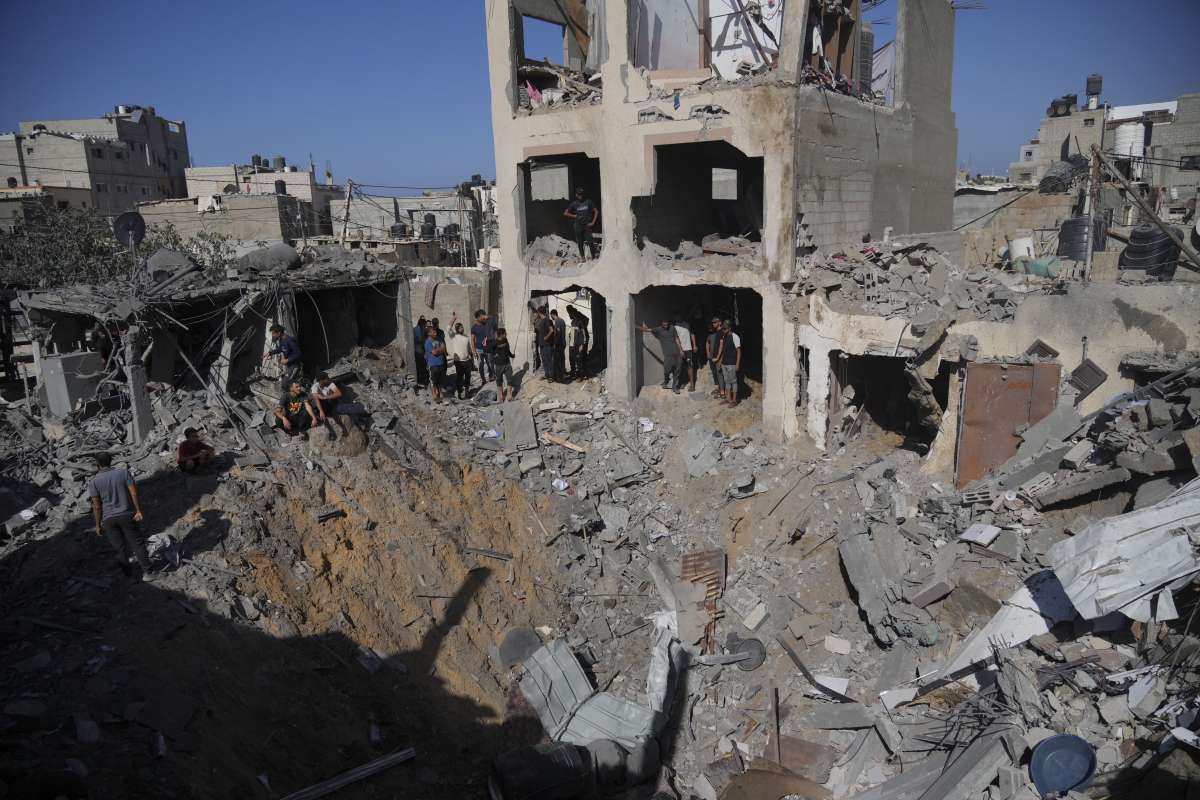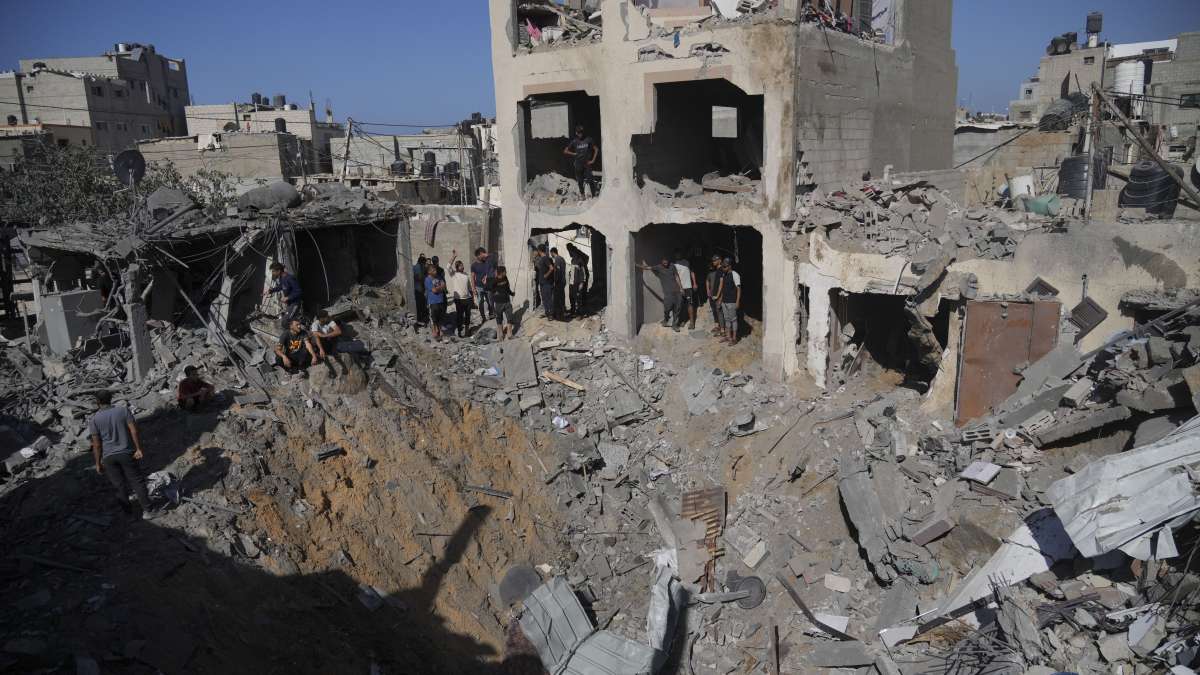 Israel-Hamas war: Israel will take "overall security responsibility" in Gaza indefinitely after its war with Hamas, Prime Minister Benjamin Netanyahu said, the clearest indication yet that Israel plans to maintain control over the coastal enclave one month into a conflict that has claimed thousands of lives and levelled whole swaths of the territory.
In an interview with ABC News that aired late Monday, Netanyahu expressed openness to "little pauses" in the fighting to facilitate the delivery of aid to Gaza or the release of some of the more than 240 hostages seized by Hamas in its October 7 attack into Israel that triggered the war.
But he ruled out any general cease-fire without the release of all the hostages, and the White House said there was no agreement on US President Joe Biden's call for a broader humanitarian pause after a phone call between the leaders.
The war has already come at a staggering cost, and Israel unleashed another wave of strikes across the territory on Tuesday. Entire city blocks have been reduced to rubble, and around 70% of Gaza's 2.3 million people have fled their homes, with many heeding Israeli orders to head to the southern part of the besieged territory, which is also being bombed.
MORE THAN 10,000 PALESTINIANS KILLED
Israeli troops have been battling Palestinian militants inside Gaza for over a week, and have succeeded in cutting the territory in half and encircling Gaza City. Food, medicine, fuel and water are running low, and United Nations-run schools-turned-shelters are overflowing.
The Palestinian death toll has surpassed 10,000, the Health Ministry of the Hamas-run Gaza Strip said Monday, including over 4,100 minors. More than 2,300 people are missing and believed to be buried under the rubble of destroyed buildings, the ministry said. The ministry does not distinguish between civilians and combatants, and Israel says it has killed thousands of fighters.
About 1,400 people in Israel have died, mostly civilians killed in the Oct. 7 incursion by Hamas. Israelis observed a moment of silence Tuesday in memory of the victims. The 30th day is a milestone in Jewish mourning, and memorial events are planned in Tel Aviv and Jerusalem.
In southern Gaza, where Palestinians have been told to seek refuge, an Israeli airstrike destroyed several homes early Tuesday in the town of Khan Younis. First responders pulled five bodies — including three dead children — from the rubble, according to an Associated Press journalist at the scene.
AP video taken at a nearby hospital showed a woman desperately searching for her son and then crying and kissing him when she found him, half-naked and bloodied, but apparently without serious injuries. A girl sobbed next to a baby lying on a stretcher wrapped in a blanket, apparently dead.
An airstrike destroyed a home in the southern city of Rafah, killing at least five people, including three children, according to the municipality and a local hospital.
ISRAEL TO MAINTAIN CONTROL
Israel has vowed to remove Hamas from power and crush its military capabilities — but neither Israel nor its main ally, the United States, has said what would come next.
Netanyahu told ABC News that Gaza should be governed by "those who don't want to continue the way of Hamas," without elaborating.
"I think Israel will, for an indefinite period, will have the overall security responsibility because we've seen what happens when we don't have it. When we don't have that security responsibility, what we have is the eruption of Hamas terror on a scale that we couldn't imagine," he said.
Israel captured Gaza, the West Bank and east Jerusalem — the three territories that Palestinians want for a future state — in the 1967 Mideast war.
Israel annexed east Jerusalem in a move not recognized by most of the international community and continues to occupy the West Bank. It withdrew its troops and more than 8,000 Jewish settlers from Gaza in 2005, though it has maintained control over the territory's airspace, coastline, population registry and all but one of its border crossings.
Hamas seized power from forces loyal to President Mahmoud Abbas two years later, confining his Palestinian Authority to parts of the West Bank.
Since then, Israel and Egypt have imposed a blockade on Gaza to varying degrees. Israel says the blockade is needed to keep Hamas from rearming, while Palestinians and rights groups see it as a form of collective punishment.
HEAVY FIGHTING IN THE NORTH
For now, Israel's troops are focused on northern Gaza, including Gaza City, which before the war was home to some 650,000 people. Israel says Hamas has extensive militant infrastructure in the city, including a vast tunnel network, and accuses it of using civilians as human shields.
Several hundred thousand people are believed to remain in the north in the assault's path. The military says a one-way corridor for residents to flee south remains available, and thousands have traveled it in recent days. But many are afraid to use the route, part of which is held by Israeli troops.
Residents in northern Gaza reported heavy battles overnight into Tuesday morning in the outskirts of Gaza City. The Shati refugee camp — a built-up district housing refugees from the 1948 war surrounding Israel's creation and their descendants — has been heavily bombarded from the air and sea over the past two days, residents said.
Marwan Abdullah, who is among thousands of people sheltering at Gaza City's Shifa Hospital, said they heard constant explosions overnight as ambulances brought dead and wounded in from the Shati camp. "We couldn't sleep. Things get worse day by day," he said.
The war has also stoked wider tensions, with Israel and Lebanon's Hezbollah militant group trading fire along the border. More than 160 Palestinians have been killed in the occupied West Bank since the war began, mainly during violent protests and gunbattle with Israeli forces during arrest raids.
The military says 30 Israeli troops have been killed since the ground offensive began. Hamas and other militants have continued firing rockets into Israel, disrupting daily life even as most are intercepted or fall in open areas. Tens of thousands of Israelis have evacuated from communities near the volatile borders with Gaza and Lebanon.
Hundreds of trucks carrying aid have been allowed to enter Gaza from Egypt since Oct. 21. But humanitarian workers say the aid is far short of mounting needs. Egypt's Rafah Crossing has also opened to allow hundreds of foreign passport holders and medical patients to leave Gaza.
(With inputs from agency)
Also Read: Who will rule Gaza Strip if Israeli Defence Forces 'wipes out' Hamas? Netanyahu clarifies