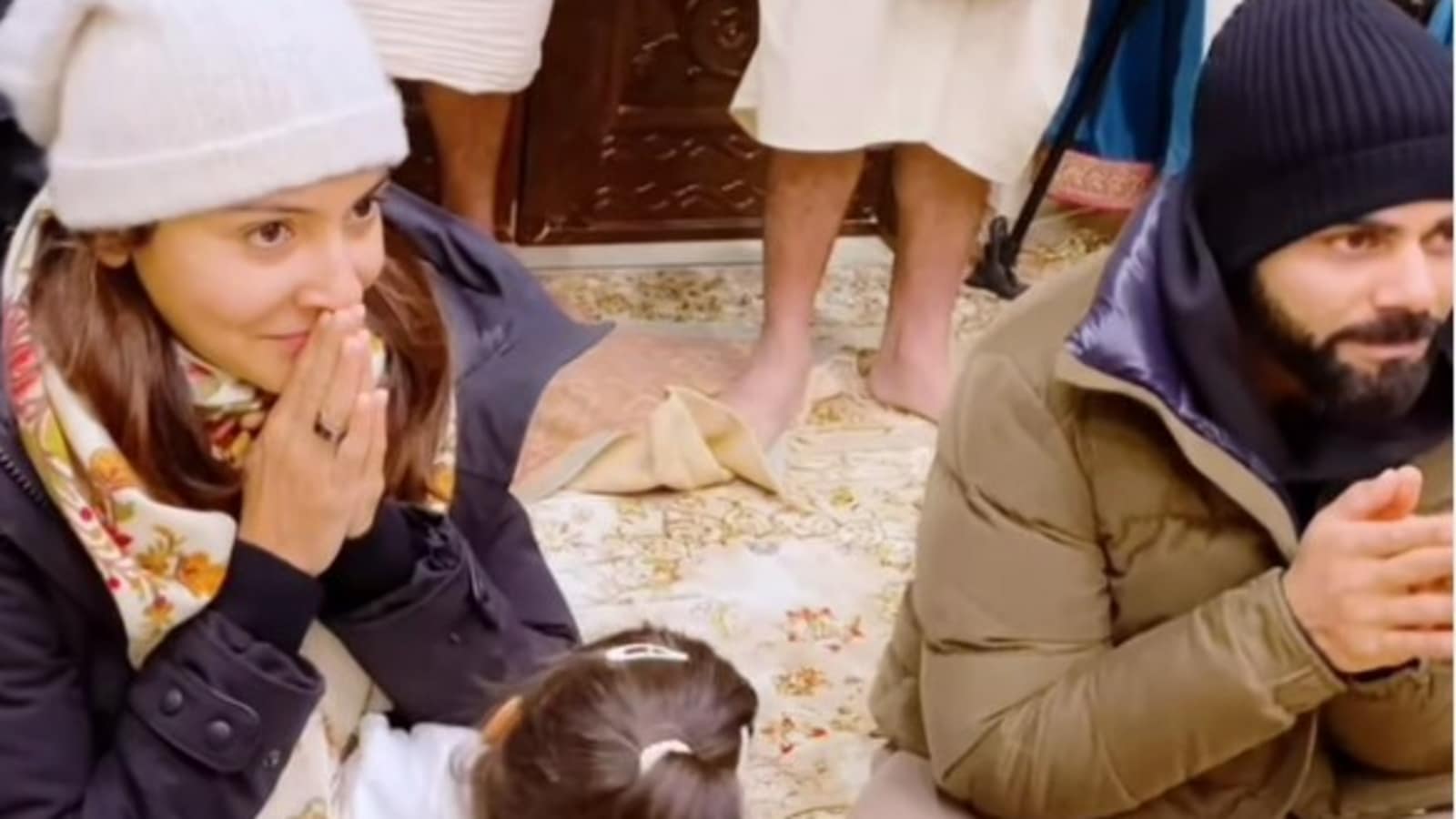 Anushka Sharma and Virat Kohli recently visited Baba Neem Karoli's ashram in Vrindavan. They were joined by their daughter Vamika Kohli as the family prayed together at the ashram. An unseen video of the family has surfaced online where Vamika is seen being blessed. Also read: Anushka Sharma, Virat Kohli pay visit to Vrindavan ashram, distribute blankets
The video has Vamika's face covered with emojis wherever visible. It begins with Anushka holding Vamika on her lap as she sat beside Virat. The family folded hands and sought blessing from the priest who also put a veil around Anushka. He also blessed little Vamika.
In the end, Virat Kohli picked up Vamika in his arms. On the other hand, Anushka bowed and folded her hands once again well. While Vamika wore a white dress, Anushka sported a black jacket with a white cap and a floral scarf. Virat wore an olive green jacket with a black cap and trousers.
Reacting to the new video, a fan took to the comment section and wrote, "God bless this family." "Vamika is so adorable," added another one. Earlier, several photos of Anushka and Virat from the ashram had surfaced but none of them featured Vamika.
According to a report of India Today, the couple arrived in Vrindavan on Wednesday morning. They distributed blankets. Reportedly they also meditated for an hour at the ashram. The two seem to be strong believers of Baba Neem Karoli.
Last year in November, Anushka, Virat and Vamika visited the ashram in Uttrakhand. They had distributed blankets back then as well. As per the news agency ANI, Anushka and Virat visited the famous Kanchi Dham along with Vamika.
Anushka and Virat recently returned from Dubai where they celebrated the New Year with Vamika. Virat shared their photos on his Instagram and captioned them, "2023" with a red heart emoji. Before heading to Dubai, Anushka wrapped up her upcoming film Chakda Xpress shoot.
Trending Topics to Follow