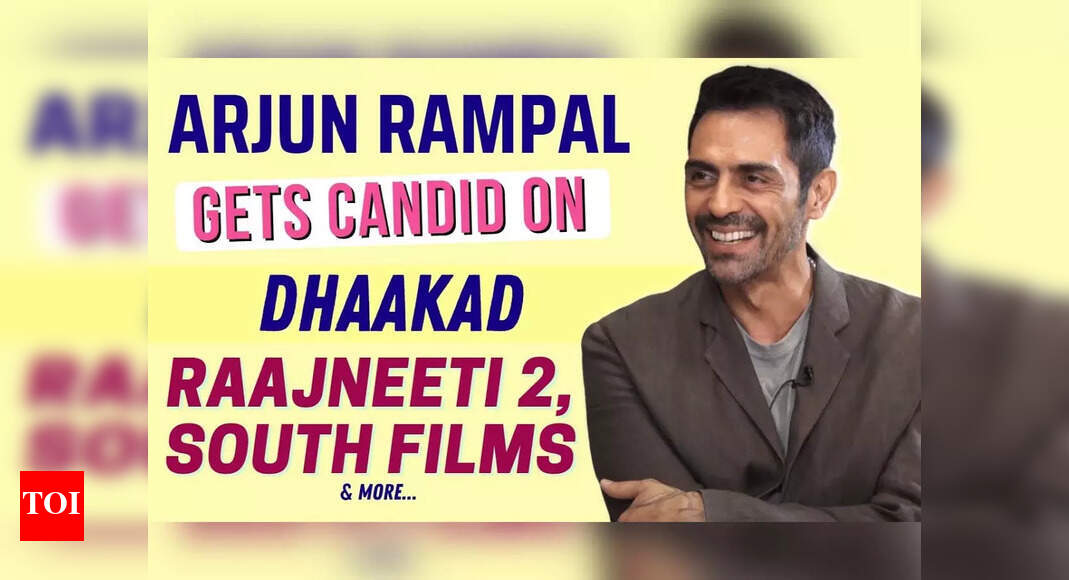 Arjun Rampal
who is all set to stun us with his action-filled performance in
'Dhaakad'
along with
Kangana Ranaut
revealed some interesting details about his personal and professional life in an exclusive video interview with
ETimes
. Here are the excerpts:
Tell us about your role in 'Dhaakad'

There comes a time when you want to shift gears. I like gritty, powerful, well-written, extrovert characters. I want the audience to go and see the character and not me. The character in 'Dhaakad' is evil and quite opposite to me in real life.

Were you skeptical about sharing screen space with Kangana Ranaut considering she has a headstrong personality?

No, I was not skeptical. I have known Kangana for a very long time. Kangana and I have got our first National Awards together. She got it for 'Fashion' and I got it for 'Rock On'. After that, she had come to my night club in Delhi and we partied together. She has come home as well and we have met a number of times on different occasions. She is a very sweet girl. I have seen her evolve as an actor.
Have you become reclusive after your mother's death?

Yes, I have changed as a person. I think it is fair to say, I am not the same person who I was 10 years ago. There is a lot of calmness, a lot more clarity. Change is inevitable, nothing is permanent. Nobody is going to be here forever.
You were surrounded by controversies during the lockdown. Did that deter your confidence?

It was very disturbing and disheartening to see what was happening. You can't fight certain people and certain systems. The best way is to go through what you have to. That's the best way to clear your name and that does make you stronger and aware about certain things. We work very hard to make a name and it gets very disturbing when it gets dragged into a situation where we don't belong and our name is maligned.

How has fatherhood changed you as a person?

I've changed ever since I had my first child. Arik was born during a phase when I lost my mother, so he is a God sent gift for me. I am blessed to have my kids around me.
You made people jealous when you revealed your relationship with Gabriella, tell us about it!

She is a very special person. We understand each other very well. She has been a great influence in my life. I hope I am a great influence in her life, too. Touchwood, we are very content and happy.
Will we get to see you in 'Raajneeti 2' considering your role ended in the first one?

(Smiles) Maybe I can take rebirth as Katrina Kaif's son as she was expecting in the first one. But will I do a political film again? I don't know because if I'm offered a very good script, then it could be an interesting world to explore.