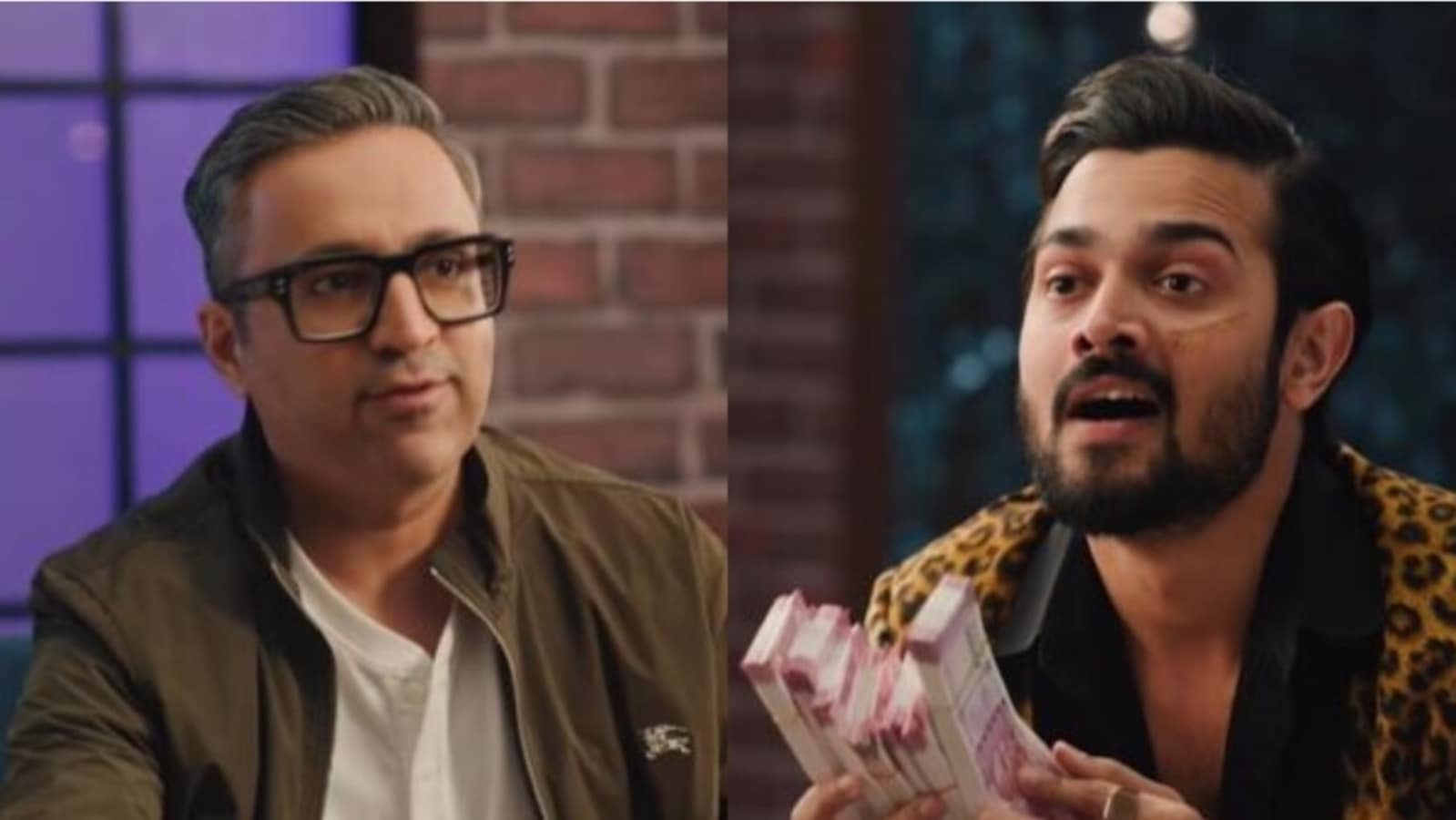 Former Shark Tank India 'shark' Ashneer Grover pitched his ideas to actor Bhuvan Bam in a new video. In the clip shared by Disney+ Hotsar on Instagram on Tuesday, Ashneer Grover was seen mingling with the characters of the series Taaza Khabar. The video started with Shriya Pilgaonkar's character making a pitch to Ashneer about her fashion brand 'Madhu creation.' (Also Read | Anupam Mittal replies to viewer who said Shark Tank India 2 isn't fun due to Ashneer Grover's absence)
Shriya asked Ashneer to help her finance her dream of opening her own boutique in a mall. Discouraged by her pitch, Ashneer gave her an example of a good pitch–solar panel inside a jacket so that a person can charge their phone. Ashneer said her idea wouldn't work and asked her to leave. Shriya got angry, used cuss words, and left.
Next, Prathamesh Parab's character, who owns a Chinese stall, came to meet Ashneer with his resume. When the former Shark Tank judge asked him to make a dish for him, Prathamesh asked for funding first. As Ashneer said he would ask Disney+ Hotstar to pay him, Prathamesh went back saying he even doesn't have the money to pay him.
Deven Bhojani next came with his pitch of selling pav (a kind of Indian bread). As he gave a piece to Ashneer, he smelled it but didn't eat and kept it aside. When Deven asked him to take a bite, he said his doctor asked him not to eat carbs. As Deven urged further, Ashneer said, "Bhai mere main tere pau padh loonga. Nikal ja bhai yahase (I'll accept my defeat, you just leave)."
Lastly, Bhuvan Bam came to meet Ashneer with a bag full of money and sat across from him. He then asked Ashneer to pitch ideas to him and he will pay. An excited Ashneer changed his tone and gave a string of ideas to 'sir' Bhuvan. He spoke about a solar panel jacket, an after-glow shampoo for buffaloes, X-ray spectacles, and farming in the metaverse. When Ashneer pitched his last idea of building a hotel on the moon, Bhuvan gave his entire bag to him.
Bhuvan told Ashneer, "Deal pakki. Kya mast dogla aadmi hai re tu! (Deal fixed. What a double-faced person you are!)" who replied, "Thank you, sir". When Bhuvan asked him, "Aur doon? Dickey mein hai (Do you want more money? I have in the car's dickey)," a nervous Ashneer shook his head.
Reacting to the clip, a person said, "This video is better than Shark Tank Season 2." Another fan said, "Sabki pitch ek se badh kar ek hai (One pitch is better than the other)." "Hahaha. Would definitely watch a Hotstar Special with Ashneer now!" read a comment. "Too good. Will have to watch," said an Instagram user.
Taaza Khabar is a web series streaming on Disney+ Hotstar. The show is directed by Himank Gaur, from a story penned by writer duo Hussain and Abbas Dalal. Set in South Mumbai, Taaza Khabar is a story of a man stumbling upon magical powers and the ripples it creates in his life. Taaza Khabar also stars JD Chakravarthy, Nitya Mathur, Shilpa Shukla and Mithilesh Chaturvedi. It began streaming on the OTT platform on January 6.