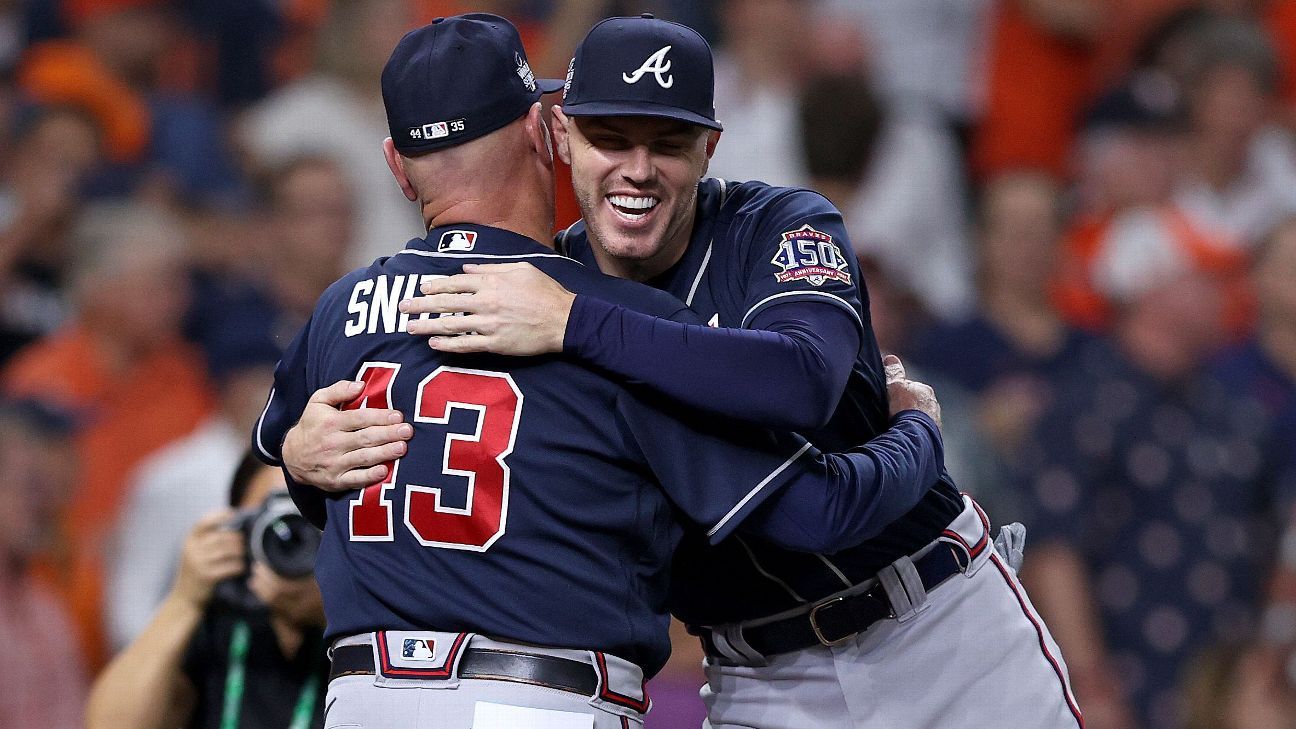 NORTH PORT, Fla. — Not long before Braves manager Brian Snitker hosted the first team meeting of spring training Monday morning, he texted Freddie Freeman, who was on the other side of the country. Snitker mentioned that he was about to talk to the players, joking that Freddie still had a few minutes to join the group.
Underneath the humor, the outreach was more about a deeply cherished shared history between Freeman and Snitker. But as they spoke, both player and manager probably already knew that Freeman's old locker — a space between those of Charlie Morton and Travis d'Arnaud, empty Monday except for 10 dangling white hangers — will remain unoccupied indefinitely.
Even before the seismic news of the trade that seemed to seal Freeman's fate, that context was felt deeply in Snitker's conversation with the team. Snitker focused on great Atlanta players who have moved on before — Henry Aaron was traded, Chipper Jones retired, etc. In all of those cases, the rest of the players had to move on, as well.
Just a few hours later, outfielder Cristian Pache walked out of an office on the fringe of the clubhouse and told Ozzie Albies and others that he had been traded for another All-Star first baseman, Matt Olson. Albies knew instantly that Freeman's time with the Braves was over. The next time Freddie Freeman — a lifelong Brave, the team's starting first baseman for the past 11 years — dons an Atlanta uniform will likely be after he retires.
Snitker was standing in front of reporters when he was informed of the news, and, while Snitker had known it was a possibility, he blanched at the update. "Hmmmm, that's new for me," Snitker said. Third baseman Austin Riley learned the news from a passing reporter. Ian Anderson was in a hot tub when Max Fried saw a notification about the trade and told others in the room.
When Braves general manager Alex Anthopoulos spoke to reporters a few hours later, he fought back tears under the weight of questions related to Freeman's departure. He also had to try to honor the rules regarding how executives are allowed to talk about free agents: No official can publicly eliminate his team in the bidding for any player, so Anthopoulos had to maintain the facade that Freeman might re-sign with the Braves despite the fact that Anthopoulos had just traded for Freeman's replacement.
Anthopoulos was asked if he had ever had this much emotion in making a deal. "No, not even close," he said, his voice cracking.
When Anthopoulos became the general manager of the Toronto Blue Jays years ago, he thought clubhouse culture was something of a myth, its importance wildly overstated. Through trial and error, and illuminating words from former Brave Mark DeRosa, he learned how wrong he had been. As he joined the Braves, he and his staff aimed to carefully assess how every player might fit in. On their way to the World Series title last year, the Braves felt their clubhouse culture was a valuable asset, as they survived the season-ending injury to Ronald Acuna Jr. and integrated a lot of newcomers in trades.
And yet the hard truth now is that one of the lasting legacies of Anthopoulos' Braves tenure will be as the GM who made the trade that effectively ended the tenure of someone widely regarded as one of the best teammates — and best people — in the sport.
Like Anthopoulos, Braves shortstop Dansby Swanson had glistening eyes as he talked in the clubhouse about what Freeman had meant to him — and he added what Anthopoulos could not.
"He's been a cornerstone guy," Swanson said. "A guy who should have his number retired as an Atlanta Brave. That part is disappointing … and at the same time, there's the friendship component."
Freddie the Friend. Freddie the Hugger. Few players are revered in a clubhouse or locker room in the way that Freeman has been loved by the other Braves. Acuna mentioned how he embraced young players, mentored them. Others talked about how he could be counted on. "The best leaders show up," Swanson said. "And he showed up every day, was consistent every day, and did what we needed, to be able to play and hold down first base."
The lasting effects on the clubhouse from Freeman's departure are yet to be seen. His former teammates are well aware that Freeman was prepared to finish his career with the Braves, and that the negotiations between the team and the first baseman stalled last spring. They are well aware that the Braves franchise fared very well financially last year, finishing second in the big leagues in attendance, piling on more profit as the team made its postseason run. The money to pay Freeman is available, but the choice at the top of the organization was to not pay Freeman what he wanted. Olson is younger and cheaper, an Atlanta native, and another great player.
It's not the first time this happened with the face of a franchise. As someone mentioned in this clubhouse yesterday, Albert Pujols left the Cardinals. The Mariners traded Ken Griffey Jr. But in the early days of spring training, that context did not lessen the sense of dread here that this news was coming.
Riley had been swiping at his phone constantly for updates on the Braves' negotiations with Freeman, he acknowledged, and he might as well have been speaking for everyone in the clubhouse. "I refresh, refresh, refresh," he said. "I'm waiting to see some news." Fried told reporters in the morning how strange it all was, to see Freeman's empty locker. Through an interpreter, Acuna said it was weird not to have Freeman around.
This is supposed to be a time of celebration for the Braves. They have been sized for the championship rings they will receive next month, albeit with an unusual process because club employees were banned from speaking to players during the lockout: The players sent in their measurements, "and if you had any questions, you couldn't call anyone," Anderson recalled, chuckling. There will be a flag-raising next month, more roars from the Braves fans who turned out big-time for the parade after Atlanta beat Houston. Acuna is feeling great, saying he's at "95 percent," and the Braves will try to become the first team to repeat as champions since the 1998-2000 Yankees.
But now there will have to be a separate ring ceremony for Freeman, apart from his former teammates. He will have to try on that Braves championship ring while wearing the uniform of another team.
After Snitker's meeting here Monday and before the news broke, the Braves' position players stretched and laughed under the Florida sun, and the infielders split into groups at each position. Two third basemen, three at shortstop, two at second.
At first base was not No. 5, Freeman's old number, but No. 69 — John Nogowski, a 29-year-old left-handed slugger with 147 plate appearances and one homer in the big leagues, as well as an on-field scrap with Marcus Stroman. Olson will arrive later this week to take grounders and throws at first base. He's an excellent player, and an excellent addition.
But to borrow Anderson's word, it was all very eerie. For more than a decade, this has been Freddie Freeman's team. With him, it became a championship team. And now, he is gone.