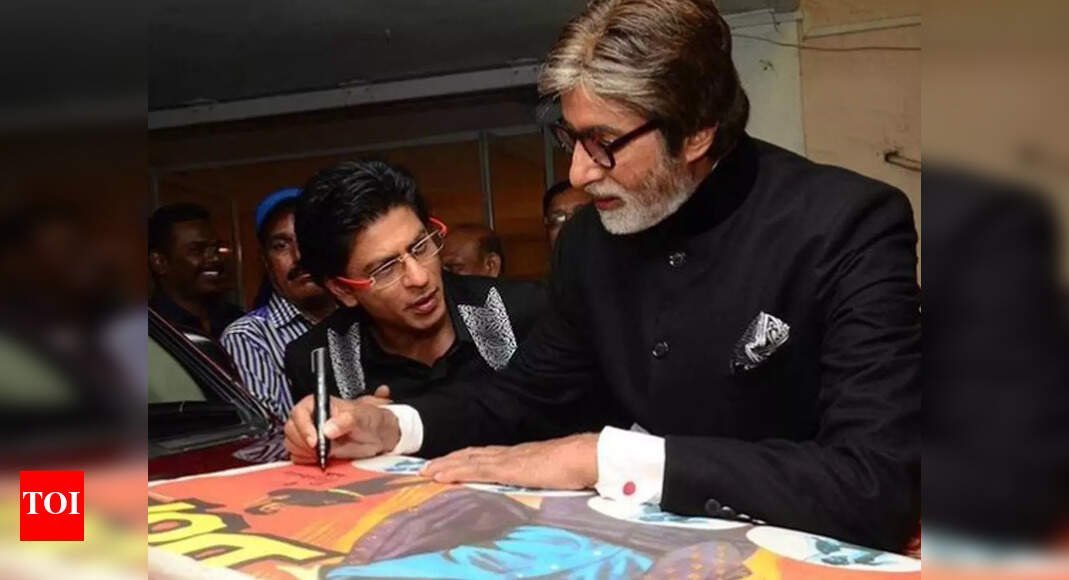 Amitabh Bachchan
may have just spilled the tea on the biggest crossover in Bollywood film history, at least as far as these fan theories are concerned.
The megastar on Saturday night retrieved an old photo from his album featuring Shah Rukh Khan. Interestingly, the picture has Shah Rukh looking on as Bachchan signs a vintage 'Don' movie poster. He captioned the post, "…. and … errr … continuing in the same vein .. DON."
The post came shortly after rumours spread like wildfire that Farhan Akhtar, who directed 'Don', has put his film 'Jee Le Zara' with Priyanka Chopra, Katrina Kaif and Alia Bhatt on the back burner to focus on his new script. Big B's post seemed to fuel speculation that the script in question is that of the highly anticipated 'Don 3' that have have been demanding for nearly a decade.
Shortly after the post went viral, fans wondered if Bachchan was hinting at his possible return as the famed character in what could just become one of the biggest crossovers in Bollywood films thus far. "@SrBachchan giving us a lot of hints about DON 3," a fan said while sharing a picture of the actor's post.
"Are the DONs reuniting for DON 3?" a fan asked in a tweet.
Another asked, "Both Don's are Coming With Don 3?"
Is that any hint of Don 3 ? https://t.co/xMqROTAGYj

— ISHIT (@Ishit__Rajput) 1655573916000
Are the DONs reuniting for DON 3? https://t.co/hCkMq1KlDB

— BRIJWA SRK FAN (@BrijwaSRKman) 1655571882000
Both Don's are Coming With Don 3 ? https://t.co/XTB7NVDl6Q

— ᎡϴᎽᎪᏞ ҒᏆᎡᎠϴႮՏ (@chalte_chalte1) 1655573648000
Don 3 On the way and the biggest crossover https://t.co/Dx8cqQCZiD

— Gourab. (@iamgourab_21) 1655571632000
Amitabh Bachchan playing Cop in Don 3 https://t.co/AANT2cSq2b

— Jb_ Cristiano (@Cris_JB05) 1655574295000
Finally it's happening. Don 3 https://t.co/B0WZ0wwsPJ

— (@_Samar__Anand) 1655571700000
Don 3 coming #Don3 https://t.co/ac9M5V8iqj

— ραthaan (@MegastarSRK_) 1655571865000
Some fans also wondered if Kajol was the front runner to play the female lead in the film after the actress shared a photo of herself and captioned it as, "Main hoon Don…"
Sharing photos of the actors' posts over the past months, a fan said, "Something is cooking… Don 3 is on. Ap chronology samjho."

"Main hoon Don…" Uff, how I wish to have you with Shah in Don 3.@itsKajolD ♥️ @iamsrk https://t.co/6y2SY8n8iY

— Chelo (@dilse__srk) 1655113253000
Something is cooking gioz…. Don 3 is on Ap chronology samjho https://t.co/YEcuj697wI

— Only SRK matters (@Sohail_SRKfan) 1655575304000
While 'Don 3' has been trending on social media, Bachchan has been celebrating 44 years since the release of his film. Sharing some old photos, Big B marked 4 decades of his character that was taken over by SRK in the 2006 film.
The plot of the 1978 film revolved around a wanted criminal on the run who dies as a result of his injuries sustained during a police chase. However, fate intervenes and a man named Vijay, who appears to be a doppelganger of the criminal, takes his place, attempting to uncover the facts of his nefarious activities.