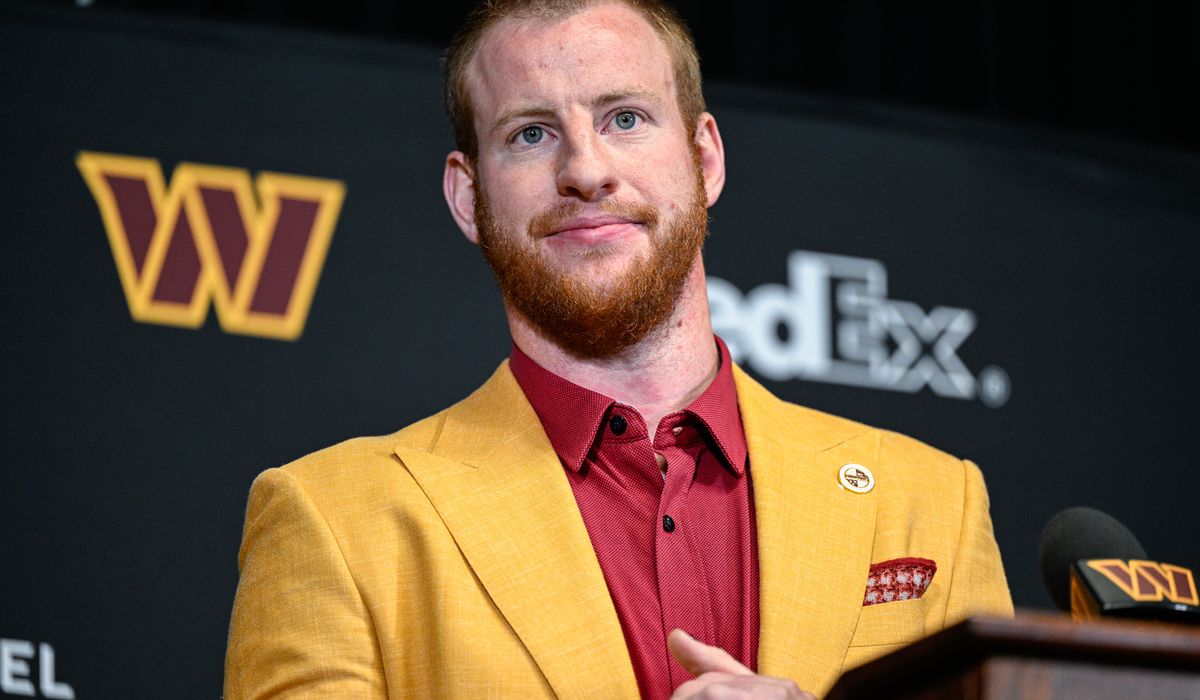 Matt Ryan was traded after the Washington Commanders acquired Carson Wentz. So was Deshaun Watson — a move that suddenly put Browns starter Baker Mayfield on the trade market. 
But if the Commanders are supposed to have second thoughts because of what's happened since they landed Wentz, well, Martin Mayhew disagrees.
The Commanders general manager dismissed the notion when he met with reporters Monday in Florida for the NFL's annual owners meetings. Mayhew stood firm behind the trade, calling Wentz "the best option" for the Burgundy and Gold. 
"Not at all," Mayhew said, when asked if the developments caused him to re-evaluate the deal. "We talked to a lot of different people about a lot of different quarterbacks. We had a good sense of who was going to be available and who wasn't going to be available to us. 
"We felt very comfortable making that decision." 
The trade for Wentz left some football pundits questioning the Commanders' brain trust. 
Sports Illustrated labeled the deal as a "desperate move in a thin market." The Athletic graded the trade as a "D" for Washington. The consensus appeared to be that Washington paid too much — a package that included two third-rounders, one of which can become a second — for a quarterback the Indianapolis Colts were eager to get rid of. 
That was even before the news about Ryan and Mayfield broke out. Before then, neither figured to be part of this year's quarterback carousel (at least publicly). The fact that they were has caused some to speculate that Washington played its hand too early to address the position.
Of course, there's no guarantee that the Commanders would have landed either option had they waited. When the Falcons traded Ryan, Atlanta general manager Terry Fontenot said the team wanted to "do right" by their former MVP, so they sent him to Indianapolis.
Fontenot acknowledged that if the Falcons had opened the bidding to every team, they likely could have received more compensation than a third-round pick and "traded Matt somewhere he didn't want to be." If the choice was truly up to Ryan, would he really have chosen the Commanders over the Colts? Remember, Russell Wilson already spurned Washington for Denver earlier this offseason.
"It's a good sign when you have quarterbacks who want to be in your organization," Colts general manager Chris Ballard told reporters Monday. "They're not coming if you're just a dysfunctional mess." 
Mayhew pushed back against the assertion that the Commanders aren't an attractive destination for star quarterbacks. 
"We've had talks with a lot of agents about players who want to come to Washington, so I wouldn't agree with that assessment," Mayhew said. "Obviously, everybody has their own personal preference."
As for Mayfield, there's an argument to be made whether he's even an upgrade over Wentz. Wentz actually threw more touchdowns, fewer interceptions and completed a better percentage of his passes last season than Mayfield, who was hampered with a nagging shoulder injury before being shut down. 
In Florida, Wentz's former coaches vouched for the 29-year-old. Former Eagles coach Doug Pederson, now with the Jaguars, called Wentz a "tremendous leader" — a retort to the widely held perception that the quarterback lacks in that area. 
Colts coach Frank Reich said he believes Wentz still has the potential to be a top 10 quarterback. 
"I love the guy, I really do," said Reich, who also coached Wentz in Philadelphia. "And I think he's a really good quarterback. He's going to play really well for the Commanders and I'm excited to see that."
The fact remains that the Colts moved on after Wentz after just one season — despite giving up a first-round pick and more to Philadelphia. "Not everything is a storybook ending," Reich said. And so after an uneven year with Indianapolis, Wentz will be on his third team in the last three seasons.
"Carson has an incredible skill set," Mayhew said. "We feel like he's going to be an outstanding player for us."