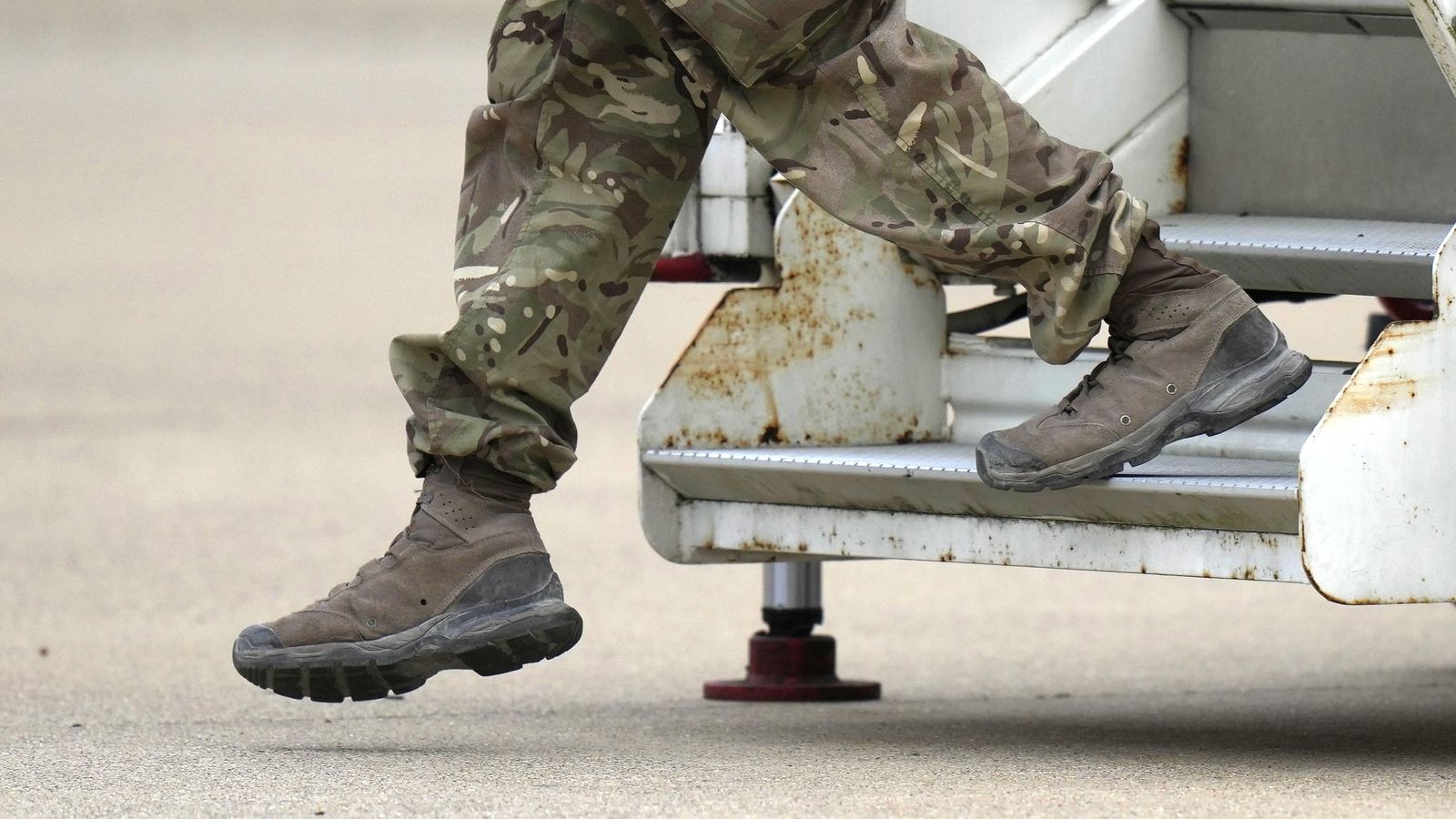 Dozens of military personnel have been forced to evacuate their accommodation at a Royal Air Force helicopter base after a power outage left them without hot water and functioning fire alarms.
The electrical fault also impacted other facilities at RAF Odiham in Hampshire, home to the Chinook squadron, Sky News has learnt.
Commanders this week ordered around 80 personnel to leave their accommodation blocks and relocate temporarily to RAF Brize Norton in Oxfordshire, where they are being put up in what one source described as "a former military hotel which is worse than the Bates Motel".
He was referring to a motel in the 1960 psychological horror thriller Psycho, by Alfred Hitchcock, which inspired a television series called the Bates Motel.
Describing the mood among those affected at RAF Odiham, the source said that "standard military bravado" was kicking in.
"Whilst everyone involved knows it is a rubbish situation and has a moan and a gripe, it's being laughed at too," the source said.
But they added: "Simple questions are being asked as to why the station doesn't have any redundancy, why is it taking 36 hours to get a generator in?"
Read more:
UK will be left 'exposed' when it cuts fleet of aircraft, sources warn
China recruits British ex-military pilots
As part of Joint Helicopter Command, the upkeep of the base is the responsibility of the army rather than the RAF, despite it being an air force base.
This "middle ground" meant neither service has funded necessary investments in infrastructure such as the accommodation blocks and hangars used to house Chinook helicopters, according to the source.
"Money that the RAF received over the years hasn't made it to Odiham because it was under the army, but because Odiham is an RAF base, the army didn't invest in it either," the source said.
The promise of subsidised accommodation is one of the perks of joining the armed forces.
However, the Ministry of Defence has failed to ensure the upkeep of its housing, which it outsourced to a number of private contractors.
Complaints by personnel and military families about their homes – including no hot water, power cuts and even rats – are one of the biggest factors driving down morale and prompting many individuals to quit the armed forces.
April: Coronation flypast rehearsal

In another debacle, a defence minister on Tuesday revealed that almost 800 homes occupied by military families are overdue inspections of their gas and electricity supplies – a statutory certification requirement to ensure the properties are safe to live in.
"The expiry of a certificate does not immediately render a house unsafe, but, clearly, the longer a home is left with expired certificates, the greater the risk that it could become so," James Cartlidge, the defence procurement minister said in a written statement to parliament.
Click to subscribe to the Sky News Daily wherever you get your podcasts
"During checks to date, no issues have been identified that would represent a serious safety concern for the families involved. That said, the safety of our personnel is paramount and it is unacceptable for any family to be living in a home without the necessary checks."
Asked about the situation at RAF Odiham, an army spokesperson said: "We can confirm an electrical fault in accommodation at RAF Odiham has resulted in approximately 80 service personnel being relocated to transit accommodation at RAF Brize Norton.
"Transit accommodation provides basic facilities for personnel on a very short term basis and we are working to return personnel as soon as possible."
It is expected that the fault will be fixed within 48 hours.