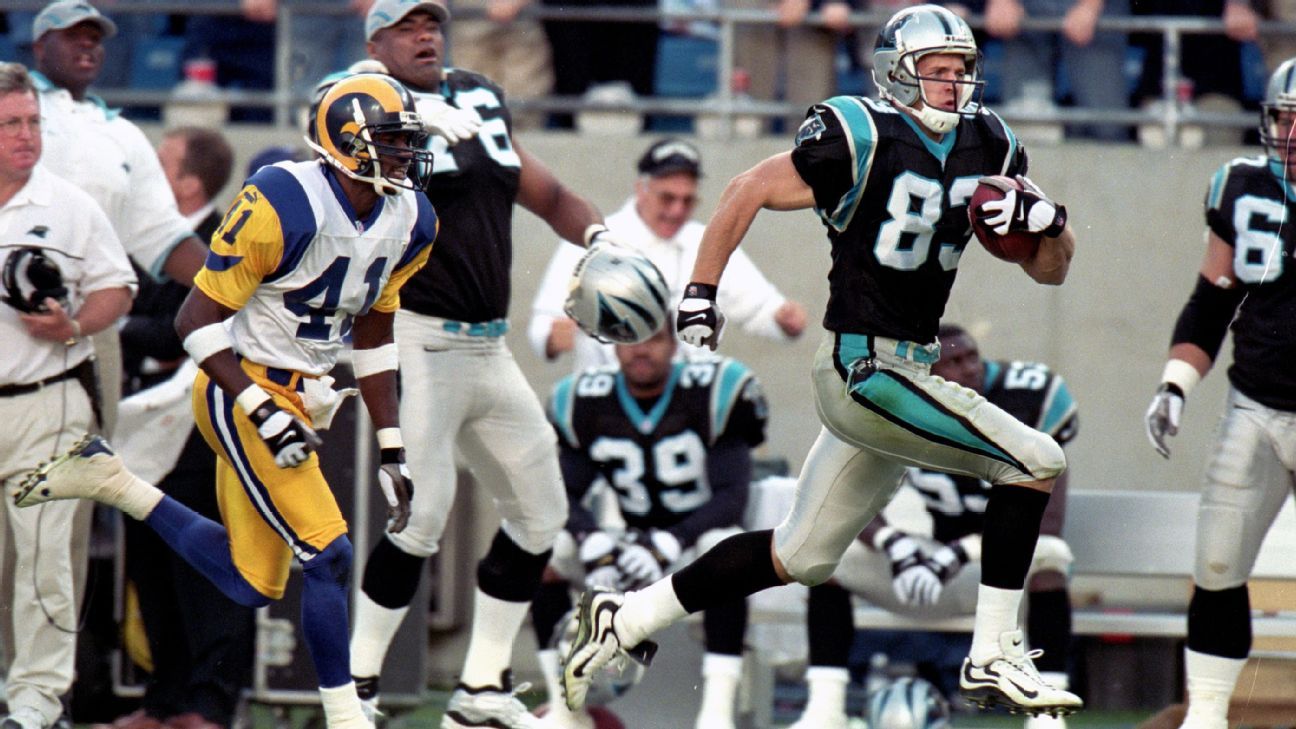 Every fantasy football season sees its share of playoff-week surprises.
Proven stars such as Josh Allen, Jonathan Taylor and Cooper Kupp commonly carry their fantasy teams to league titles, year after year (albeit the names typically change as the stars shift). They're the "guys who got you this far," and they're why we so commonly advise you to continue to lean on them during these critical weeks, matchups be damned. The decisions to put them into your lineup are the easy ones.
But it's the unknowns who often make the difference in championship matchups, the players who spent September, October and often November in relative (and sometimes complete) obscurity. Having the right supporting cast, which often includes taking at least one lineup chance on one of these seemingly out-of-nowhere standouts, usually puts a fantasy team over the top.
If you've played fantasy football for any length of time, surely you're familiar with at least one of the names on the following list. They are one man's opinion of the 10 biggest unsung playoff hero stories of the modern era, which spans the 27 consecutive seasons of the 17-week era from 1994 to 2020. During that time, many fantasy leagues traditionally used a 13-week regular season, plus either three (six-team playoffs, single-elimination) or four (four-team playoffs, two-week matchups) weeks of playoffs.
Identifying these individuals considers a variety of different methods: preseason average draft position (ADP), roster percentages during the fantasy regular season and in the postseason, roster percentages on ESPN championship teams, fantasy scoring during the regular season and postseason, and simply perception of the player's value. Here they are, in ascending order:
Note: All fantasy point totals listed are for PPR scoring unless otherwise noted.
---

10. Tyler Higbee, TE, Los Angeles Rams (2019)
The lone tight end on the list, Higbee managed at least seven receptions in each of the five games he played in December 2019, a threshold he has never reached in any of his other 87 career games played (through Week 17 of 2021). Over Weeks 14-17, he totaled 83.5 points, the 11th most by any tight end in history during that four-week span. Higbee finished the 2019 season on a championship roster in 21.3% of ESPN leagues, tops among tight ends.
9. Breshad Perriman, WR, Tampa Bay Buccaneers (2019)
In one of the most unexpectedly good hot spells that came at precisely the perfect time, Perriman's 92.2 points over Weeks 14-17 of 2019 represented 71.8% of his seasonal and 20.9% of his entire career totals (through Week 17 of 2021). He was on fewer than 0.1% of ESPN teams entering those fantasy playoff weeks but concluded Week 17 as the most-rostered player on championship squads (27.2%). Perriman would sign a one-year deal with the New York Jets three months later, scoring only slightly more points in 12 games (99.1) in 2020 than he totaled during his amazing fantasy playoff run.
8. Steve Beuerlein, QB, Carolina Panthers (1999)
Smack in the middle of what was a three-season stint as the Panthers' starting quarterback, Beuerlein enjoyed a four-week fantasy playoff stretch for the ages. Over Weeks 14-17 of 1999, he scored 111.64 points, the fourth-largest total by any quarterback during that four-week span. And his 27.9-point average in that stretch more than doubled the 13.1 he averaged in his other 40 Panthers starts.

7. Larry Johnson, RB, Kansas City Chiefs (2004)
Here's an example of an unknown commodity setting up a supremely dominant two-plus-year run. Johnson, the understudy to Priest Holmes in 2004, emerged as the Chiefs' starter for the first time in December after Holmes was lost for the season to a knee injury. Johnson went from sharing the backfield with Derrick Blaylock to taking over fully after Blaylock also injured his knee in Week 14, totaling 117.7 points in the season's final four weeks, the 10th most among running backs in history during that four-week span. Johnson would begin 2005 again as Holmes' understudy, but he took over as the Chiefs' starter once more in Week 9, after Holmes suffered a season-ending spinal cord injury on a helmet-to-helmet hit the week before. Johnson would score 658.6 points over his next 25 games — the final nine games of 2005 plus all 16 games in 2006.
6. Derrick Henry, RB, Tennessee Titans (2018)
After being the No. 42 selection on average in ESPN leagues (and the 18th RB off the board), Henry was one of the biggest disappointments during the 2018 fantasy regular season. He averaged 8.0 points in the season's first 13 weeks, right in line with his full-season averages of 7.1 as a rookie in 2016 and 8.4 in 2017, but unexpectedly ramped up his performance in December 2018, scoring 105.8 points in his final four games of the season. It was the breakthrough point of Henry's career, as he went on to score 294.6 points in 15 games in 2019, 333.1 in 16 games in 2020 and 193.3 in eight games this season before injuring his foot, that last one amounting to a 24.2 PPG mark, best among all RBs with at least eight games played.
5. Kevan Barlow, RB, San Francisco 49ers (2003)
A third-round pick who served as Garrison Hearst's backup for the first 44 games of his NFL career, Barlow stepped in as the 49ers' starter in Week 14 of 2003 after Hearst succumbed to a need for season-ending knee surgery. Barlow scored 101.3 points over that four-game, season-concluding span, exceeding the 100.8 he scored in his first 12 games of the season. He would serve as the 49ers' starter for each of the next two seasons, but he managed only 176.4 (2004) and 129.2 (2005) points in 15 and 12 games, respectively.
4. Jerome Harrison, RB. Cleveland Browns (2009)
After chipping in a pair of productive enough fill-in starts for Jamal Lewis, who missed Weeks 3-4 of 2009 with a hamstring injury, Harrison was elevated to starter status after Lewis' career was abruptly ended by a concussion in Week 12. The Browns, however, were 1-10 at the time, and no one could've possibly foreseen what Harrison and his team would do in the role of spoiler: They would rattle off four straight wins to conclude the season, outscoring their opponents, 100-66, and Harrison would score 95.2 points during that four-game span. Harrison's 49.8 points in Week 15 remains one of the best single-week totals in fantasy football playoff history, and he amassed a mind-blowing 106 rushing attempts in the season's final three games. To put that into perspective, he had only 250 rushing attempts in the other 60 games he played in his career.
3. Tim Hightower, RB, New Orleans Saints (2015)
His was arguably the most out-of-nowhere performance in fantasy football playoff history. After Hightower suffered a season-ending torn ACL in Week 7 of 2011, he spent the next three seasons out of the league before latching on as a Saints practice-squad player, then being elevated to active status in Week 9. After a season-ending shoulder injury to Mark Ingram II, Hightower got his unexpected chance to start, scoring 81.6 points as the team's primary back over the final four regular-season games. He was drafted in only two ESPN leagues total in the preseason, yet by season's end, found himself on the championship-winning roster in 33.6% of leagues, best of any player.
2. Drew Bennett, WR, Tennessee Titans (2004)
Perhaps the most memorable fantasy playoffs hero, Bennett scored an astonishing 111.9 points over the season's final four games, the fourth most by any wide receiver during that four-week span, despite his Titans being forced to rely on little-known backup QB Billy Volek for their final five games. Bennett was a known fantasy commodity at the time but far from a star, having scored 165.0 points in his first 12 games of that season and never scoring more than 156.1 points in any of his other seven NFL campaigns. He benefited from a mediocre Titans defense that forced Volek to the air frequently, with the quarterback-wide receiver combination carrying many fantasy teams to unexpected championships and stamping itself into our collective memories.
1. Patrick Jeffers, WR, Carolina Panthers (1999)
Amazingly, Bennett's big Week 14-17 run was outdone by this wide receiver, whose 132.6 points were the second most during that four-week span in history by anyone at the position, behind only Odell Beckham Jr.'s 144.5 in 2014, and the seventh most by any player. It was the most out-of-character fantasy playoffs performance by anyone in the modern era, as Jeffers totaled 207.3 points in the other 42 NFL games in which he played. Unfortunately, we never got a chance to see whether it was a true breakthrough, as a torn ACL the following preseason cost him the entire 2000 season and he was never the same player afterward.
Other big, unexpected fantasy playoff stretches:
Odell Beckham Jr., WR, New York Giants (2014)
Tim Biakabutuka, RB, Carolina Panthers (1998)
Warrick Dunn, RB, Tampa Bay Buccaneers (2000)
Jeff Garcia, QB, San Francisco 49ers (2003)
Jalen Hurts, QB, Philadelphia Eagles (2020)
Bilal Powell, RB, New York Jets (2016)
Damien Williams, RB, Kansas City Chiefs (2018)