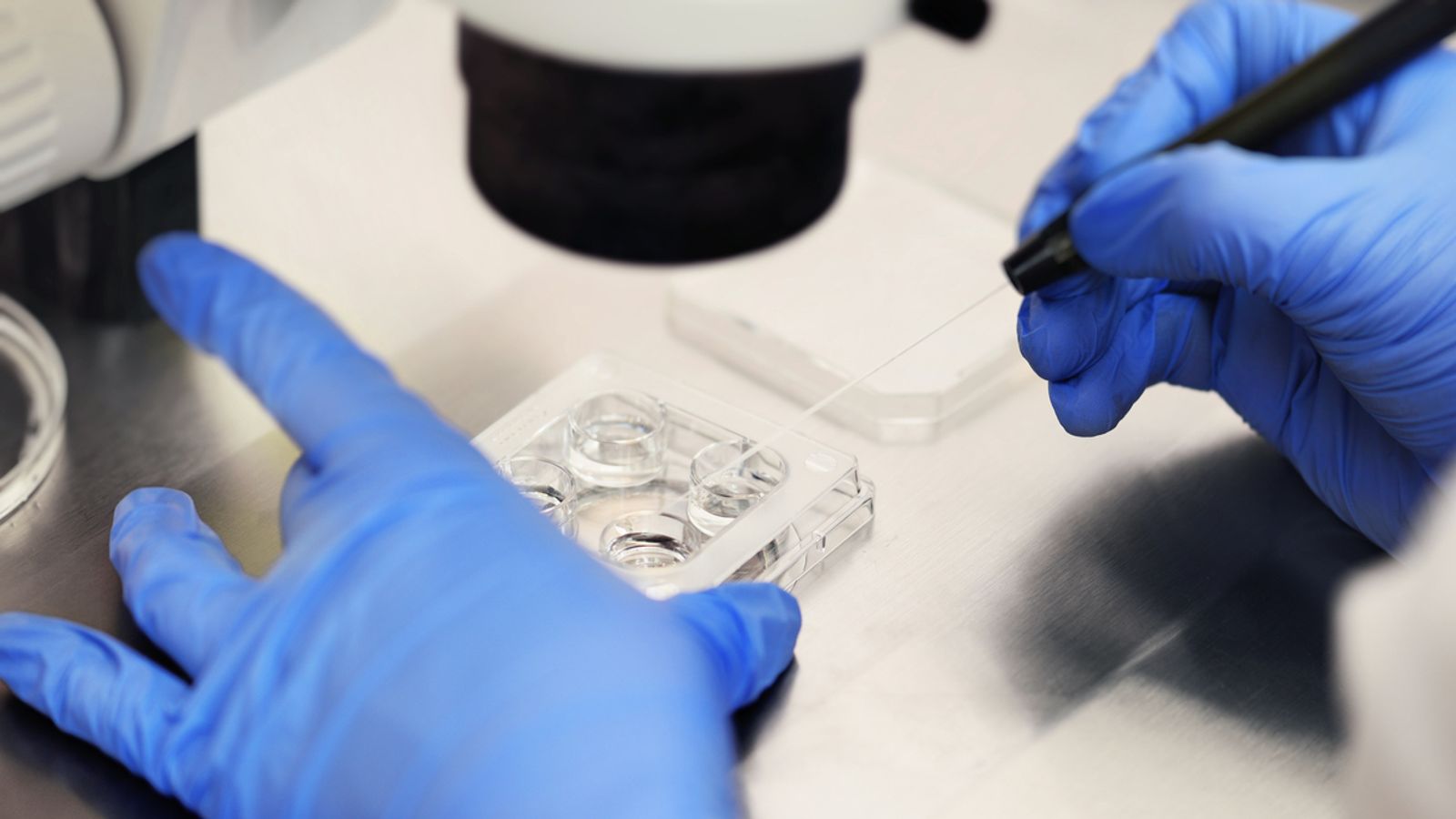 More people than ever before are accessing fertility treatment in the UK, according to new figures, but more people than ever before are also paying for it.
The Human Fertilisation & Embryology Authority (HFEA) says that there was a 9% increase in the number of IVF cycles between 2019 and 2021.
But at the same time, the number provided on the NHS shrank by 10%.
For patients aged 18 to 34, 63% of IVF procedures are now privately funded, compared to 52% in 2019.
There are a number of reasons for this shift towards private treatment, but several experts pointed towards NHS waiting times.
Dr Catherine Hill, CEO of Fertility Network UK said: "Typically a couple would be trying for two years to conceive before going to see their GP. The GP would send them for tests, and some of these tests can take – in some parts of the country – up to two years.
"And that's before you get referred to the fertility clinic where there can sometimes be additional delays. And time is of the essence when it comes to fertility treatment."
There has also been a shift in the type of family accessing treatment.
Clinics treated 44% more single patients and 33% more patients in same-sex female couples in 2021 than they did in 2019.
The criteria for accessing NHS fertility treatment varies depending on where you live, and under current rules, very few single and same-sex patients qualify for NHS funding.
In most areas, they must prove they have tried several rounds of artificial insemination without success, and entirely at their own cost.
Read more:
A&E testing scheme finds thousands of people with HIV and hepatitis
Huge pile of unused PPE dumped near nature reserve in Hampshire
'A huge barrier, huge challenges, and I faced both'
Libby King is a gay, single woman who decided to have fertility treatment in 2020.
Her struggle to access the treatment she needed led her to set up the LGBT+ support group BourneThisWay in her local town of Eastbourne.
Ms King said: "To be eligible for IVF, we have to have tries of IUI (Intrauterine insemination), I think it's three to six tries, and we have to prove that we've tried IUI treatment before we're considered for IVF, which costs thousands of pounds again, so there's a huge barrier, huge challenges, and I faced both, being both a solo parent and a gay woman.
"It was a struggle. When people start paying for IVF, it's tens of thousands of pounds, whereas heterosexual couples get three cycles free, after they've been trying to conceive for a few years."
Other striking data from the HFEA shows that there has been a dramatic rise in the number of women freezing their eggs.
There was a 64% rise in egg freezing and storage between 2019 and 2021.
Some experts have said the COVID pandemic had a big impact on the number of women wanting to freeze their eggs in the hope of preserving their fertility.