Gianni Infantino said he was ?dismayed? after being criticized for his actions
FIFA president Gianni Infantino has said he was simply being helpful by posing for a selfie while standing near Pele's open casket during the lying-in-state of the Brazilian football icon this week.
Infantino was among the thousands to pay their respects to Pele after his body was placed in the center of the pitch at the Vila Belmiro stadium in Santos. The venue is home to the club where Pele spent the vast majority of his legendary career.
But Infantino faced accusations of disrespect after images circulated online showing him smiling while taking a selfie, with Pele's coffin visible just a few feet away. The criticism prompted the FIFA chief to hit back in a message on Instagram on Tuesday, in which he explained that he was merely responding to a request for a photo by Pele's family and former teammates.
"I am dismayed having been informed that I am apparently being criticized by some people for having taken a selfie and pictures at the ceremony yesterday," wrote Infantino, sharing images from the funeral.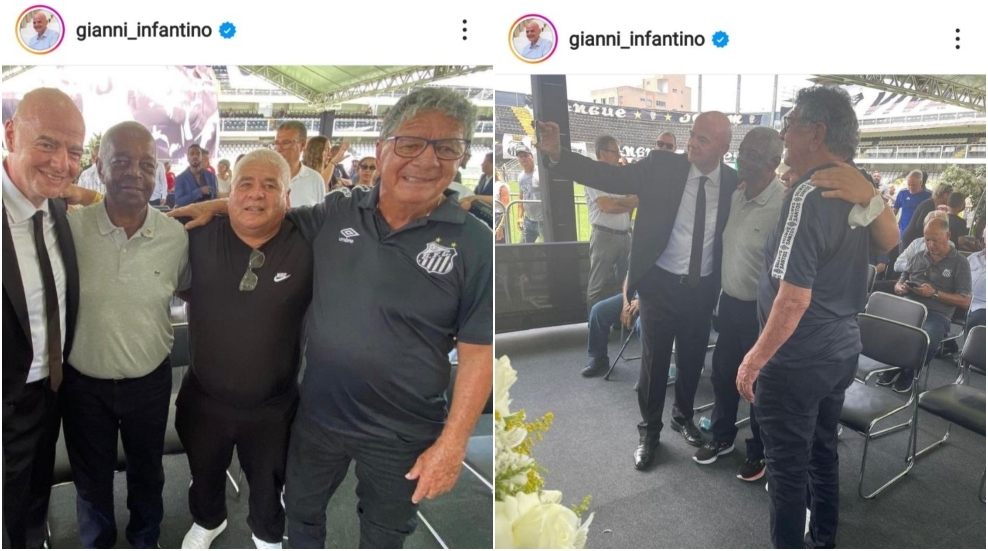 Infantino posed alongside Pele's former teammates including ex-Brazil and Santos star Lima.
Instagram / Gianni Infantino
"I would like to clarify that I was both honored and humbled that teammates and family members of the great Pele asked me if I could take a few photos with them. And obviously I immediately agreed.
"In the case of the selfie, Pele's teammates asked to do a selfie of all of us together, but they didn't know how to do it. So, to be helpful, I took the phone of one of them and took the photo of all of us for him," added the FIFA chief.
"If being helpful to a teammate of Pele creates criticism, I'm happy to take it and will continue to be helpful wherever I can to those having contributed to write legendary pages of football."
Infantino insisted that he would "never do anything that would be disrespectful in any way whatsoever," and argued that any criticism was based on a lack of context or understanding of the situation.
"I hope that those who published or said things without knowing and without seeking information could have the decency and courage to admit they were wrong and correct what they said," added Infantino.
The FIFA chief repeated his call for all of the organization's member associations to name a stadium or venue in honor of Pele, noting that FIFA will rename the pitch at its headquarters in Zurich in a tribute to the three-time World Cup winner.
Pele died aged 82 in a Sao Paulo hospital last week following a battle with colon cancer. His death prompted a wave of grief across Brazil and far beyond, with many remembering the football icon as the greatest ever to play the game.
Pele's body lay in state at the Vila Belmiro stadium in Santos on Monday and Tuesday for mourners to pay their respects, before being transported through the streets on the back of a fire truck to be buried in a private ceremony at the Memorial Necropole Ecumenica vertical cemetery.
Pele's coffin will lie in a mausoleum decorated in the style of a football stadium, and which features images of his illustrious career.
(RT.com)