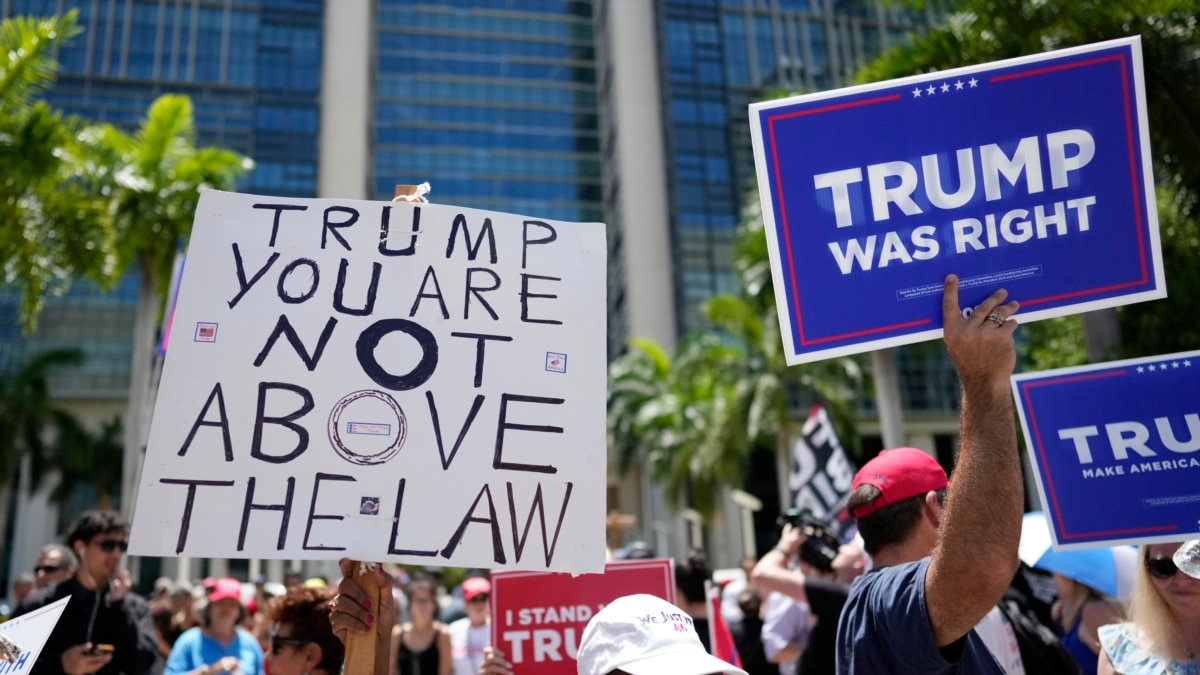 WHITE HOUSE — 
Following the indictment of Donald Trump in connection with his alleged mishandling of classified documents, the former president and his supporters contend that he is the target of a politically weaponized justice system. They claim that the Department of Justice has ignored similar alleged crimes committed by his rivals, including President Joe Biden and former Secretary of State Hillary Clinton.
In a speech after his arraignment Tuesday, Trump alleged that Biden and Clinton and other former presidents have committed far graver crimes than he has, yet he was the only one charged with felonies. That, he says, is proof that he is the victim of a political witch hunt.
Among other claims, many of which are contrary to evidence, Trump said Biden had "troves of classified documents" from his time as vice president and senator and sent away "1,850 boxes," and "refuses to give them up." He added that Clinton "stored vast quantities of classified and sensitive information on an illicit server."
Biden, Clinton and Mike Pence, Trump's former vice president, all have faced questions about holding on to government materials from their time in office. And like Trump, Biden is the subject of a Department of Justice investigation led by a special counsel appointed by Attorney General Merrick Garland.
Here are summaries of the three cases and how they compare to Trump's.
Joe Biden
Following media reports in January, the White House disclosed that in November the president's personal attorneys found classified documents from Biden's time as vice president stored at the Penn Biden Center, a think tank in Washington.
The White House said it notified the National Archives, which retrieved the documents and informed the Department of Justice. It instructed the FBI to search the think tank, which was done with White House consent. It's unclear whether they found additional classified records.
Additional classified documents were found by Biden's personal lawyers at the president's personal residence in Wilmington, Delaware, which they reported to DOJ. The documents were secured by FBI agents, who found several more classified records while searching Biden's home with White House consent. The FBI also searched Biden's vacation home in Rehoboth, Delaware, but did not find any classified materials.
In January, Garland appointed Robert Hur, former U.S. attorney for the District of Maryland, to oversee the investigation. Hur's probe is ongoing, and it is unclear when it will conclude. The White House has pledged full cooperation.
Mike Pence
In January, Pence's lawyers discovered about a dozen documents marked classified at his Indiana home and turned them over to the FBI. The documents were found after Pence asked attorneys to search his home "out of an abundance of caution" after the Biden classified document revelation.
A month later, the FBI discovered an additional document with classified markings at his home during their search. That search was done with Pence's consent.
In June, the DOJ notified Pence that the investigation into his handling of these materials had been concluded and that he would not be charged.
Hillary Clinton
In 2015, Clinton was found to have used a personal email account and a private server at her residence in New York for both personal and official correspondence during her tenure as secretary of state from 2009 to 2013, triggering concerns about security and potential mishandling of classified information.
An FBI investigation revealed that Clinton and her aides had deleted thousands of emails, claiming that they were personal in nature, raising suspicions of attempts to conceal potentially incriminating information.
In July 2016, during Clinton's presidential campaign, then-FBI Director James Comey criticized her for being "extremely careless" in handling classified information but did not recommend criminal charges against her.
Willful retention
A key difference between the three cases and Trump's, according to legal experts, is that the former president continued to willfully retain those documents despite repeated government efforts to have them returned, including through a subpoena.
"Acting criminally is to know that you have documents that contain sensitive military information and to intentionally continue to hold them," said David Sklansky, professor of Constitutional Criminal Procedure at Stanford University to VOA.
Unlike Trump, Biden and Pence handled the discovery appropriately, which ended the matter, said Mark Zaid, an attorney who focuses on national security law.
"The same would have happened with Trump had he cooperated," Zaid told VOA.
The evidence in the indictment released by special counsel Jack Smith lays out "very, very persuasively" that Trump knew he had classified material, said Alison LaCroix, professor of constitutional law at the University of Chicago.
Setting aside the question of whether Biden and Pence knew they had classified documents in their possession, LaCroix added, "they haven't attempted to conceal them."
With respect to Clinton, Zaid added, authorities determined there was no intent to violate the law and that the parties involved avoided discussing classified information.
Hunter Biden
In his Tuesday remarks, Trump alleged that the Biden administration is targeting him to distract from "the real espionage and the real crime."
"Let's indict President Trump so they don't talk about the $5 million bribe," he said.
Starting in 2019, as he campaigned for the 2020 presidential election against Biden, Trump has alleged that an executive of the Ukrainian energy company Burisma funneled millions of dollars to Biden and his son around 2015, so that Biden, then vice president, would pressure Ukraine to fire the government prosecutor investigating the company for corruption.
In June 2020, the head of Ukraine's national anti-corruption bureau said that neither Biden nor Hunter Biden, who joined Burisma as a board member in 2014, had anything to do with the company's corruption case.
A congressional investigation, which later led to Trump's first impeachment in December 2019, concluded that Trump pressured the Ukrainian government to announce an investigation into Biden, including by withholding military aid to Kyiv.
In January, House Republicans launched an investigation into the Biden family's business dealings. In May, they released financial documents detailing how some of the president's relatives were paid more than $10 million from foreign sources between 2015 and 2017 but conceded they have not uncovered evidence of criminal conduct and corruption by President Biden.