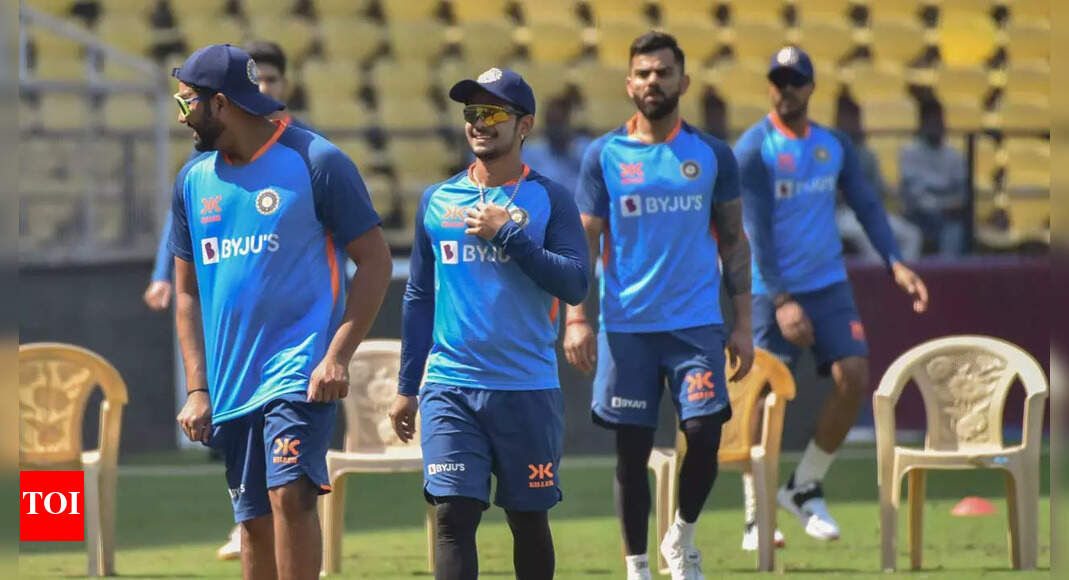 The India-Australia Test series will decide the two contenders for the 2021-23 World Test Championship Final. Currently, Australia are sitting at the top of the points table. They have all but secured their place in the final, but it isn't a given yet. The most likely scenario is an India-Australia WTC Final, but Sri Lanka and South Africa can throw a spanner in that probability.
There are three series left — IndiaAustralia (4 matches), New ZealandSri Lanka (2 matches) and West Indies-South Africa (2 matches) — in the ongoing WTC cycle. TOI takes a look at the possible scenarios…
ARE AUSTRALIA THROUGH?
Not yet. But they have 75.56% points, nearly 17 percentage points more than second-placed India. The only scenario in which Australia miss out on playing the final is if they lose all their four Tests in India and Sri Lanka manage to win both their Tests in New Zealand. Both outcomes are quite unlikely. Hypothetically, Australia losing 0-4 to India will see their percentage drop to 59.65 and a series sweep in New Zealand will take the Lankans to 61.11.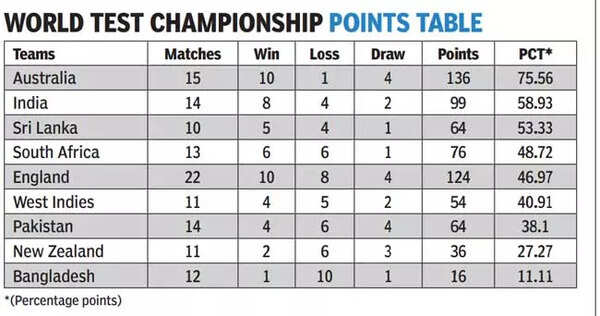 HOW ARE INDIA PLACED?
If India beat Australia 4-0, 3-0 or 3-1, they are through to the WTC Final. If the series ends 2-2 and Sri Lanka beat New Zealand 2-0, then India will be out of the race for the Final. South Africa can also upset India's applecart if they win 2-0 against West Indies at home, and India draw 1-1 against the Aussies in the upcoming series.
SRI LANKA HAVE OUTSIDE CHANCE
Sri Lanka need to win their remaining two away matches against New Zealand and then hope that either India beat Australia 4-0 or India lose the series or the series ends in a draw. If Sri Lanka draw the NZ series 1-1, India have to lose to Australia 1-3 or 0-1 and also hope South Africa win just one Test against the West Indies.
WHAT ABOUT SOUTH AFRICA?
They will need to win both their Tests against West Indies and then hope Sri Lanka lose both Tests in New Zealand or win just one. The Proteas will also need India to get less than 20 points from the Australia series, which means a 1-1 draw or a series loss for India.
ANY OTHER TEAMS IN THE RUNNING?
England, West Indies, Pakistan, New Zealand and Bangladesh are the other teams in the fray but they're too far behind to make a meaningful impact.