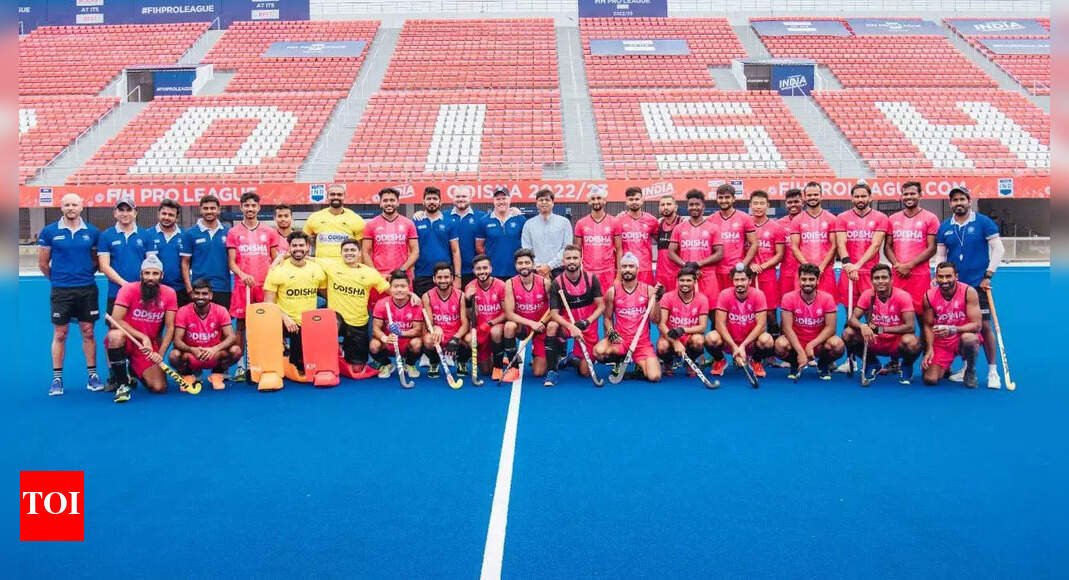 India are all set to open their FIH Pro League campaign against New Zealand at Kalinga Stadium in Bhubaneswar on Friday.
After finishing third last season and bagging silver at Commonwealth Games, the team will be hoping to get the new season of Pro League off to a good start especially with World Cup coming up in less than three months' time.
Doing well in Pro League will be the team's immediate focus but the coach as well as the players want to use these games to prepare themselves for the quadrennial event to be held in Bhubaneswar and Rourkela in January next year.
"One of the major objectives is trying to consolidate how our World Cup team looks like. The other objective is to always go out and play our best and win every game. Speaking of targets, World Cup remains our long-term goal and our short-term goal is to keep getting better between now and then," said coach Graham Reid during a press conference on Thursday.
Like the coach, India's newly-appointed captain Harmanpreet Singh also wants to use these matches to sharpen their skills and work on their weaknesses ahead of the big event.
"This is our first match after Commonwealth Games and our focus is to perform well from the very beginning. We know what is important for us and the areas we still need to work on. After all, these are the few matches that we have before World Cup," said the captain at the press conference.
While Harmanpreet, who won the FIH Men's Player of the Year award for the second year running and scored a whooping 18 goals from 16 matches in the last edition of the tournament, will be cynosure of all eyes, there will be focus on some of the fresh faces like Mohammed Raheel and S Karthi.
Raheel will make his debut in the 11-a-side format after strong performances at the FIH 5's tournament in Lausanne earlier this year and at the recent National Games in Rajkot. As for Karthi, the striker is making a return to squad after a good debut at Asia Cup.
As for New Zealand, who did not take part in the last Pro League because of the pandemic, they will look to give the world No. 5 team a run for their money.
Many of the New Zealand players play in Europe and as a result their preparation hasn't been satisfactory, but coach Greg Nicol wants to look past that and wants the team to give their best.
"We employed some different strategies to prepare for Pro League like some online stuff and once the players got together, we galvanized that stuff, and it was all back to normal. It might not have been perfect, but we are ready to go," said Nicol on Thursday.
Meanwhile, after almost two years the fans will be back at Kalinga Stadium as the Covid-induced restrictions have finally been lifted and it will be a sight to behold.
After facing off against New Zealand on Friday, India will take on Spain on Sunday. As for Spain they will play against the Black Sticks on Saturday.