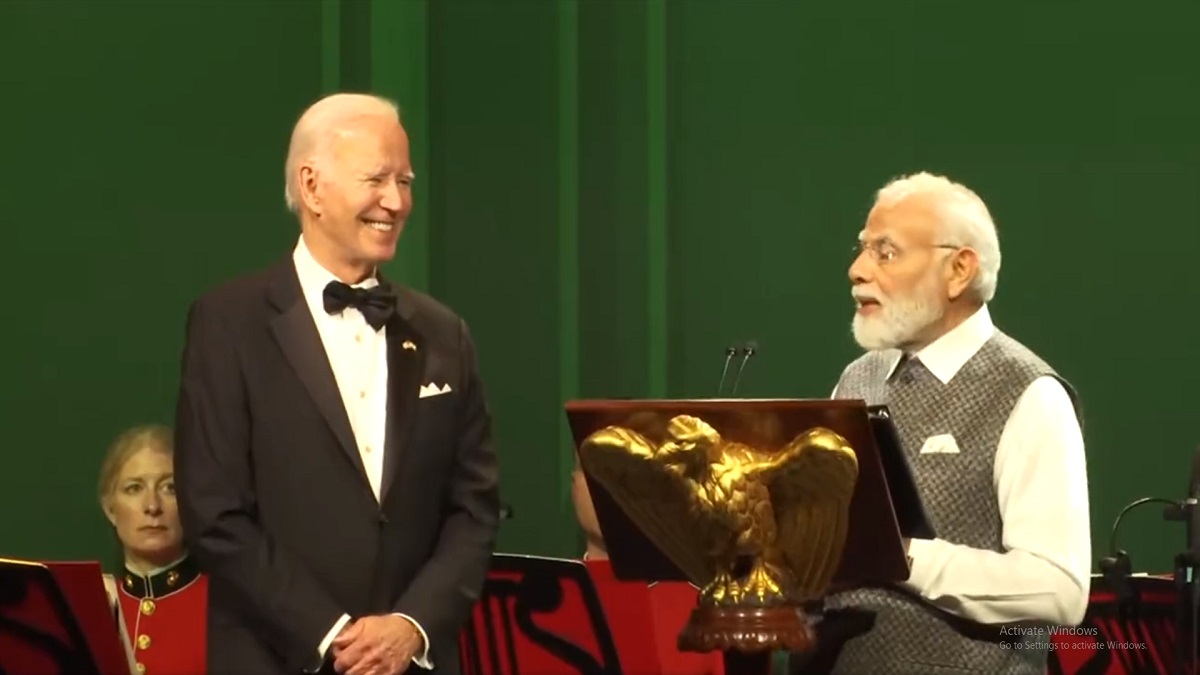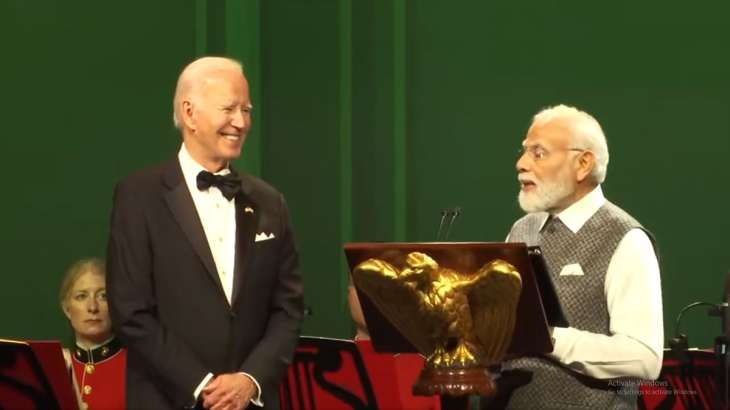 PM Modi US visit: The State Dinner hosted by President Joe Biden and First Lady Jill Biden in the honour of Prime Minister Narendra Modi at the White House on Friday witnessed some light moments during PM's speech at the gala event. PM Modi highlighted the cultural exchange between India and America. He said nowadays youth in America dance to the song – 'Naatu Naatu' and children in India celebrate 'Spiderman' and 'Halloween'. His this remarks triggered laughter in the audience circle.
PM Modi also asserted that be it research or IT or management, Indians left a mark everywhere in America. Even Indians entered the White House, he added. This saying also broke laughter and a round of applause at the gala event. 
PM Modi told Biden that he wishes he could sing a song in his honour but he couldn't.
Gala State Dinner event
Big names in the tech world, film and fashion industry as well as billionaire industrialists were among those invited to the State Dinner. The menu, comprising mostly vegetarian dishes, taking note of the dietary restrictions of the visiting prime minister, included marinated millets, stuffed mushrooms, grilled corn kernel salad and cardamom-infused strawberry shortcake.
More than 400 guests were invited for the dinner hosted by US President Joe Biden and First Lady Jill Biden at a specially decorated pavilion on the South Lawn of the White House.
In his address at the State Dinner, Prime Minister Modi said the guests here "symbolise so much about the US-India relationship – our energy, our dynamism, and our potential".
"You have gathered a group of exceptionally talented and remarkable people tonight, I must commend you for that," he said thanking President Biden and the first lady for hosting the dinner.

Modi spoke in Hindi with the speech being translated to English.
Indian billionaires Mukesh Ambani and Anand Mahindra, Apple CEO Tim Cook and corporate leader Indira Nooyi were among the guests. CEOs of Google, Microsoft and Adobe — Sunder Pichai, Satya Nadella and Shantanu Narayen — also attended the event.
The first course of the State Dinner included marinated millet, grilled corn kernel salad, compressed watermelon and a tangy avocado sauce and the main course had stuffed portobello mushrooms and a creamy saffron-infused risotto.
(With PTI inputs)
Also read- Modi US visit LIVE UPDATES: 'Cheers! Please join me in raising a toast'- PM attends grand State Dinner