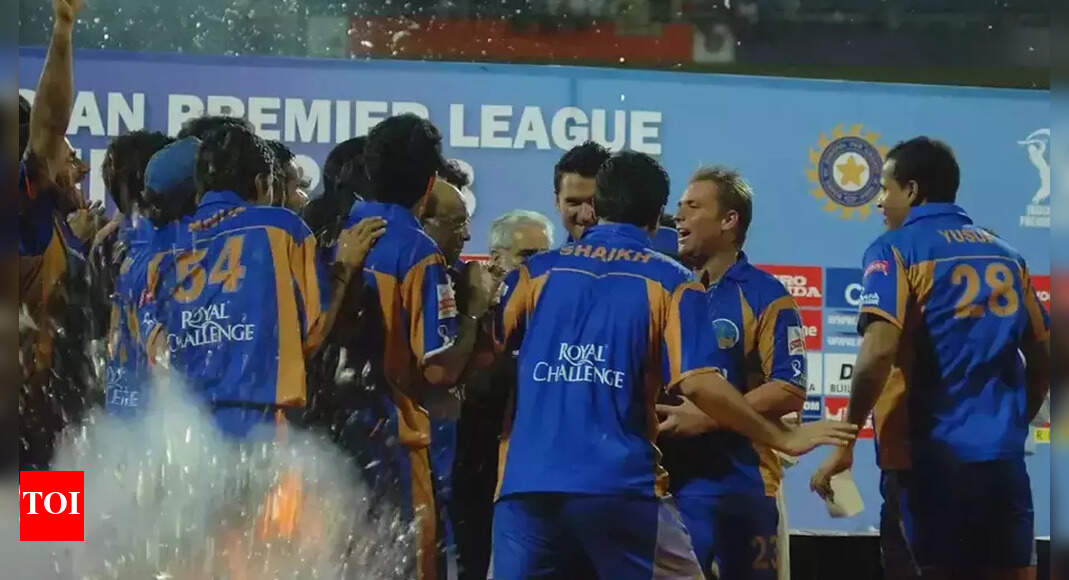 The Class of '08 of the
Rajasthan Royals
team will have one nostalgic congregation in Ahmedabad on Sunday (May 29). The management of the Jaipur franchise has invited the players of the 2008 edition of the
Indian Premier League
(IPL), which was won by them against all odds, for this year's final at the Narendra Modi Stadium in Motera, Ahmedabad.
Among those invited are
Munaf Patel
,
Yusuf Pathan
,
Swapnil Asnodkar
, Dinesh Salunkhe, Siddharth Trivedi and Ravindra Jadeja. All, part of the title-winning squad, are expected to be there just as a few foreign players. The foreign players like Shane Watson, Dimitri Mascarenhas, Kamran Akmal, Darren Lehmann and Sohail Tanvir will not be able to attend the get-together for different reasons but Graeme Smith, who was a prolific scorer for the team as an opener, will be there. He is in India as a commentator anyway.
"I have been invited and I will be going there tomorrow," said Asnodkar, who had made an equally impactful contribution for the side as an opening partner of Smith, told TOI confirming the invite. "We are a family and we believe in the principle of 'once a Royal always a Royal," said Romi Bhander, the head of Rajasthan Royals' Jaipur-based high-performance centre. "We want all our family members to be part of our celebrations and success."
Conspicuous by absence will be the team's indefatigable captain and leader Shane Warne, who passed away just about a fortnight before the start of this IPL and there will be tributes for him. "We have held a memorial meeting for him," said Bhander. "He will be missed."
Warne was at the crease when the Royals, considered rank underdogs, beat overwhelming favourites Chennai Super Kings in the final that ended in a thrilling last ball finish with Tanvir scoring a single off the last ball off Lakshmipathy Balaji. Chasing 164, the Royals had reached the target exactly in 20 overs, losing seven wickets.
The Royals, led by Sanju Samson this year, have reached the final for the first time since the first edition of the IPL and owner Manoj Badale explained the gesture. "We are delighted that so many of our heroes from 2008 have accepted the invitation to join the
IPL final
as guests of the Rajasthan Royals. There is a great group coming – including Royals legends such as Yusuf Pathan and several of the 'unknowns' who made such an impact that year like Swapnil Asnodkar and Dinesh Salunkhe. Once you have been part of the Royals family, you never leave, and it has been humbling to have so many messages of support from past players," Badale told this website on Saturday night.