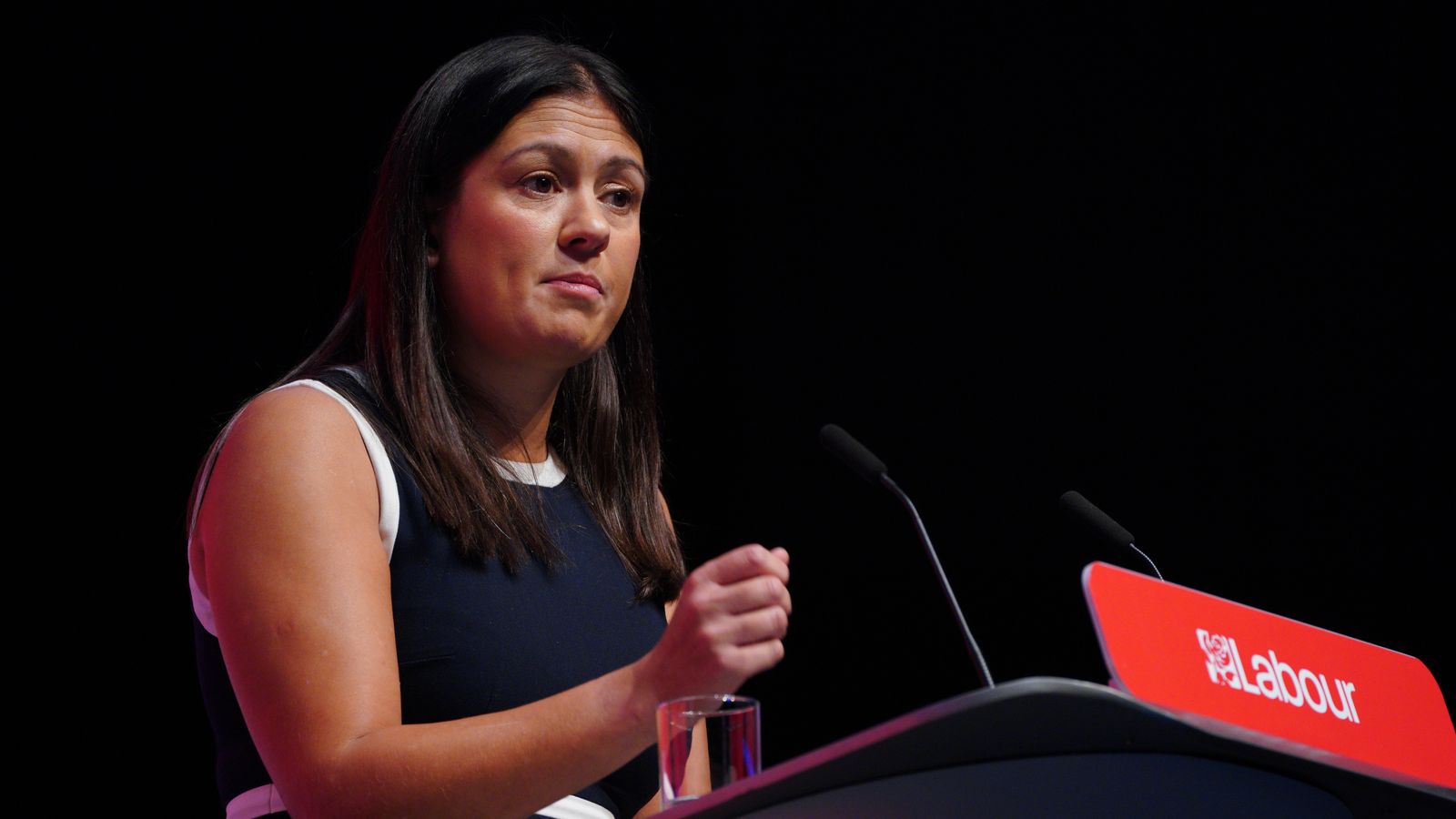 Labour's Lisa Nandy has rejected the idea of rent controls, calling it a "sticking plaster" solution to the UK's housing crisis.
The shadow housing secretary said the move – supported by many senior figures within her party – would "almost certainly" leave some people homeless.
Giving a speech in Manchester, she said: "When housebuilding is falling off a cliff and buy-to-let landlords are leaving the market, rent controls that cut rents for some, will almost certainly leave others homeless.
"It might be politically easier to put a sticking plaster on our deep-seated problems, but if it is cowardice that got us here, it is never going to get us out."
Politics Live: Tory mayoral candidate quits race after allegation
Labour mayors, including London's Sadiq Khan and Greater Manchester's Andy Burnham, have called for rent freezes amid soaring costs for tenants.
Average rents for properties across Britain have reached record highs this year as demand for housing continues to outstrip supply.
Experts warn renters are being further squeezed because of the mortgage crisis, with landlords passing on rising rates to tenants.
Ms Nandy's speech marked a shift in tone from comments she made last autumn, when she said she was "personally very interested" in the possibility of local leaders imposing temporary rent controls in their areas over the winter.
She focused instead on promises not to shy away from "difficult choices" when it comes to building more homes, accusing ministers of being "afraid of the taboo" of the green belt.
A Labour spokesperson said it was unfair to characterise her latest announcement as a U-turn, adding: "A rent freeze has never been Labour party policy" under Sir Keir Starmer's leadership.
The policy was, however, included in the manifestos of former leaders Jeremy Corbyn and Ed Miliband.
Read More:
Build on green belt to boost housing – Starmer
Plan to make buying land cheaper for councils to boost housing stock
Answer to housing crisis 'building more homes'

Scotland's First Minister Humza Yousaf said it was "astonishing" that Labour is "joining the Tories" in opposing the measure.
He tweeted: "Proud the SNP-led Scottish Government not only introduced rent controls but has extended them in order to protect tenants. Labour joining with the Tories in opposing rent controls is quite astonishing. At this rate, will Labour have any promises left to break?"
However, the National Residential Landlords Association (NRLA) welcomed Ms Nandy's position, saying rent controls "would do nothing to address the rental supply crisis that tenants across the country now face".
Chief executive Ben Beadle said: "What renters need is a proper plan to boost the supply of homes for private rent alongside all other tenures.
"Housing benefit rates should also be unfrozen without delay to support vulnerable tenants who are struggling to access the rental market."
A six-month rent freeze in Scotland came to an end in April but controls are still in place, with most increases in private rent limited to a 3% rise.
Restrictions on the rent private landlords can charge tenants are being considered by the Welsh government, but no official plans are in place.
Local leaders in England have also been calling for the power to impose rent controls but ministers have ruled this out – arguing the measure leads to declining standards and a lack of investment.
Labour has outlined various schemes to improve the rate of house building in the UK, including more building on the green belt, reintroducing the housing targets watered down last year by the government, making it cheaper to buyout agricultural land for development and "tilting the power" in favour of first-time buyers.
Sir Keir Starmer's spokesperson said one of the strengths of the devolved system is that mayors can advocate for policy they want but "ultimately it is for Keir to determine what will be in the manifesto at the next election".
They added: "I think our position on this has been pretty clear."