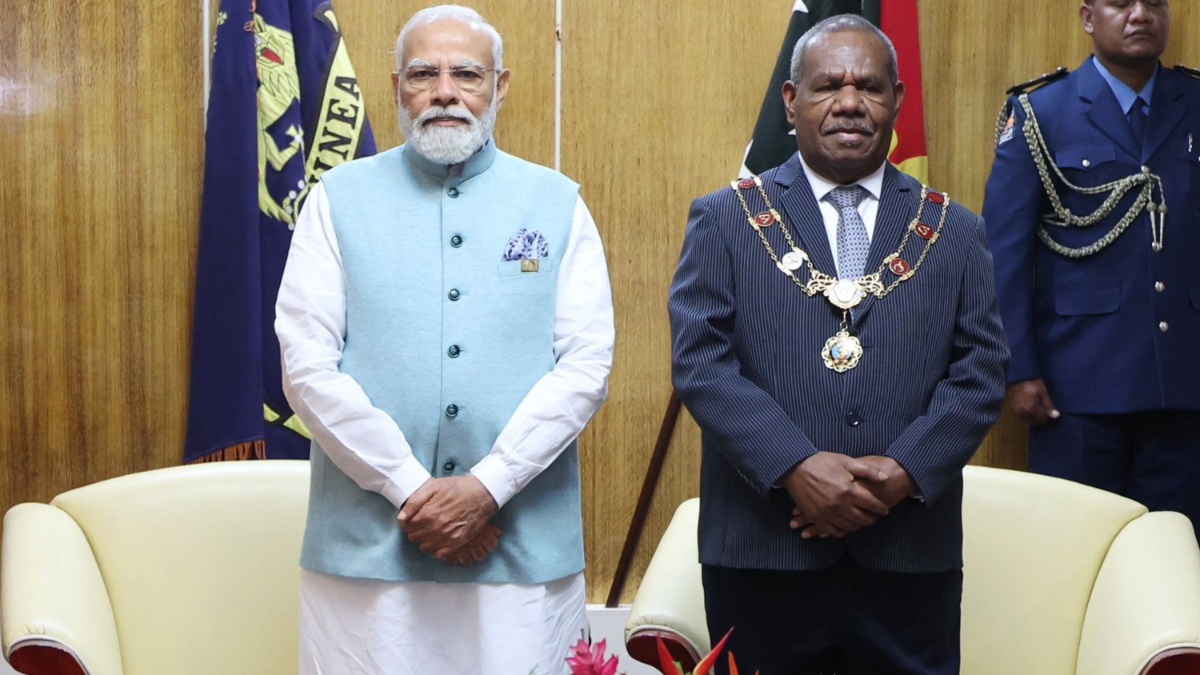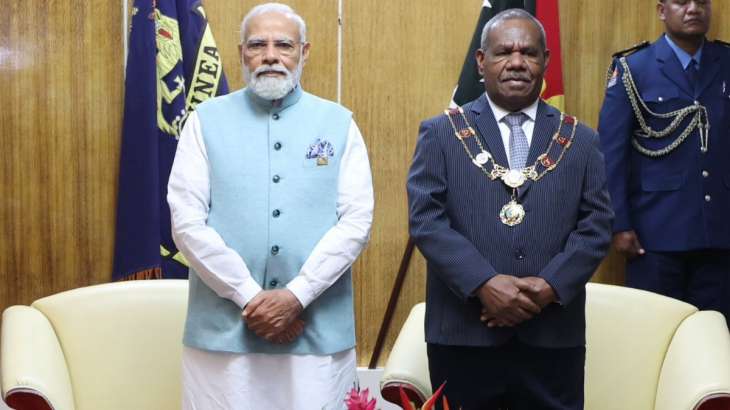 Prime Minister Narendra Modi met separately with Governor-General Bob Dadae of Papua New Guinea and his counterpart in Papua New Guinea, James Marape, and stressed the importance of strengthening the partnership between the two nations across a variety of sectors on Monday.
PM Modi, who arrived in Papua New Guinea on Sunday on his maiden visit to the country, will host a key summit between India and 14 Pacific island nations to boost bilateral ties.
"PM Narendra Modi arrives at the iconic APEC House located on the shores of Ela Beach in Port Moresby. Warmly welcomed by PM James Marape. The two leaders will co-host the FIPIC III Summit, fostering regional cooperation," said External Affairs Ministry Spokesperson Arindam Bagchi on Twitter.
PM Modi meets his counterpart James Marape
PM Modi held a bilateral talk with his counterpart James Marape on various sectors.
"Synergising India-Papua New Guinea relations. PM Narendra Modi held a fruitful bilateral meeting with PM James Marape. PM Modi expressed his appreciation to PM Marape for co-hosting the FIPIC III Summit in Port Moresby.
"Discussions covered strengthening partnerships across sectors of trade and investment, health, capacity building and skill development and IT. Also discussed issues related to climate action and promoting people-to-people ties," he said.
In 2014, during Modi's visit to Fiji, FIPIC was launched.
The summit will occur when China is putting forth attempts to upgrade its military and political impact in the region.
"Prime Minister James Marape and I had very productive talks, covering the full range of bilateral relations between India and Papua New Guinea. We discussed ways to augment cooperation in commerce, technology, healthcare and in addressing climate change," PM Modi wrote on Twitter, accompanied by a picture of him shaking hands with Marape.
Also Read | Prime Minister of Papua New Guinea James Marape greets PM Modi by touching his feet | VIDEO
Also Read | Papua New Guinea 'changed its rules' to accord 'exceptional' ceremonial welcome to PM Modi I WATCH