The Port of Dover has declared a "critical incident" after coaches experienced lengthy delays due to significant levels of traffic ahead of the Easter getaway.
Ferry operators P&O Ferries and DFDS Seaways also reported delays to ferry and coach services, citing bad weather and hold-ups at French border controls as partly responsible for the queues.
The critical incident comes as thousands of passengers prepare to travel through the port during the holiday period.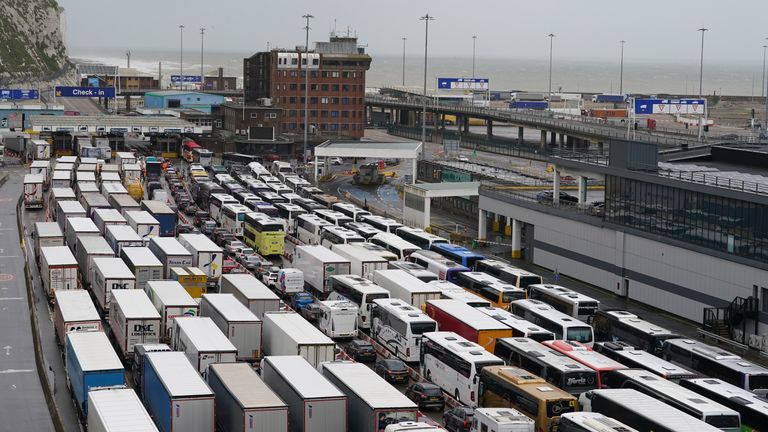 A spokesperson for the port said: "Our present high volumes, combined with extended processing at border controls, has resulted in lengthy delays for coach passengers."
"We apologise for the inconvenience these delays may have caused to passenger journeys and thank all port users for their patience at this time," the spokesperson added.
P&O Ferries said it was providing refreshments to coach passengers who had been stuck at the cruise terminal for hours.
The company also said it was trying to get food and drink to passengers waiting in the buffer zone at the entrance to the port.
In Twitter posts this evening, P&O Ferries apologised for the wait times and said it scheduled an extra sailing this evening in an effort to clear the backlog.
It blamed "the time it is taking to process each vehicle at French border controls" for the delay.
Meanwhile DFDS Seaways was reporting delays of up to two hours this evening due to "winds in the Channel".
The company posted at multiple points on Friday: "We know it's really busy today and we want you to know that we are doing all we can to get all customers on their way as quickly as possible.
"We know this isn't the ideal start to your trip but our teams are ready to welcome you onboard once checked in."