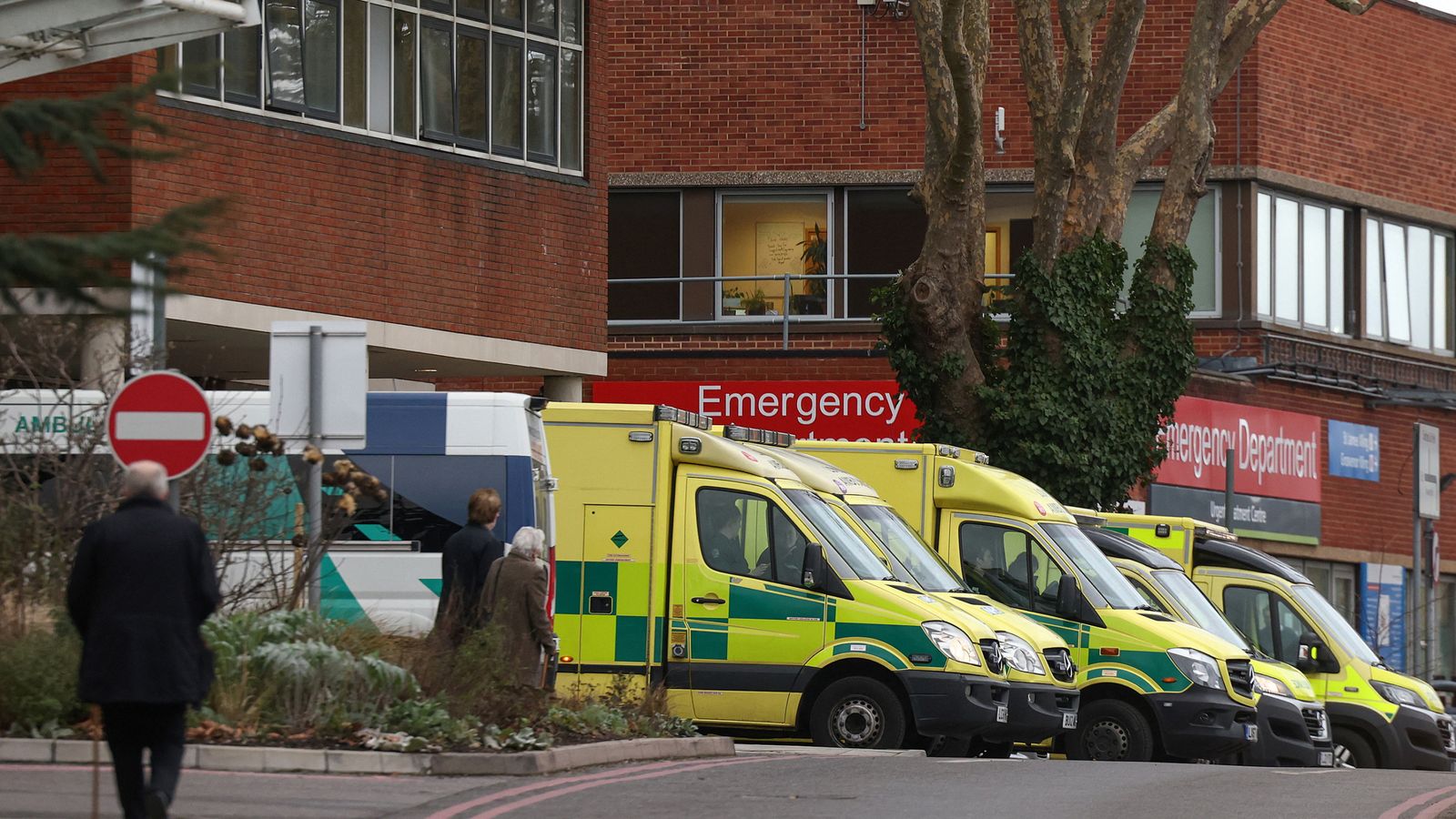 Almost half of ambulance crews were delayed by more than half an hour dropping off patients at England's A&E departments in the week to New Year's Day, new figures reveal.
Some 44% were delayed by 30 minutes or more – the highest proportion on record.
More than a quarter (26%) were delayed by more than an hour.
The figures lay bare the pressures hospitals have faced in recent weeks, with flu cases rising by 47%.
On Friday, Prime Minister Rishi Sunak acknowledged the "enormous pressure" the NHS is under, and repeated his commitment to tackling waiting lists, which he first outlined during his first major speech of 2023 on Wednesday.
Speaking to broadcasters during a visit to a London school, Mr Sunak said that moving people out of hospitals into social care and communities, in order to free up hospital beds, is "one of the most powerful" ways to cut down ambulance waiting times and ease pressures on A&E departments.
He added that the government is also supporting the NHS "with billions of pounds of extra funding," blaming the COVID-19 pandemic for current challenges.
Flu cases up almost half in a week
In light of Mr Sunak's commitments, new figures from NHS England showed there were 5,105 patients with flu in general and acute hospital beds, up from 3,479 the previous week.
They also showed that the number of patients in critical care beds with flu increased by 26%, up from 267 the previous week, to 336. The NHS 111 service answered the second highest number of calls ever in a week, with 410,618 calls.
Professor Sir Stephen Powis, NHS national medical director, said that adding extra call handlers and establishing community services ensure the NHS is in the "best place possible to provide care".
He maintained that "good progress" is being made on the effort to put 7,000 extra beds in place by March.
'Worst we've ever seen'
On 1 January, Sky News counted 24 ambulances parked outside the A&E department at the Royal Stoke University Hospital.
A member of ambulance staff told Sky News that at one point in the day their official dashboard showed 32 ambulances were stuck waiting to transfer patients at the hospital, with additional vehicles waiting round the back of the hospital after space at the front was taken.
Half of Staffordshire ambulances queuing outside hospital

Paramedic and representative of the UNISON union, Dennis Hodgkins, who works in Staffordshire said that the situation is the "worst we've ever seen".
He added the "chances of survival are going to be reduced massively" following some Category One calls – like heart attacks or anaphylactic shocks – having taken him 25 minutes to respond to, 18 minutes more than the seven minute target.
In the same week, Dr Adrian Boyle, president of the Royal College of Emergency Medicine, told Times Radio that 500 people could be dying each week as a result of problems with emergency care.
Read more:
How much are NHS failings to blame for rising excess deaths?
NHS 'not working', says wife of cancer patient treated in 'filthy' cubicle
Sunak urged to recall parliament to discuss 'NHS crisis'
What happens to a patient's body and condition while they wait for care?
Even if the worst outcome, death, is avoided, delays can cause a patient to deteriorate and develop complications, requiring more treatment and longer stays in hospital.
Rapid treatment for patients who have had a stroke or heart attack, can crucially mean the difference between recovery and return to independence.
Professor Martin James told Sky News that "clot-busting" treatment thrombolysis needs to be given to stroke patients within four-and-a-half hours of the onset of symptoms. But data shows over the last 18 months about 1,000 fewer people across England, Wales and Northern Ireland have received clot busting treatment than were being treated before the pandemic.
Similarly, patients who choose not to phone for help after suffering from a heart attack "will inevitably present late with larger heart attacks and be much more likely to die," Professor Nick Mills, British Heart Foundation professor of cardiology at the University of Edinburgh and consultant interventional cardiologist at the Royal Infirmary of Edinburgh said.