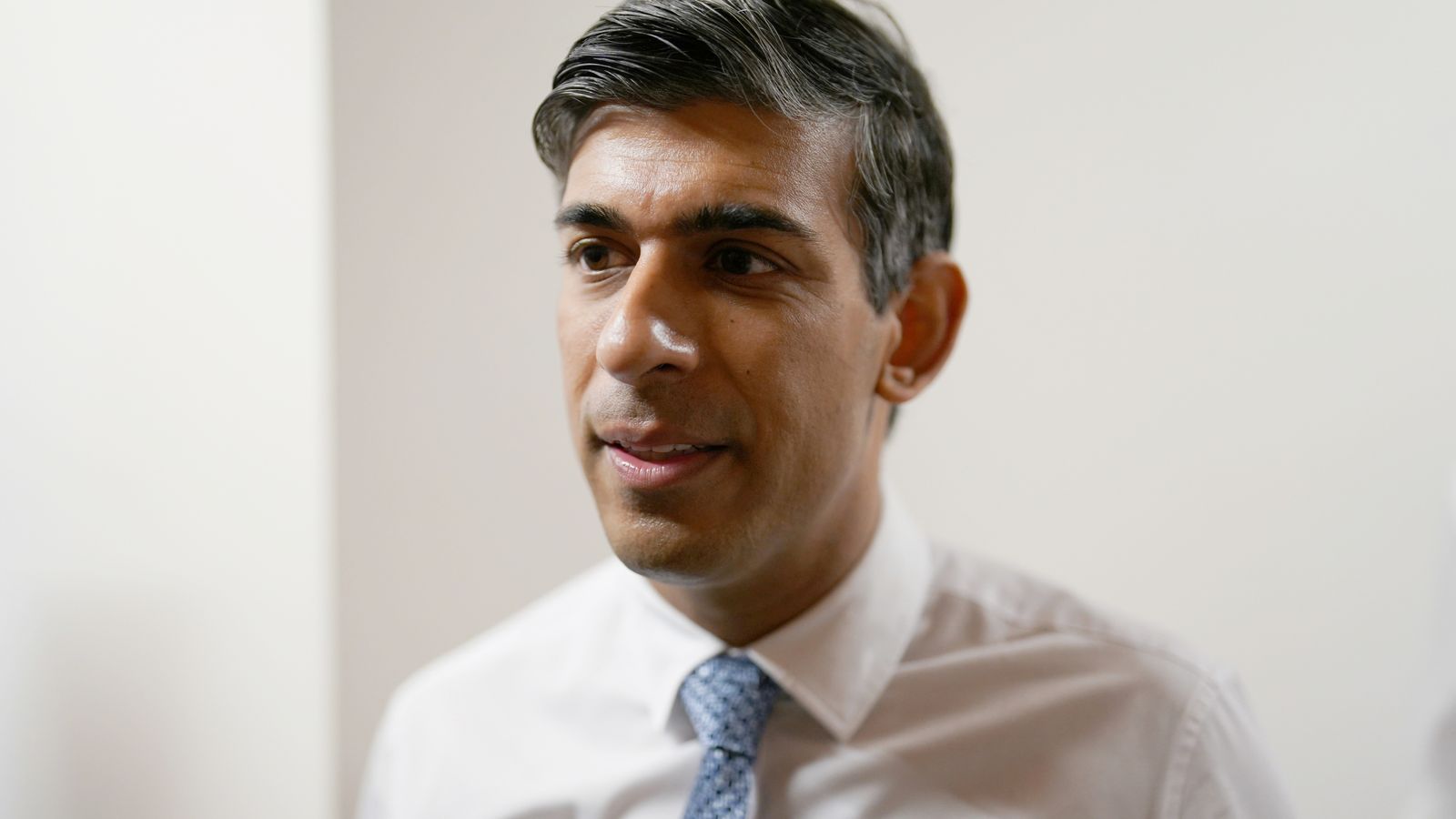 Rishi Sunak has hinted he will ignore recommendations for public sector pay rises, saying workers "need to recognise the economic context we are in".
Reports surfaced over the weekend that the prime minister planned to block upcoming proposals from public sector pay bodies in an attempt to tackle soaring inflation in the country.
And health minister Helen Whately refused to commit to the uplift during an interview with Sky News on Monday morning.
Unions and opposition parties have hit out at the rumoured decision, saying inflation was not being driven by the wages of nurses and teachers, but by the economic decisions taken by the Conservatives over their 13 years in power.
Politics live: 'Seriously?' – Labour responds to lack of commitment on pay rises
Asked by broadcasters today whether public sector pay was a major driver of inflation, Mr Sunak said: "Government borrowing is something that would make inflation worse, so the government has to make priorities and decisions about where best to target our resources.
"And that's why when it comes to public sector pay, we need to be fair, but we need to be responsible as well."
Pay review bodies or PRBs take evidence from across sectors like the NHS and education each year, as well as submissions from government, before saying what wage rises should be introduced for the following 12 months.
Amid anger from unions about the figures failing to match inflation last year, Health Secretary Steve Barclay insisted it was right for ministers to "continue to defer to that process to ensure decisions balance the needs of staff and the wider economy".
The PRBs' recommendations are expected to be published next month, alongside formal pay offers, with reports claiming they could be around 6% for the health service and 6.5% for teachers.
But while being questioned on public sector pay, Mr Sunak said: "It is important that we don't make the inflation situation worse and it is important we prioritise the things that are right.
"I am making the decisions that are right for the long term and that is what I am going to continue doing."
Labour MP Emily Thornberry has accused the government of

The reports come while strike action by junior doctors over pay and conditions continues, with unions planning a five-day walk out next month.
Calling for pay restoration equating to a 35% rise, the British Medical Association (BMA) said wages had decreased by more than a quarter since 2008 when inflation was taken into account, and many doctors were burnt out from an increasing workload.
But when asked why he wouldn't pay the profession more, the PM hit out at the industrial action and called the BMA's demands "totally unreasonable".
Mr Sunak said: "I think everyone can see the economic context we are in, with inflation higher than we'd like it, and it is important in that context that the government makes the right and responsible decisions in things like public sector pay.
"It is very disappointing that junior doctors have taken the decision that they have done. Over half a million people's treatments have already been disrupted and I don't think anyone wants to see that carry on – it's just going to make it harder to bring waiting lists down.
He added: "And I think people need to recognise the economic context we are in, and I am going to make the decisions that are the right ones for the country.
"That's not always easy, people may not like that, but those are the right things for everybody, that we get a grip on inflation, and that means the government not excessively borrowing too much money and being responsible with public sector pay settlements.
"That is what I am going to do and I would urge everyone to see that is the right course of action."
Last week, the Office for National Statistics confirmed inflation was stuck at 8.7% and the Bank of England raised interest rates to 5% – a 15-year high.