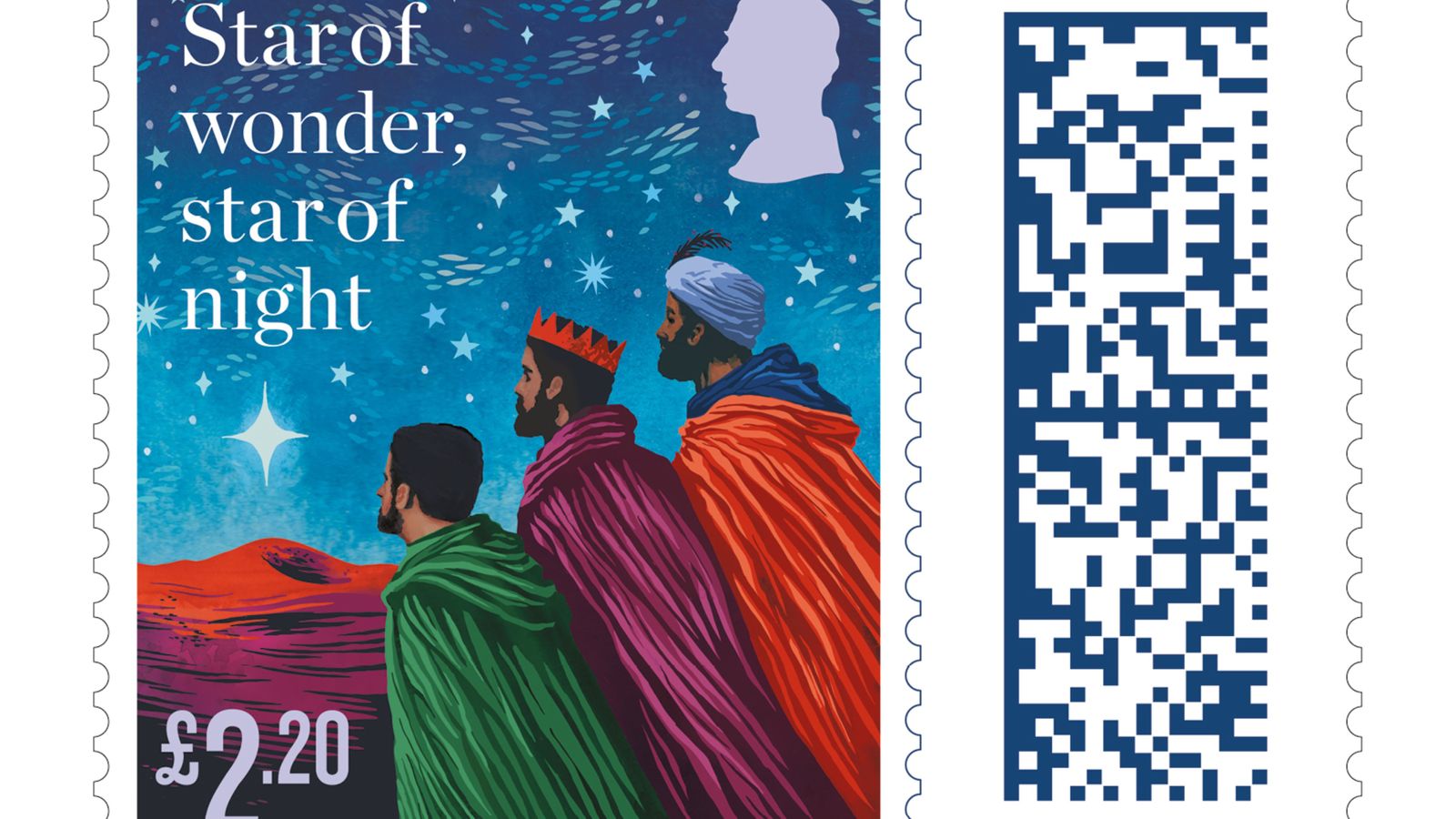 Royal Mail has revealed new stamps for Christmas 2023 – and shared the best dates for posting your cards to make sure they get delivered on time.
This year's batch of festive stamps are inspired by Christmas carols, and feature lyrics from O Holy Night, O Little Town Of Bethlehem, Silent Night, Away In A Manger and We Three Kings.
They are the first to feature the silhouette of King Charles III.
Royal Mail's new seasonal offerings also allow customers to watch a Christmas-themed video created by the award-winning Aardman animation studio.
The video – accessed via the barcodes on the stamps – shows Shaun the Sheep and his friends sending some festive cheer to the farmer's dog from the film and TV series.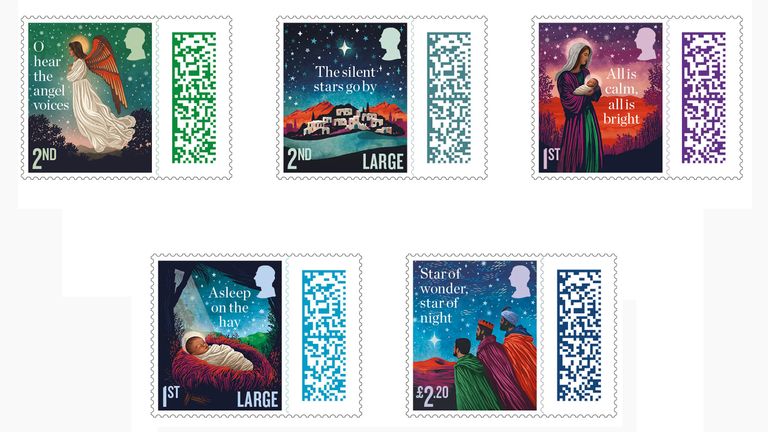 The stamp designs were created by illustrator Tom Duxbury – a specialist in the medium of woodblock printing – to depict both vintage and modern scenes.
Mr Duxbury has worked on book covers including Philip Pullman's Serpentine and The Collectors, as well as Sarah Ridgard's Seldom Seen.
He said: "'It's been a privilege to illustrate the first set of Christmas stamps to bear the silhouette of His Majesty King Charles III. The theme of nativity became a chance to create rich, luminous nightscapes.
"They echo my own experiences of being out in nature at night – especially the moors where I live.
"This time and place holds a special kind of feeling; that of stillness, softness, and magic."
Read more from Sky News:
Storm Ciaran latest: 'Nasty three-day storm' hits UK
Mother hit by two trains in 'horror' incident
Elon Musk set for Downing Street talks with PM
Royal Mail is encouraging customers to order online gifts and shopping well in advance and to post their festive greetings early in order to help its staff deliver bumper festive mailbags.
Its latest recommended posting dates for mail to arrive in time for Christmas are 18 December for second class, 19 December for first class and 22 December for special delivery guaranteed.
The first Christmas stamps, issued in December 1966, were the result of a children's art competition announced by the then postmaster general Tony Benn.
David Gold, Royal Mail's director of external affairs and policy, said: "For many, the launch of the annual Christmas stamps is the signal to begin writing those Christmas cards.
"The charming style of these designs, which were inspired by the carols that are so familiar to us all, set the perfect tone for the festive season."