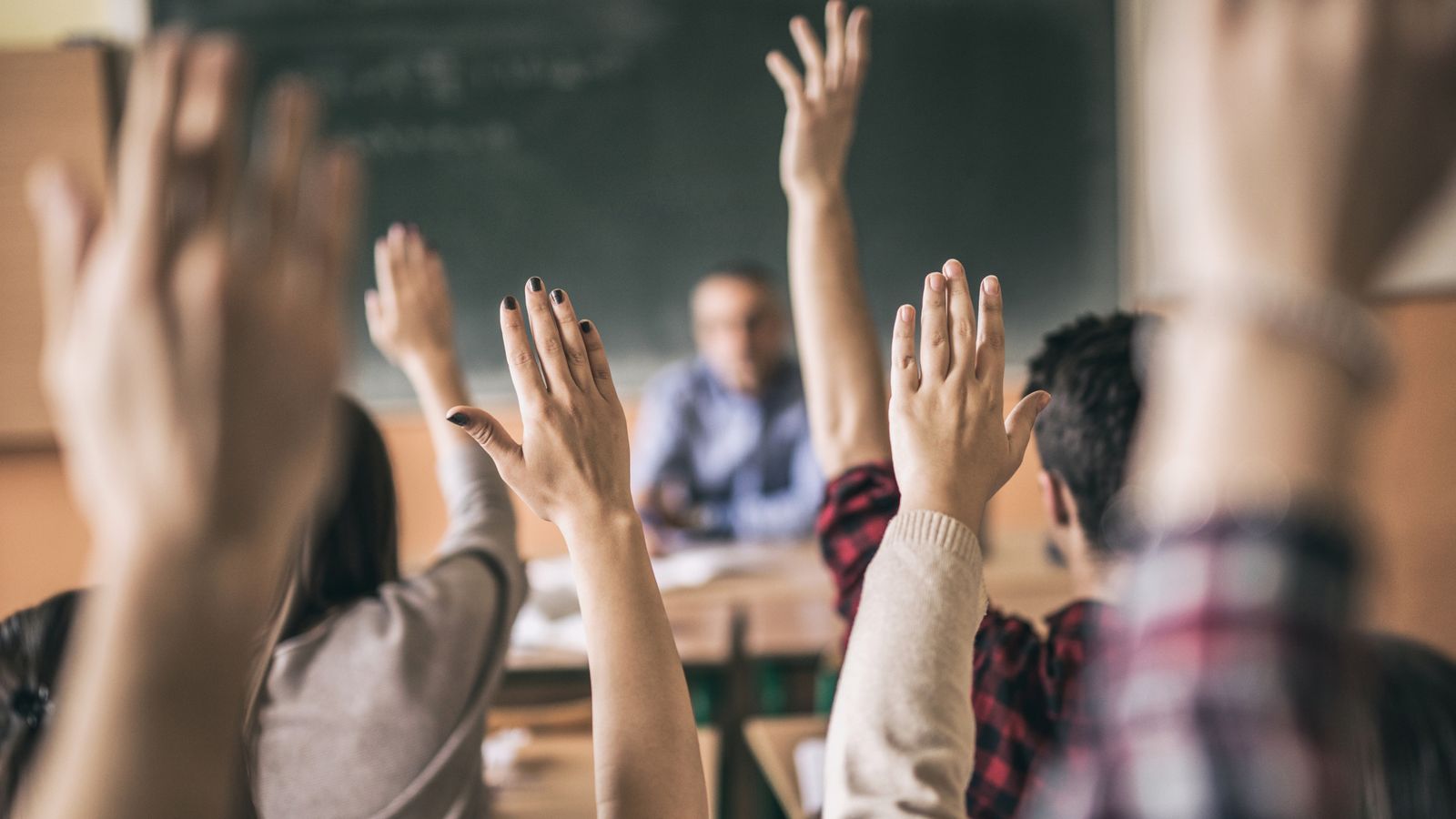 School buildings in England made with a certain type of concrete that is prone to collapse will be immediately closed over safety fears, the government has announced.
Around 104 schools or "settings" will be disrupted on top of 50 that have already been affected this year.
The Department for Education (DfE) said the "vast majority of schools and colleges will be unaffected by this change" – but Labour criticised the move as "staggering display of Tory incompetence".
The type of concrete forcing the closures is Reinforced Autoclaved Aerated Concrete, known as RAAC.
It is the same type of concrete that has been found in some hospitals that have been deemed to be unsafe, prompting Health Secretary Steve Barclay to fast-track them into the government's hospitals-building programme.
Education Secretary Gillian Keegan said: "Nothing is more important than making sure children and staff are safe in schools and colleges, which is why we are acting on new evidence about RAAC now, ahead of the start of term.
"We must take a cautious approach because that is the right thing to do for both pupils and staff.
"The plan we have set out will minimise the impact on pupil learning and provide schools with the right funding and support they need to put mitigations in place to deal with RAAC."
Labour's shadow education secretary Bridget Phillipson said the government was "failing" children by needing to close schools just before the new term started.
"This is an absolutely staggering display of Tory incompetence as they start a fresh term by failing our children again," she said.
"Dozens of England's schools are at risk of collapse with just days before children crowd their corridors. Ministers have been content to let this chaos continue for far too long.
"It's long past time the secretary of state got a grip on her department."
Paul Whiteman, general secretary of school leaders' union NAHT, also said the "news is shocking, sadly it is not hugely surprising".
"What we are seeing here are the very real consequences of a decade of swingeing cuts to spending on school buildings," he said.
"The government is right to put the safety of pupils and staff first – if the safety of buildings cannot be guaranteed, there is no choice but to close them so urgent building work can take place.
"But there is no escaping the fact that the timing of this couldn't be worse, with children due to return from the summer holidays next week."
The DfE said the majority of the school sites would remain open for face-to-face learning and only specific parts of buildings closed where RAAC is used.
It said a minority will need to either "fully or partially relocate to alternative accommodation" while mitigations are put in place.
The department said the government has been aware of RAAC in public sector buildings since 1994 and in 2018, it published guidance for schools stating the need to have "adequate contingencies" in the event of evacuations caused by concerns over the use of RAAC.
This breaking news story is being updated and more details will be published shortly.
Please refresh the page for the fullest version.
You can receive Breaking News alerts on a smartphone or tablet via the Sky News App. You can also follow @SkyNews on X or subscribe to our YouTube channel to keep up with the latest news.