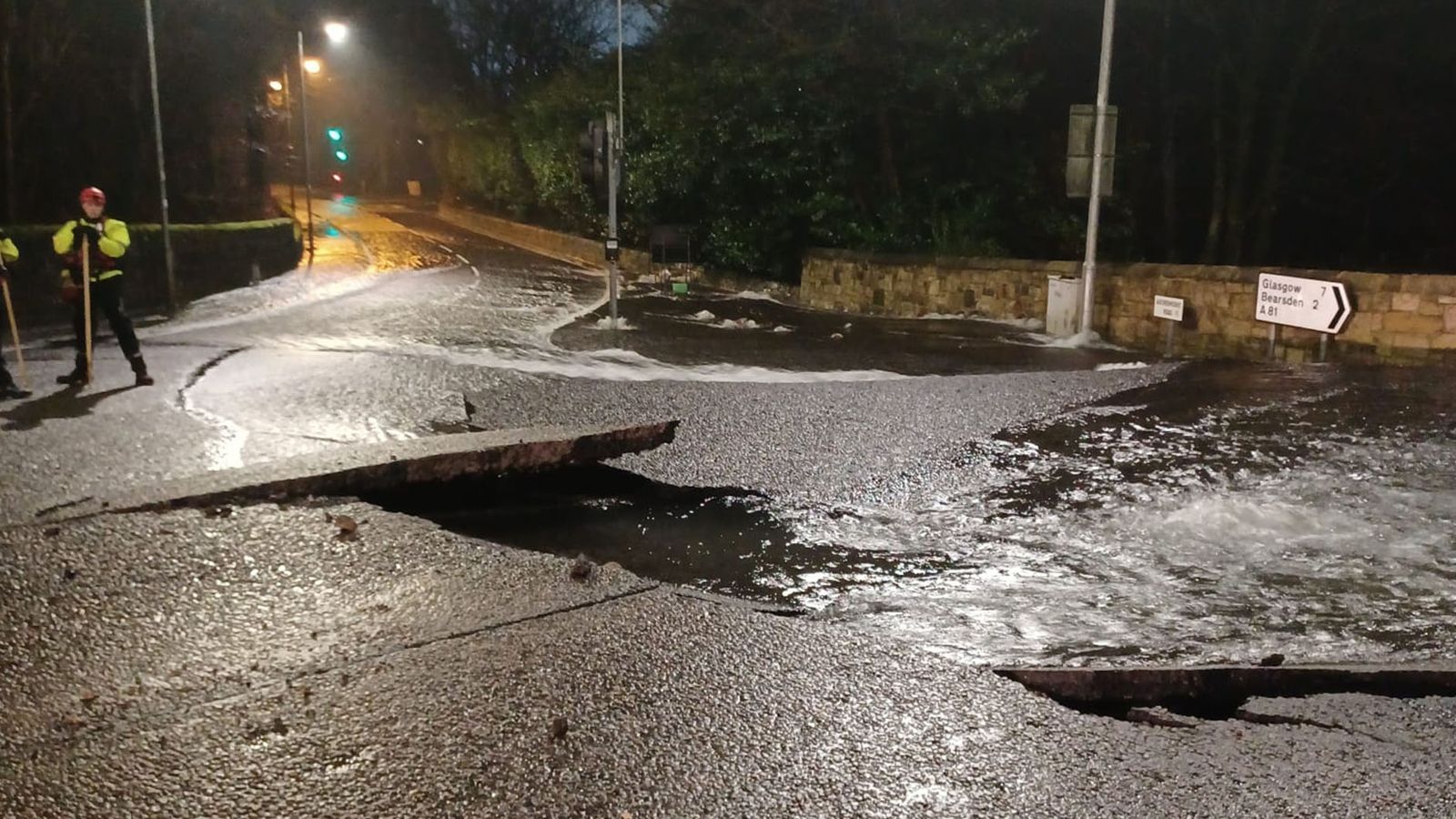 Around 250,000 customers in Scotland were left without water after a major pipe burst.
The pipe burst in Milngavie, East Dunbartonshire, on Tuesday afternoon and led to flooding in the area.
The force of the 36-inch mains bursting split Auchenhowie Road open, and children at the Lullaby Lane nursery had to take shelter in the nearby Rangers Training Centre.
Restoration works have been carried out but Scottish Water has warned there could be some ongoing interruptions and discolouration to normal supply.
The utilities company said around 100,000 properties were affected across East Dunbartonshire and parts of Glasgow.
Supplies for customers in Glasgow city centre and the Knightswood, Yoker, Scotstoun, Partick, Kelvinside, Tradeston and Ibrox areas of the city were also interrupted.
Fans attending Lewis Capaldi's gig at the OVO Hydro faced long queues after the venue was forced to close some toilets due to the water shortage.
Hydro bosses said the issue was beyond their control but the "safety and comfort" of its customers took priority.
The water supply had been reconnected for most affected homes and businesses by Tuesday night.
Read more from Sky News:
Critically injured firefighter named
Transgender woman found guilty of rape when she was a man
'You could hear the screams' after Darvel cup shock
In an update on Wednesday morning, Scottish Water said: "We are aware that there are some isolated reports of no water from customers in and around Glasgow city centre this morning.
"This is under investigation, and we will be liaising directly with those customers that have contacted us this morning."
Those that are experiencing discoloured water have been advised by the company that it is the natural lying sediment within the mains that has been disturbed and that it should clear by gently running the cold-water kitchen tap.
White water – caused by air in the water – will settle within the next day or two, Scottish Water added.
Glasgow Road and part of Auchenhowie Road remain closed with local diversions in place.
Scottish Water added: "We are working with our utility partners to assess the impact and damage caused, as well as to allow a safe excavation of the damaged water main for repairs to be undertaken.
"We apologise to all customers affected for the inconvenience and disruption to their service."