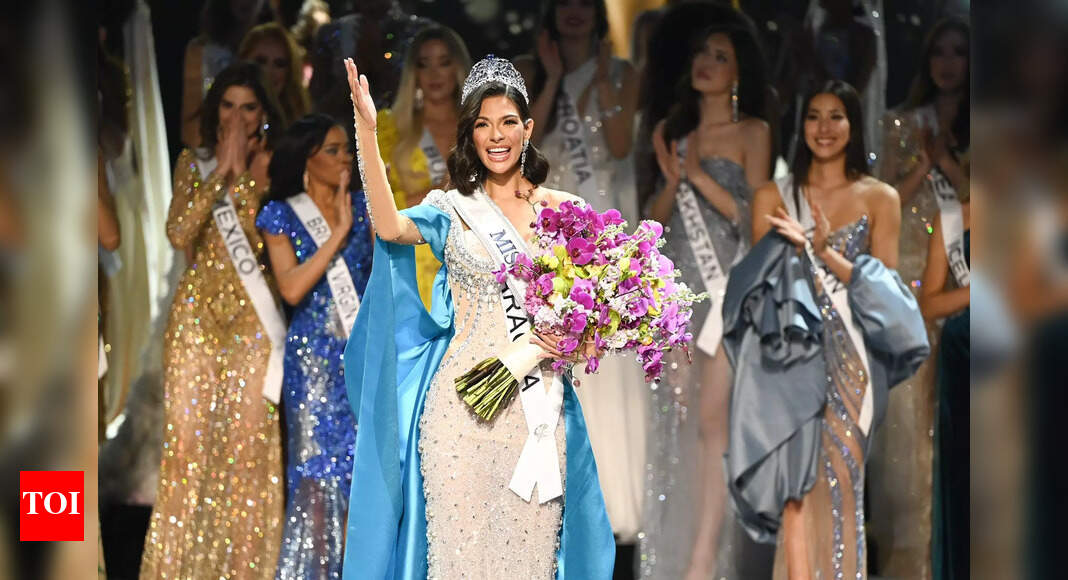 Miss
Universe
2022, R'Bonney Gabriel, crowned Sheynnis Palacios from Nicaragua Miss Universe 2023 in El Salvador just minutes ago, making her the Miss Universe 2023, winner of the 72nd Miss Universe pageant.
While Sheynnis Palacios from Nicaragua was selected as the winner of Miss Universe 2023, the 1st runner-up is Anntonia Porsild from Thailand and 2nd runner-up is Moraya Wilson from Australia.
Now that Sheynnis Palacios has been crowned Miss Universe 2023, we are sure that it was a tough call for the judges and panel over there to pick a winner.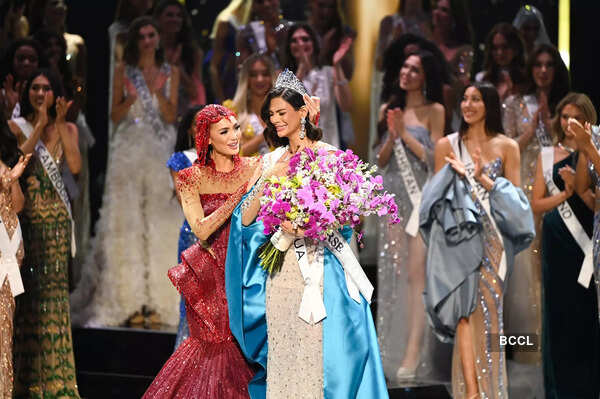 Credit: Miss Universe/ Twitter
The final question
It was the final question on the contest that made Sheynnis Palacios from Nicaragua win the pageant. The final question asked to all the top three contestants was, "if you could live one year in another woman's shoes, who would you choose and why?". To this, she replied, "I would choose Mary Wollstonecraft, because she opened the gap and gave an opportunity to many women. I would want that gap to open up so that more women could work in any area they choose to work in because there is no area where women could not work in."
The answer given by first runner-up Anntonia Porsild from Thailand was, "I would choose Malala Yousafzai because I know the struggles she had to go through to be where she is today. She had to fight for women's education and fight for all women to be able to stand strong and be the change and lead by example. If I could choose anyone, that would be her."
The answer given by second runner-up, Moraya Wilson from Australia was, "I would live my mother's year in her birth year because she is a very strong woman, she is tough, she taught me how to work hard, she taught be how to be brave, how to be strong. And I am forever grateful to her and for the lessons that she taught me."
Highlights from Miss Universe 2023
This year, contestants from 84 countries took part in the competition with 23-year-old Shweta Sharda representing India on the international platform. While she was selected in the semi-finals (top 20), she was out of the top 10 (evening gown round).
In the history of Miss Universe, Pakistan participated for the first time and was represented by Erica Robin– who reached the semi-final round.
Miss Portugal Marina Machete and Miss Netherlands Rikkie Kollé became the first transgender participants in the pageant and Camila Avella from Columbia created history by becoming the first mother to reach top 10 at the Miss Universe contest.
Unfortunately though, the Chinese contestant, Jia Qi withdrew from the contest as she could not make it to the venue on time because of Visa issues. She will now represent China in the Miss Universe contest in 2024.
Miss Congeniality, awarded for the first time, was won by Athenea Paulinha Pérez Nsué representing Spain. She is the first woman of colour to represent her country.
John Legend had two performances in the Miss Universe finale this year and he performed his part beautifully, just like all the contestants.
The hosts also announced around the end that the next destination, for Miss Universe 73rd edition, will be Mexico.
Here's a quick look at the top 20 contestants to reach the semi-finals at Miss Universe 2023
1. Sheynnis Palacios from Nicaragua
2. Athenea Pérez from Spain
3. Karla Guilfú from Puerto Rico
4. Jameela Uiras from Namibia
5. Diana Silva from Venezuela
6. Shweta Sharda from India
7. Anntonia Porsild from Thailand
8. Celeste Viel from Chile
9. Jordanne Levy from Jamaica
10. Noelia Voigt from USA
11. Jane Dipika Garrett from Nepal
12. Camila Escribens from Peru
13. Issie Princesse from Cameroon
14. Camila Avella from Columbia
15. Erica Robin from Pakistan
16. Moraya Wilson from Australia
17. Michelle Dee from Philippines
18. Marina Machete from Portugal
19. Bryoni Govender from South Africa
20. Isabella García-Manzo from El Salvador
Top 10 contestants to reach the evening gown round at Miss Universe 2023
1. Karla Guilfú from Puerto Rico
2. Anntonia Porsild from Thailand
3. Camila Escribens from Peru
4. Camila Avella from Columbia
5. Sheynnis Palacios from Nicaragua
6. Michelle Dee from the Philippines
7. Isabella García-Manzo from El Salvador
8. Diana Silva from Venezuela
9. Moraya Wilson from Australia
10. Athenea Pérez from Spain
Top 5 contestants to reach the question round at Miss Universe 2023
1. Moraya Wilson from Australia
2. Karla Guilfú from Puerto Rico
3. Sheynnis Palacios from Nicaragua
4. Anntonia Porsild from Thailand
5. Camila Avella from Columbia
Top 3 contestants of Miss Universe 2023
1. Anntonia Porsild from Thailand
2. Moraya Wilson from Australia
3. Sheynnis Palacios from Nicaragua