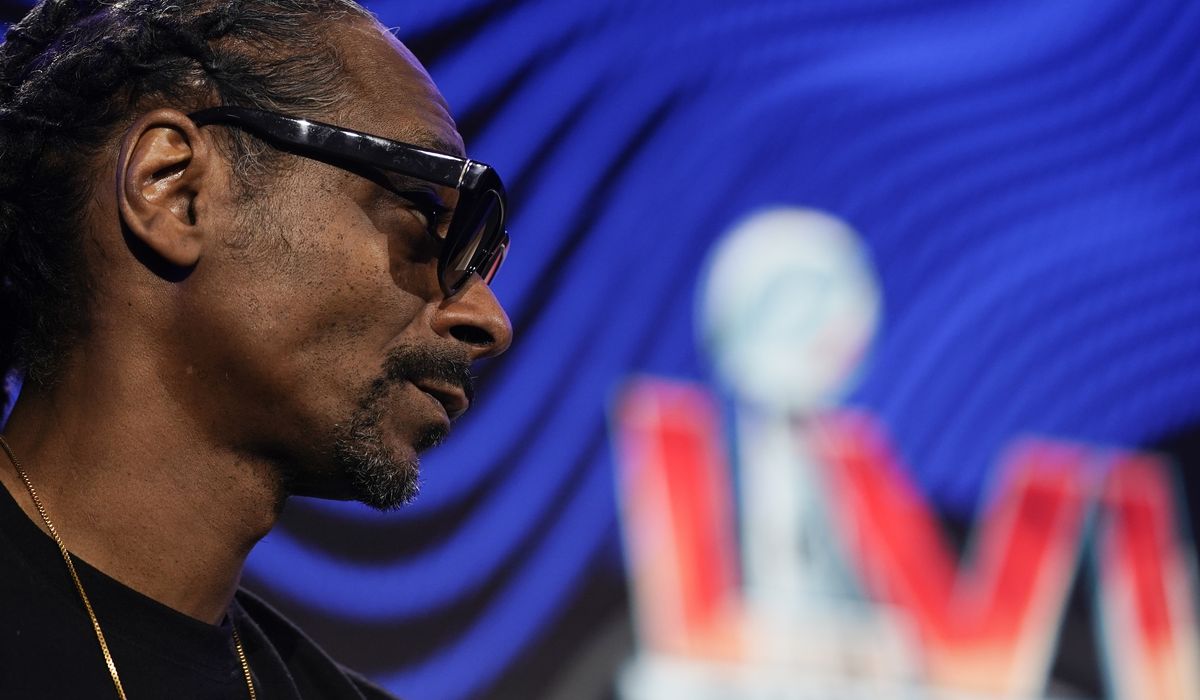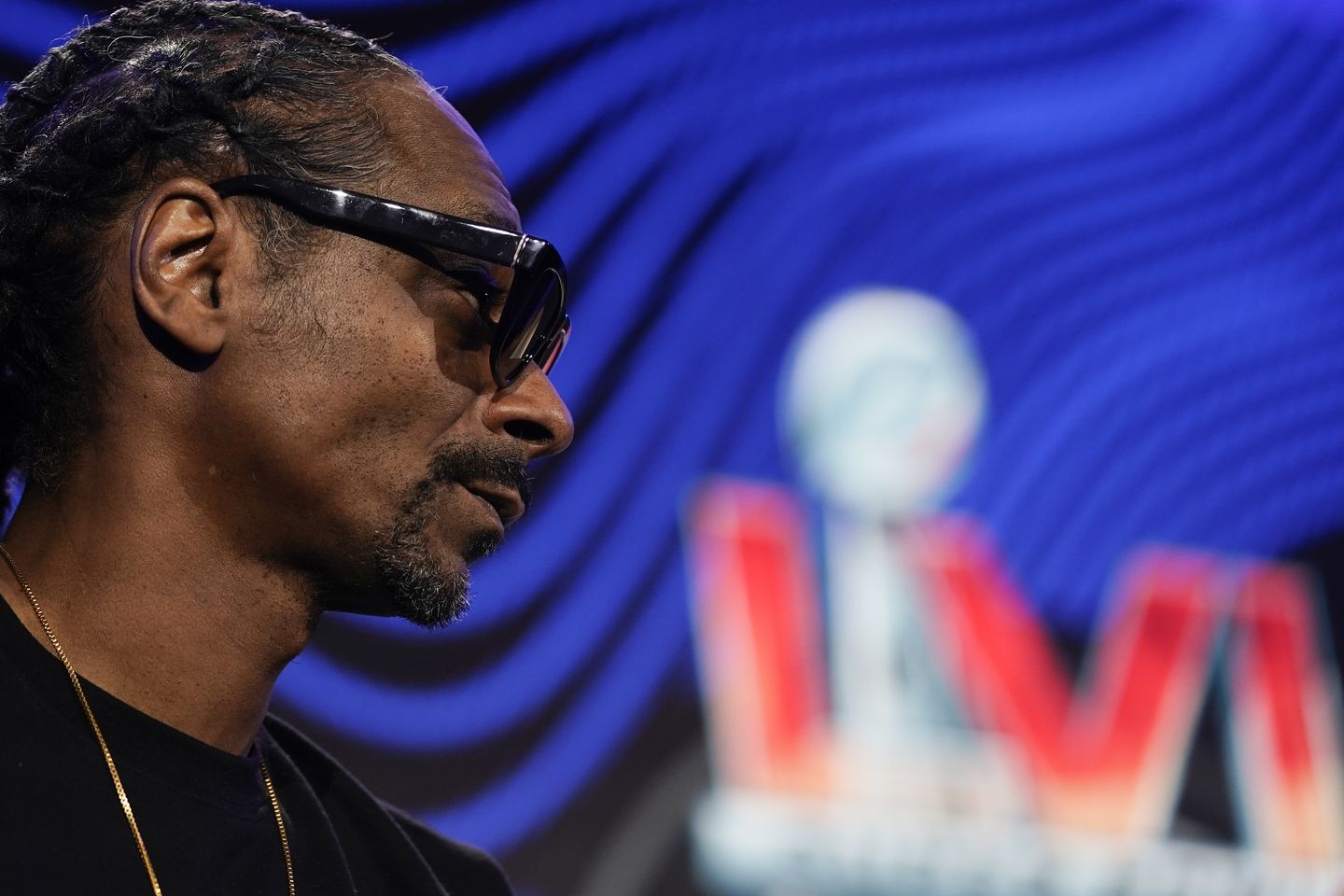 Snoop Dogg has never been bigger: The iconic California rapper is an in-demand pitchman for everything from beer to chips to burgers. He pops up on NFL football broadcasts and guest stars in movies like "The Addams Family." On Wednesday, he became the new owner of Death Row Records, the label that three decades ago launched his career.
But when the 50-year-old musician-mogul steps into the biggest spotlight of his career Sunday as the headliner for the Super Bowl halftime show, some viewers may be changing the channel in protest.
In January, Snoop Dogg released an anti-police rap single, "Police," with rapper J5 Slap and two other hip-hop artists that features incendiary lyrics, including the following intro (delivered not by Snoop Dogg, but by one of his collaborators): 
"All you n***** out there
Take your guns that you using to shoot each other
And start shooting these b**** a** motherf******* police
That'll impress a motherf******* n**** like me, the crooked motherf******
'Cause these police getting way too motherf****** outta line."
"Police," which only has a few thousand listens on YouTube, was released on Jan. 22. It does not appear that Snoop Dogg has promoted the song on social media, but it has drawn the ire of conservative pundits like Newmax's Greg Kelly and New York Post columnist Phil Mushnick.
Mushnick, in a Jan. 29 column, deplored NFL Commissioner Roger Goodell's celebration of Snoop Dogg and what Mushnick called the rapper's "violently anti-police, pro-crime vile and vulgar 'artistry.'"
There's no direct link between violent song lyrics and the surge of attacks over the last two years on police officers, but Sgt.
Betsy Brantner Smith
, a spokesperson for the National Police Association, said the mainstreaming of anti-police rhetoric has
increased the risk cops face.
According to FBI data, 73 police officers were intentionally killed in 2021 — a 59% increase compared to 2020 and the most in a single year since 1995. 
"Do those songs, in and of themselves, cause violence against police? No. However, this is part of the false narrative that American law enforcement is somehow a danger to the Black community," Ms. Brantner Smith said. "To put out this halftime show that will probably have some of these anti-cop lyrics in it is inexplicable and dangerous for American law enforcement."
Snoop Dogg heads a lineup of some of hip-hop's biggest stars — Dr. Dre, Kendrick Lamar, Eminem and Mary J. Blige — performing the halftime show.
But if viewers skip the halftime show in protest, they will still likely catch the rapper in at least one Super Bowl commercial. Snoop Dogg will be promoting BIC lighters as a play on the hip-hop artist's well-known appreciation for smoking marijuana. 
Snoop Dogg, whose real name is Calvin Cordozar Broadus Jr., has become a sought-after pitchman in recent years, appearing in ads for Burger King, Tostitos, Corona, Old Navy, Adidas, Pepsi and Chrysler.
At the same time, he has not been shy in recent years about sharing his opinions on a multitude of topics, including policing and other race issues. 
Happy c. Day to my. O. G. @icecube ??✊?. Fuck. The police. Still https://t.co/Tp7db8DlwB pic.twitter.com/rSkq0C12r9


— Snoop Dogg (@SnoopDogg) June 15, 2016
Sooner or later no justice no peace ?? https://t.co/2UbVBfzumP pic.twitter.com/NtbEKllPSf


— Snoop Dogg (@SnoopDogg) June 19, 2017
In 2016, he led a march with hip-hop artist The Game to Los Angeles Police Department headquarters to meet with Mayor Eric Garcetti and then-Police Chief Charlie Beck. The march came hours after five police officers were shot and killed in Dallas. 
"We are here to show love and support to the police force in Los Angeles and get some understanding and some communication, and we feel like this is a great start," Snoop Dogg said during the demonstration. 
Ms. Brantner Smith said the choice of halftime show performers is another example of the NFL and Goodell being "anti-cop."
"This is par for the course for the NFL," she said. "For some reason, Roger Goodell thinks he's being pro-African American or anti-racism by promoting this anti-cop narrative."