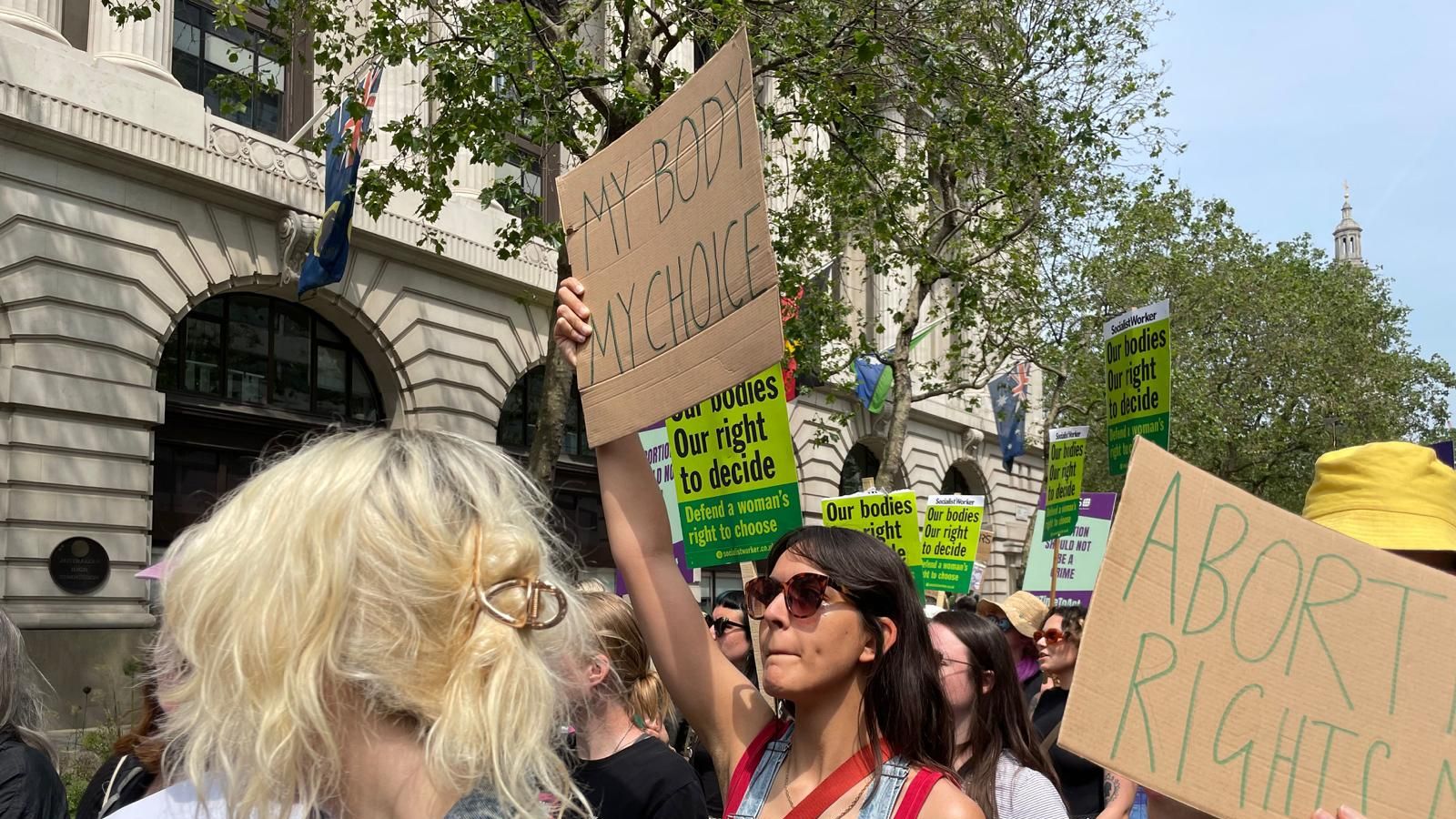 Thousands of abortion rights activists have staged a show of support for a woman jailed for two years for breaking abortion laws.
The protest was sparked after a 44-year-old mother of three was given a 28-month extended sentence earlier this week after taking abortion pills after the 24-week legal limit.
She was between 32 and 34 weeks pregnant at the time.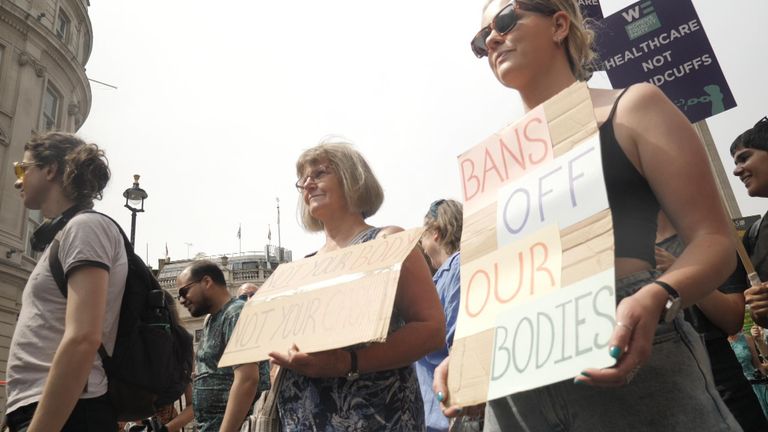 Protesters descended on London on Saturday, marching from the Royal Courts of Justice to Whitehall, demanding an end to the criminalisation of abortion.
The case has galvanised the pro-abortion movement, and highlighted British abortion law which states that in the majority of cases, after 24-weeks abortion is a criminal offence.
Speaking during the march, Labour MP Stella Creasy gave a speech to the protesters.
"This week proves what some of us have been trying to tell, often at length, patiently, to middle-aged men on Twitter," she said.
"We do not have a legal right to choose in England and Wales, and that has very real consequences.
"There have been 67 legal prosecutions of women in the past 10 years under the offences against the person act of 1861."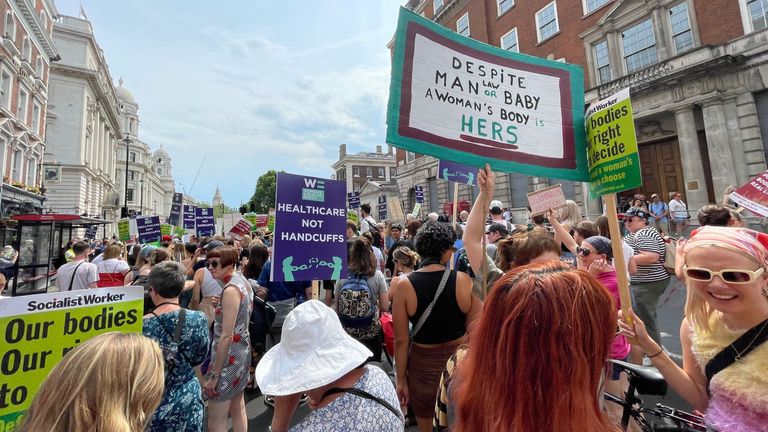 Read more:
What are the abortion laws in UK and the punishments for breaking them?
Woman jailed for taking abortion pills after legal limit during lockdown
She said that the legislation was no longer "fit for purpose".
"It is a piece of legislation, especially sections 58 and 59, that are no longer fit for purpose," she said.
"And I stand here today asking what your red line is, because absolutely these cases are difficult, nobody doubts that, but what we're asking for is a starting point of compassion.
"Because we now find a mum of three children, one of whom has special education needs, in prison.
"Whose interests does that serve, to keep punishing this woman?"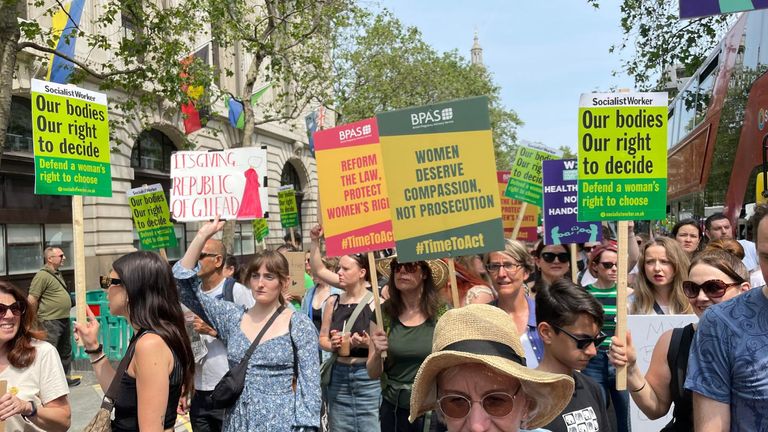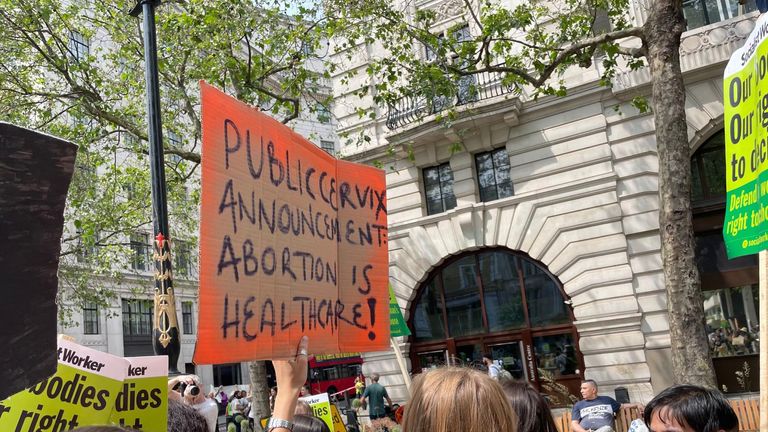 One protester, Fiona, who regularly attends pro-abortion rallies and had travelled from Birmingham, told Sky News: "I'm here for my daughter, for me and all women.
"It's a difficult subject for many people, but I think as women we need to be able to decide for ourselves whether we have a baby. Every child deserves to be wanted.
Another, called Jill, told Sky News: "I can't express just how outraged I am by this and how desperate I feel.
"But I want to show solidarity with her and women all over the world in fact, who don't have abortion, who don't have abortion rights and still risk their life and risk their freedom in order to control their own fertility."
"This is the most basic thing a woman's right to have a child or not to have a child is a woman's right to be pregnant and not to be pregnant and for it to be abused like this in 2023 is outrageous."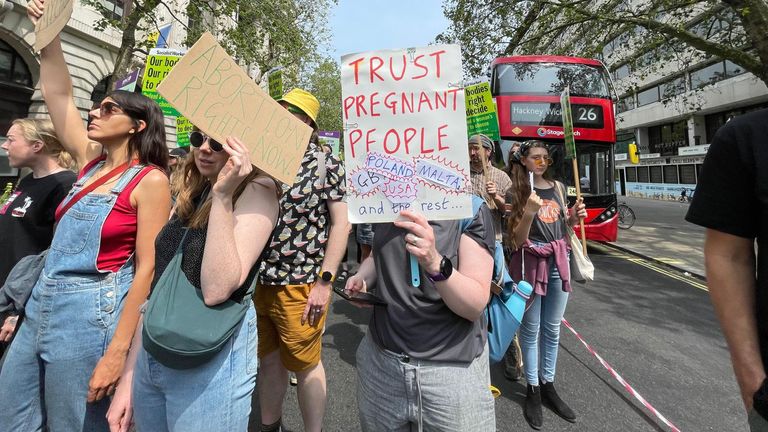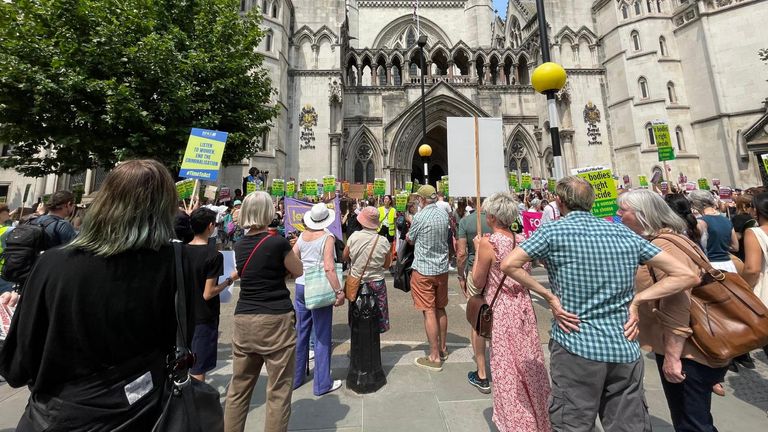 Lauren, who travelled to the march with her mother, and told Sky News: "It's amazing what's been achieved in Northern Ireland only very recently as well. And there is obviously now an imbalance. There's an imbalance across the world.
"I think for me, the thing is people think that we've got a lot more rights here than we actually do and you only find out when there's a situation like this quite how much our rights are restricted or not enough."
In England, Scotland and Wales, the 162-year-old law banning abortion was amended in 1967, legalising abortion with an authorised provider up to 28-weeks, which was later lowered to 24-weeks in 1991.
There are very limited circumstances that would allow an abortion after 24-weeks, such as if the mother's life is at risk or if the child would be born with a severe disability.
During the COVID-19 lockdown, at-home abortion pills were made available by post for people seeking an abortion in the first 10 weeks of pregnancy, whereas before they would have had to attend a clinic in person, and the measure was made permanent in August 2020.
In Northern Ireland, abortion was decriminalised in 2019.