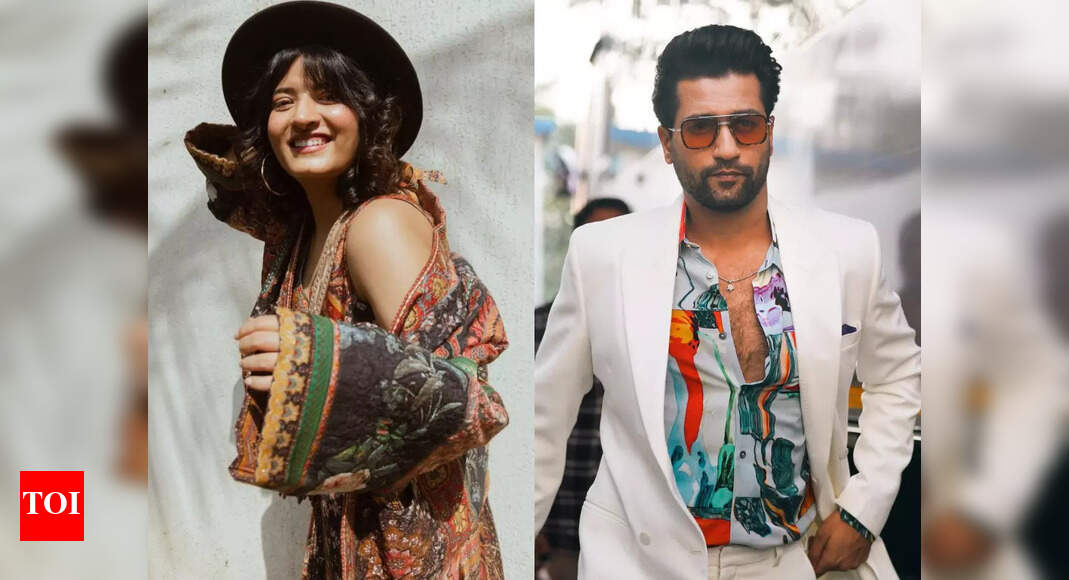 She is the woman behind Vicky Kaushal's stylish appearances. And she makes sure that he is always a fashion hit where ever he goes. From motivating the actor to push fashion boundaries to letting him own every look he dons, Amandeep Kaur is making sure Vicky Kaushal shines through. We spoke to her on styling the actor and the some fun trends she has been following for the season. Here's an excerpt.
Vicky has always been subtle with his style. What was his first thought on the looks that you had in mind for his upcoming film?
AK: Yes, it's a well-known fact that Vicky is very subtle and classic in his fashion choices. But when it came to the promotional looks for Govinda Naam Mera, I knew we had to step out of his comfort zone and definitely work with some bright colors, that he had never worn before. To my surprise he was actually ready and willing to experiment with this style. He was open to incorporating colors and prints, but silhouettes still needed to be in his comfort zone of relaxed but structured street style with jackets, sweatshirt, joggers, jeans etc.
Any recent fun moments that you recall while styling any of your celebrity clients?
AK: I think my most favourite fun moment of the recent times, has to be with Vicky Kaushal when I styled him in an aubergine-purple suit and while posing for pictures, I screamed that he looked like the dancing man emoji to me. He loved the idea, and started posing like that, we all couldn't stop laughing at the abysmal similarity of the silhouette. Even while posting pictures, I couldn't help but smile constantly.
What is the style mantra you follow for Vicky and Sunny and how is it different for both the brothers?
AK: Vicky is always more bent towards classy silhouettes, though he has warmed up to experimenting with colors and prints now. So, I try to nudge and push him slightly towards new colors and prints or fabrics. On the other hand Sunny has always been a fashion lover, and he absolutely loves experimenting with his style. So, I try and bring in interesting new silhouettes and colors to explore. He is a big sneaker head, actually both the brothers are, and playing with fun sneaker colors that complement our look is the biggest step in all our styling sessions.

You have been styling Vicky Kaushal for quite some time now, according to you how has his style changed over the years?
AK: Yes, it's been 5 years now since I have been styling him. He has always had a bent towards minimal, classic, earthy looks, but I think he has evolved massively with time. He has started exploring more, having more fun with fashion, being less rigid about his sense of style.
Radhika Madan's first look for TIFF caught quite the eyeballs, what was your thought and inspiration behind that?
AK: Radhika Madan has been quite a soul sister, she is bad-ass and loves androgynous styles. She wanted to wear a suit ortux which was unique and edgy, and hence she thought of me to style her. I thought of creating a silhouette that would complement her body type, which is petite, a tux that does not over power her, but makes her empowered, and adds the right kind of appeal along with a unique voice. So, I had a seed of an idea of doing a pin striped cropped tux, and collaborated with the iconic Neeta Lulla, and she gave me a dream tux for Radhika that made all the difference. I wanted her to wear it without a shirt, and Radhika wanted to wear a body chain inside, so we found the perfect fit, and with all 3 women coming together, the look turned out quite stunning on her. I just added the final touch of a beautiful statement Misho gold choker and gold Loub stilettos to complement. It's one of my favourite women's wear looks that I have styled till date.

A fashion advice that you often give to your celebrity clients and would like to share with others too?
AK: I have just always advised my clients to be embrace their body the way it is, and try and drop the inhibitions of certain styles and colors that they believe would not work for them. I truly believe that fashion should not make you uncomfortable, and should be an extension of your personality. I am a big believer of the fact that there is no wrong and right in fashion, it should be a personal choice, and a stylist's job is to enhance the celebrity's personality without altering it much. But in order to enhance and add, I also advise to nudge and push yourself slightly out of your comfort zone, to explore the beautiful world of fashion that can give you such an edge and extra shot of confidence when you feel beautiful and amazing inside out.
What is a big fashion "No-No" for you?
AK: I don't believe in a Big No-No for fashion. I am believer of Your Body, Your Style, Your Choice of how to express yourself through clothes.
A style tip that you follow to blend party and winter wear together.
AK: Winter brings forth an opportunity of wearing glam high boots, layering to your heart's desire, and overcoats, feather and faux-fur styles that are all party favourites and work great to protect you from the cold. Berets are in, thanks to Emily In Paris I guess, but get your berets, beanies and suede hats out. Also leather gloves are super-hot right now, great way to make an entrance at a winter party.
A current fashion trend that you admire and would love to see it more.
AK: Relaxed or slouchy suits – for both men and women, I love that they are so big on trend, and really hope they stay in trend for a long long time.
A style trend from the 80's / 90's period that you think should make a comeback
AK: Power shoulders – loved them then, love them now! Must comeback