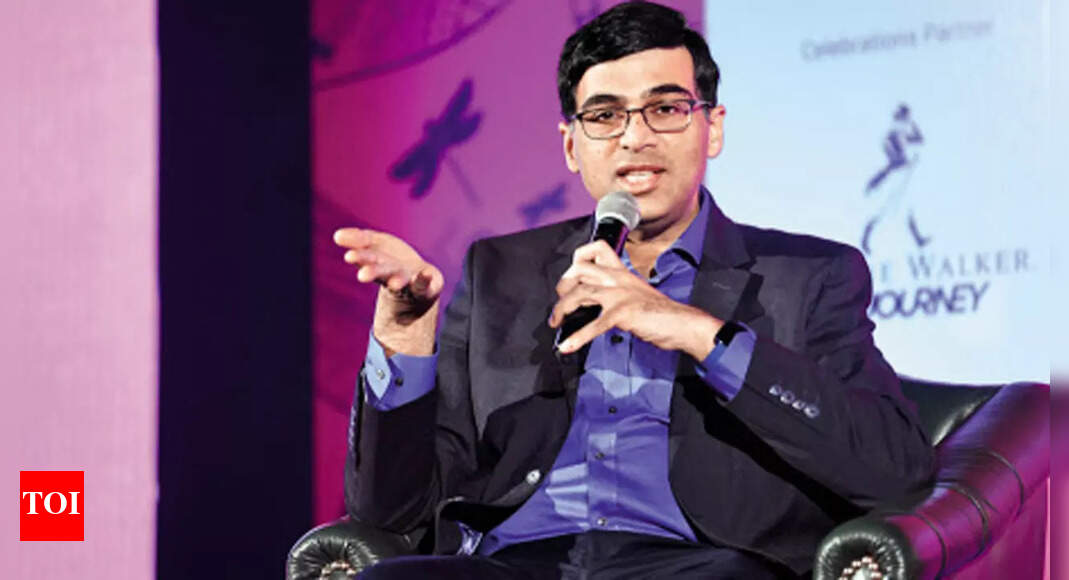 CHENNAI: The
Superbet Rapid and Blitz
event, part of the
Grand Chess Tour
, which concluded in Warsaw on Monday saw
Viswanathan Anand
in splendid form. Anand won the rapid portion and eventually shared the second spot with
Levon Aronian
while Jan-Krzysztof Duda clinched the overall tournament.
Anand is relieved to have notched up a strong show against some of the best players. In a chat with TOI, Anand delved on the takeaways from the tournament, how he views his role as an administrator, his mentorship to young
Indian Grandmasters
and more.
How do you assess your performance at the Superbet Rapid and Blitz?
I am pretty satisfied with my performance. The rapid went spectacularly well even though my last round loss stung a bit. And the blitz, I was very shaky and luckily my lead in the rapid was so big I still had a very good position. It's a good result overall.
What have been the biggest takeaways for you from the tournament?
Personally I am relieved I played well, there were many good games and I am able to compete. But there are also a lot of areas that I need to improve.
Will we see you feature in more events in the coming months or are you planning to see how it really goes?
I will certainly play the odd event. I will play in Leon, in Dortmund and maybe later towards the end of the year. It's not a crowded calendar. It's nice to play once in a while and I enjoyed it here.
You are in the race to be the
FIDE
vice-president. Has administration been an aspect that you gave a thought about in recent times or has it been on your mind for a long time?
I wanted to join an administration that's been very successful and it's a very good team — the Arkady Dvorkovich's team. They have made a big difference to chess in the last few years and I am hoping to contribute positively.
You have been a mentor to most of the top young players as part of Westbridge Anand Chess Academy (WACA). Is mentorship a role you enjoy more now than being an active player?
I don't compare everything with what it is as a player. I think life evolves and you find yourself in new situations. Mentorship is one more way to be around chess. And I hope to help these youngsters in their efforts to become top players. It's good that Westbridge is backing the project for many years and with time it will be quite fulfilling if we get some of our talents to break into the top. It's already starting to happen.
With the Olympiad coming to Chennai, how do you rate India's chances?
I believe the US team will be the odds on favourite and there will be several other top teams but we have very good and competitive teams. Our teams will be able to give a fight to any opponent. That's the attitude to take right now.
Your performances have been a big factor in the growth of chess in India. Do events such as the Olympiad happening in India offer the same in the future?
A game is promoted by two things. One is if a countryman does well and you take notice of that in big events. Both contribute to each other. There may well be kids who may say 10-15 years down the line — you know what…I came to that Olympiad and it inspired me. It's a big step for India and an event of this scale didn't seem very likely, so it's a big shot in the arm that the Tamil Nadu government pushed so hard and AICF got it done fast.