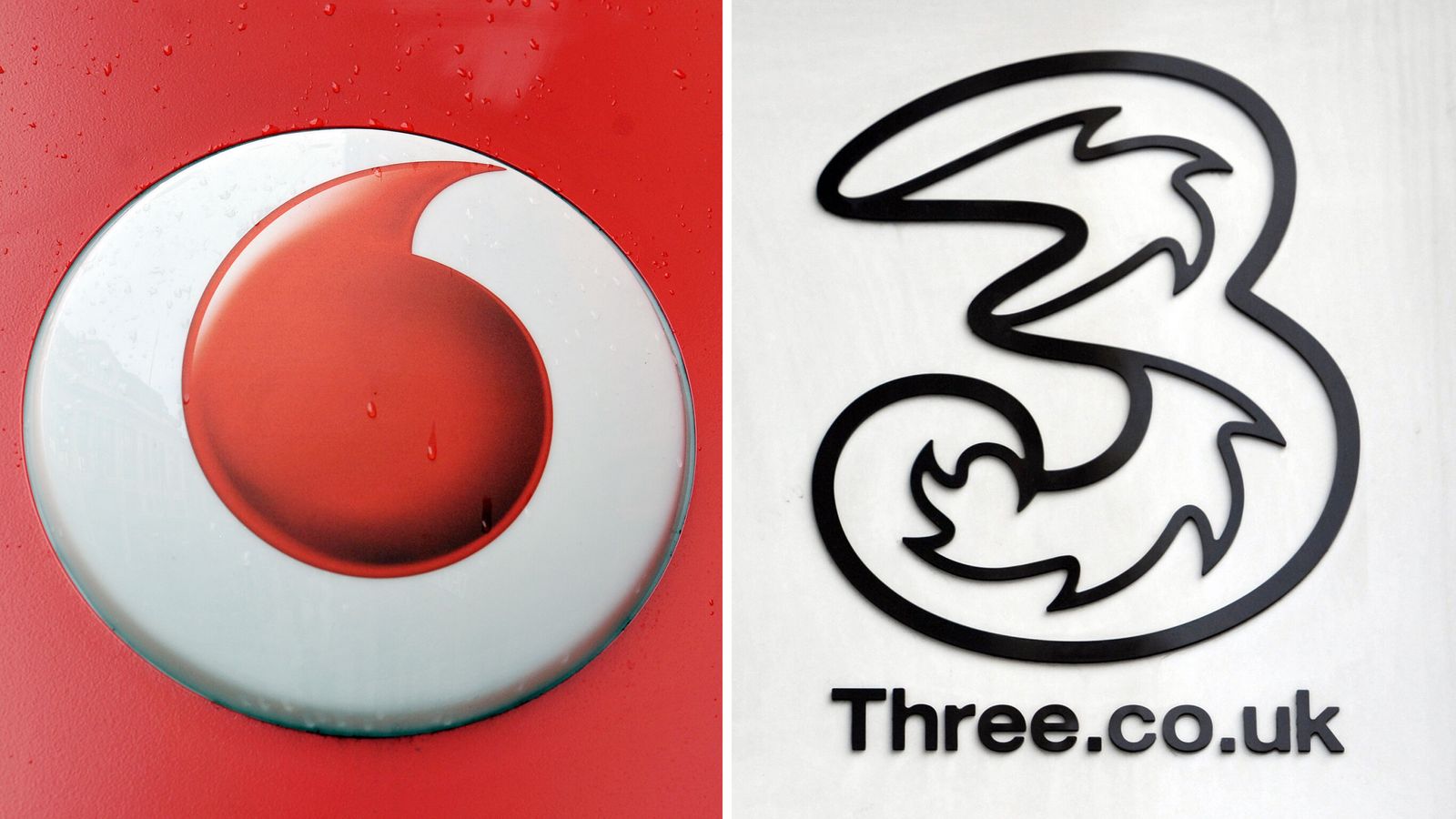 A deal that would create the country's biggest mobile phone operator has been struck by Vodafone and the owner of Three UK, CK Hutchison.
The new combined group, which will comprise only their respective UK operations, will be majority-owned by Vodafone with 51% of the equity.
The merger, if approved by regulators, will create a group with a combined 27 million mobile customers.
It would mean that BT-owned EE would lose its number-one position in the market by customer numbers. The merger would also see the combined group overtake O2.
But the Competition and Markets Authority is likely to be concerned that the proposal will lead to weaker competition.
The two groups said they would invest £11bn over 10 years to create, what they described as, "one of Europe's most advanced standalone 5G networks".
The pledge will be seen as a bid to sway the regulator and the government that the deal is in the public interest.
Under the plans, Vodafone has an option to buy up CK Hutchison's stake three years after completion, which is expected by the end of 2024.
The new business, they said, would be led by current Vodafone UK boss Ahmed Essam and result in annual savings worth £700m by the fifth year.
Under the merger plans, which have taken longer to finalise than expected, no cash will change hands.
It will be completed through a debt adjustment instead, with £1.7bn to transferred to the new company by Three.
CK Hutchison, the Hong Kong-based group, had been exploring a sale of Three UK for some time.
The operation, which has nine million customers, was seen internally as sub-scale for a sector that carries huge capital investment requirements for developing network infrastructure.
The merger was initiated by Vodafone's former chief executive Nick Read but he was effectively ousted at the end of last year amid widespread shareholder frustration over performance.
Vodafone announces 11,000 job cuts

His successor, Margherita Della Valle, has signalled her intention to improve the firm's competitiveness.
Vodafone revealed a plan last month to cut 11,000 jobs across its markets.
She said of the agreement: "The merger is great for customers, great for the country and great for competition.
"It's transformative as it will create a best-in-class – indeed best in Europe – 5G network, offering customers a superior experience.
"As a country, the UK will benefit from the creation of a sustainable, strongly competitive third scaled operator – with a clear £11 billion network investment plan – driving growth, employment and innovation."