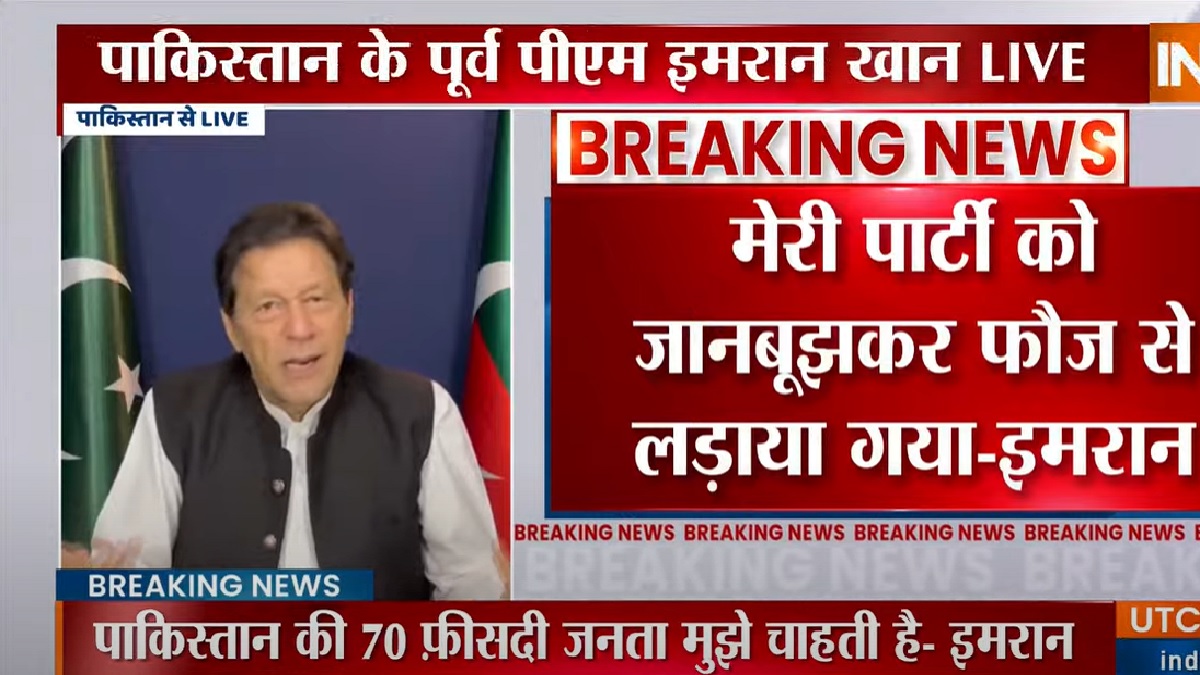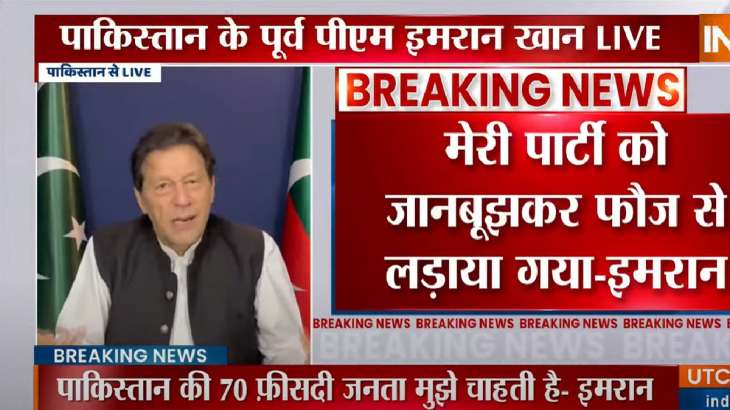 Imran Khan address: While addressing the nation today (May 17) on several issues, former Pakistan prime minister and PTI chief said that he will not remove the Army chief from his post whenever he will become the Prime Minister of the country. 
"I will not remove Army chief, if I'll become Pakistan PM, says Imran Khan in his address on Wednesday. 
He further said, "I do want Pakistan to become like Afghanistan, Syria or Libya," said PTI chief in his address. 
"There are several people who intentionally want that I will fight with the Army personnel and they are trying to trap me in illegal cases," Imran Khan added. 
Imran Khan on Nawaz Sharif:
He termed former Prime Minister Nawaz Sharif as 'bhagoda'. 
In a video message, Khan said, "I am afraid that Pakistan is on the route to destruction. And I fear that if we don't use our brains now then we may reach to the point where we wouldn't be able to collect all the pieces of our nation."
Pakistan Tehreek-e-Insaf (PTI) Chief further claimed that for almost a year, there is chaos in pakistan and an external force was used in order to prevent him as he is not the right person for the country. Even if it meant breaking the laws, or no election or even insulting the Supreme Court, Imran Khan should not be back.He showed the Survey which shows that PTI is the most popular. Khan further stated that all the parties are afraid that if he is back then all the political parties will lose the election.
"If the election happened then Imran will win and they don't care whether it is good for the people or not what they care about is that the corruption cases that have been closed during their governance would be out," Khan said."
I have defended my army across the world … I was a known face. Name another Pakistani who defended the army the way I did on international media," Khan said."And I did it because I am a free man. I never accepted slavery," he added.
He also claimed that the Pakistan Democratic Movement is deliberately trying to create a conflict between the PTI and the army.
"The cases that are being filed under military laws- it never happened before that without any investigation or independent inquiry … it was suddenly decided that PTI is a terrorist organisation," Khan said. In the video message, the PTI chief further stated that their party will be approaching the court, seeking the formation of a judicial commission to probe into riots following Imran's arrest.
"The Punjab IG should be called on what happened at Jinnah House [in Lahore]. If an inquiry is properly conducted into this, it would be revealed who was behind this conspiracy to ban a political party," Khan added. 
Imran Khan house gheraoed:
Earlier in the day, the interim Punjab government on Wednesday gheraoed former prime minister's Zaman Park residence in Lahore suspecting that at least 30-40 terrorists have taken refuge inside Imran Khan's house. 
According to reports, police have given a 24-hour deadline to the Pakistan Tehreek-e-Insaf (PTI) to hand over the "30-40 terrorists that have taken refuge" at Imran Khan's residence.
ALSO READ: Pakistan: Imran Khan's house gheraoed by Punjab Police suspecting presence of '40 terrorists'