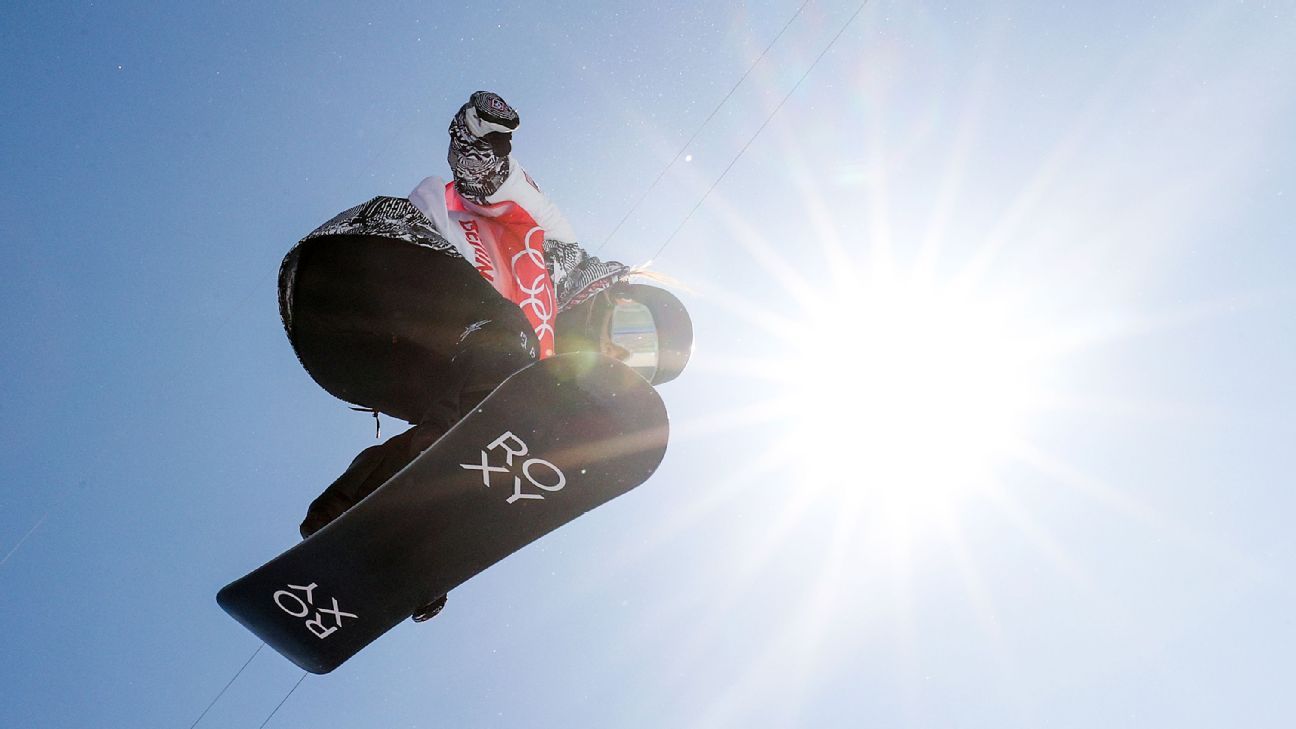 What can figure skater Nathan Chen and snowboarder Chloe Kim do for an encore at the 2022 Winter Olympics? We'll find out Wednesday night.
During the men's short program, Chen scored a world-record 113.97 points to pull off a near flawless performance.
He goes for gold in the men's free skate.
Kim, the reigning Olympic champion, cruised into the final in first place.
The men's hockey tournament got underway Wednesday morning with Denmark pulling the upset of the Czech Republic and the Russian Olympic Committee beating Switzerland.
The Americans open the tournament Thursday morning against China. What do you need to know about each team? We got it.
Shiffrin's support system for the win
It's no secret it's been a rough Olympic Games thus far for Mikaela Shiffrin. The 26-year-old arrived in Beijing with sky-high expectations but has recorded two DNF results in her first two races.
But thankfully for Shiffrin, she has a great support system — starting with her boyfriend and fellow skier Aleksander Aamodt Kilde. Also in Beijing and having won the bronze medal earlier this week in the super-G competition, Kilde took to Instagram after Shiffrin's disappointing slalom performance.
The pressure we all put on individuals in the sports are enormous, so let's give the same amount of support back," Kilde wrote in part. "It's all about the balance and we are just normal human beings!! I love you Kaela."
And, as if that wasn't sweet enough, Shiffrin responded with a tweet of her own about what Kilde means to her. You might want to get the tissues ready because this is truly just the best. — D'Arcy Maine
My hope for every human is that they
find another human who finds a way to
love, understand, and heal them in the way @AleksanderKilde has done and
continues to for me ❤️ https://t.co/sDrTptur4R

— Mikaela Shiffrin (@MikaelaShiffrin) February 9, 2022
Disqualifications rock mixed ski jump's Olympic debut
The mixed ski jump team event was thrust into the limelight on Wednesday, and not for the obvious reasons (its Olympic debut). Five women ski jumpers – all of whom were medal contenders – were disqualified after officials announced that their suits were "too big and offered an aerodynamic advantage," TODAY reported. The athletes and their teams (Germany, Norway, Austria and Japan) responded strongly: some were reduced to tears, while others expressed outrage.
?? Slovenia won the mixed team #skijumping gold but the big talking point of the event's first appearance at the #Olympics was a series of disqualifications that hit the favorites and meant world champions Germany failed to make the final https://t.co/hWR66nNZB5 pic.twitter.com/0whUb5aZSn

— Reuters (@Reuters) February 8, 2022
Germany's Katharina Althaus, one of the disqualified athletes who won silver in the individual ski jumping event just days before, told Agence France-Presse that her suit has been checked innumerable times in her 11-year career and she's always been compliant.
"We were looking forward to the second competition at the Olympics. FIS destroyed that with this action – they destroyed women's ski jumping," Althaus told reporters. "Our names are now (out) there and we just pulled the crap card. That is how you destroy nations, development and the entire sport." — Aishwarya Kumar
Event schedule (all times ET)
8:00 p.m.: Women's curling round-robin — USA vs. ROC
8:30 p.m.: Men's singles figure skating free skate finals.
8:30 p.m.: Women's halfpipe final.
11:00 p.m.: Men's hockey prelim — Sweden vs. Latvia.
1:00 a.m.: Men's snowboard cross finals.
1:00 a.m.: Men's curling round-robin — USA vs. Sweden.
1:15 a.m.: Men's alpine skiing combined slalom finals.
2:00 a.m.: Women's cross-country skiing 10km finals.
3:30 a.m.: Men's hockey prelim — Finland vs. Slovakia
6:00 a.m.: Freestyle skiing aerials mixed team finals.
7:00 a.m.: Women's curling round-robin — USA vs. Denmark.
7:00 a.m.: Women's speed skating 5000m finals.
8:00 a.m.: Men's hockey prelim — USA vs. China.
8:00 a.m.: Men's hockey prelim — Canada vs. Germany.
8:30 a.m.: Luge team relay finals.